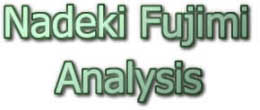 ---
Unknown Action Performer
"Good, you're pretty" ("Satyr Monks")
On the basis of her screen name, Nadeki Fujimi appears to be another female action performer of Japanese origin whose martial artistry, physical conditioning and distinctive screen presence helped define the conventions of "Girls With Guns" (GWG) contemporary action films of early 1990s Hong Kong cinema. However, unlike Yukari Oshima or Michiko Nishiwaki, Nadeki Fujimi has remained essentially unacknowledged in English language sources and film reviews. Not even John Charles' encyclopedic review of recent HK cinema, The Hong Kong Filmography, 1977 – 1997, identifies her by name, despite relatively favorable and detailed reviews of a number of her films.

Such omission is all the more surprising as Nadeki held leading roles in several relatively prominent action films as well as appearing alongside or opposite some of the leading action actors in the HK industry. Some Japanese performers such as Madoka Sugawara or Yoko Miyamoto are credited in English language sources despite only a single principal appearance in action films. While it might be argued that these titles ("Naked Killer," 1992 and "Lethal Panther," 1991) have attained a certain cult status and associated lasting popularity with Western fans of GWG genre films, the same could also be said of "Crystal Hunt" (1991) – a quite widely marketed title in which Nadeki stars. Yet, despite one of the lead roles, Nadeki is not credited in the promotional material for the dubbed version. She remains a vaguely familiar yet unacknowledged presence who nevertheless impresses with martial arts virtuosity.
Nadeki's filmography includes roles in 10 Hong Kong or Taiwanese titles released between 1989 and 1994, and her career illustrates the vagaries of the genre. Four of her earliest parts were in action films that represent some of the best GWG titles ("Killer Angels," 1989; "Mission of Condor," 1990; "Crystal Hunt," 1991; "Cheetah on Fire," 1992). These were quickly followed by appearances in lower budget Taiwanese productions ("Lady Killer," 1992; "Wonderful Killer," 1993; "Pink Panther," 1993), and finally in supporting action roles within Cat. III films ("Erotic Passion," 1993; "Satyr Monks," 1994; "Rock on Fire," 1994).

Despite a relatively small filmography, Nadeki's parts were generally substantial, and provided a hard, sometimes relentless contrast to the more accessible characters played by Moon Lee, Sibelle Hu, Sharla Cheung Man and Carrie Ng with whom she appeared. As with most other non-Chinese action performers, Nadeki was initially cast as the villain in supporting roles. Her later roles as a hero would be mainly in lesser titles. Nadeki's best part was arguably in "Crystal Hunt" where a combination of ample screen time, good cinematography, a fine action cast, interesting costuming and excellent fight choreography yielded an entertaining mix. Another strong role was in the Cat. III actioner "Rock on Fire" in which Nadeki's grim-faced cop persona serves as a dramatic foil for the depravity of just about every other character. But it is perhaps the relatively obscure Taiwanese film "Pink Panther" that offered Nadeki her most interesting part, in which she starred in a pure vengeance role as the leader of an all-female vigilante gang exacting retribution for partner violence.
---