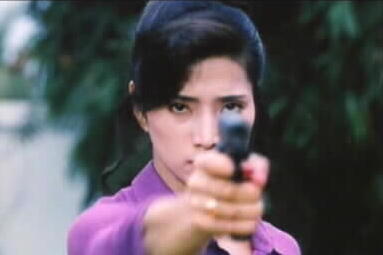 ---
From Crunch Princess to Action Diva
"I was so shy" (Michiko Nishiwaki)
The Japanese female bodybuilder, powerlifter and action actor Michiko Nishiwaki appeared in 23 Hong Kong, Taiwanese and Japanese film productions between 1985 and 1993. Her enduring popularity has largely been associated with powerful femme fatale character cameos, appearing alongside some of the biggest names in Hong Kong cinema. Many of Michiko's other parts were in relatively obscure films – particularly those made during the period when Category III was becoming increasingly popular.
As a teenager growing up in Tokyo, Michiko was involved in gymnastics and volleyball. In a published interview she later attributed her interest in bodybuilding to dissatisfaction with her body image, reportedly regarding her legs as too heavy in relation to her upper body. She was to develop a training regimen involving lifts up to 250 lb that sculpted her physique to a lean muscularity by adulthood, carrying her to win three consecutive bodybuilding championships. This recognition, in combination with her personal zeal for fitness, offered Michiko an opportunity to parlay her personal accomplishments into a business venture. With a flair for publicity and self-promotion Michiko opened three women's fitness clubs co-managed by her brother, at a time when interest in women's bodybuilding and fitness was still nascent in a gender-role differentiated society. Recognizing the importance of publicity and exposure, Michiko reportedly pursued television guest spots and related public appearances with characteristic dedication. She would subsequently describe overcoming her shyness and reserve about appearing publicly clad only in a bikini. It seems likely that such desensitization to public scrutiny, together with interest in display of her physique, would ultimately carry Michiko's movie career further down the Category III path than many of her contemporaries dared to venture.
"You have me, isn't it enough?" (Michiko, "Raiders of Loesing Treasure")
Perhaps the defining moments of Michiko Nishiwaki's acting career involve relatively brief early cameo appearances in two very popular action comedies - "My Lucky Stars" (1985) with Jackie Chan, Samo Hung and Yuen Biao, and the hugely successful "God of Gamblers" (1989) with Chow Yun Fat and Andy Lau. Both her principal scenes in these films rank among the enduring images of Hong Kong cinema, and merit mention whenever these films are reviewed. It is no accident that both involve unexpectedly shedding the kimono, resulting in scenes whose power is derived from visual imagery and symbolism rather than action.
For both Asians and Westerners the kimono is a garment redolent with the symbolism of both the Japanese pursuit of quiet perfection as well as historically ruthless subjugation of women. When Michiko steps out of the kimono ("My Lucky Stars," 1985) she does so carefully, with ritualized economy of movement - also stepping out of her shoes. When the garment is discarded, an exterior skin is gone - a literal and figurative shedding. The sight of Michiko's sculpted, muscular physique, buffed to a sheen, presents a startling contrast. Suddenly, she's all razor-sharp ferocity. Her muscularity is dangerous and unrestrained. Her movements and manner become dramatic and expressive. Her "posedowns" linger in memory as the eduring images of the film.
In the opening of "God of Gamblers" (1989) Michiko kneels, statuesque, awaiting the bidding of her master. But when called on to throw the dice she rips open her kimono to reveal shoulders covered with an elabarate tattoo. The contrast between Michiko's suddenly bared magnificent upper body and the formality of her makeup, traditional hairstyle, plain kimono and the audience of tuxedo-attired men creates a voyeuristic sensation, heightened by the spectacular body art. The subsequent weaving of her arms as she shakes the dice beneath a deadpan, unwavering gaze that seems to penetrate right throught the audience is hypnotic, serpent-like.
Unfortunately, what good directors could give with one hand, they could also take away with the other. Michiko's fight scene with Sibelle Hu in "My Lucky Stars" (1985) almost degenerates into a cat fight, and she is made to look faintly absurd by being knocked out with a single punch after posing in front of Samo Hung. Equally, Michiko's part in "God of Gamblers" (1989) went no further than what was essentially a visually arresting pose. Despite her yearning to find solid parts that would allow her to be recognized for acting talent, Michiko would continue to be cast primarily either as window dressing or as a statuesque figure in gambling or witchcraft roles. Her Asian movie career seems to have reflected a search for ways to develop her talent into something more than a visual curiosity, and in so doing she quickly acquired the proficiency in both Japanese karate and Chinese kung-fu styles necessary for action roles.
"Please don't think about I'm action actress" (Michiko Nishiwaki, in English)
During interviews in the early 1990s Michiko seemed to want to keep her film career options open - maintaining both a desire to be taken seriously as an actor while also hinting at willingness to perform romantic or more revealing roles if the script demanded. She evidently hoped that her role in "Magic Cop" (1990), where she played a seductively lethal sorceress, might lead to larger parts. Although the next three years would bring busy shooting schedules, many of the parts were supporting roles in police dramas seeking to follow the successful formula of "In The Line of Duty III" (1988). Films like "City Cops" (1989), "Princess Madam" (1989), "Angel Terminators" (1990), "The Dragon Fighter" (1990), "The Outlaw Brothers" (1990), "Avenging Quartet" (1993), "Big Circle Blues" (1993) and "Whore and Policewoman" (1993) cast Michiko on both sides of the law either as a vengeance-seeking femme fatale or competitive and combative cop. Despite some good action scenes and juicy cameos, in most of these movies Michiko's character either has limited screen time or plays supporting romantic interest roles to other action leads.
In retrospect the "Girls with Guns" (GWG) genre appears to have enjoyed a relatively brief surge of popularity in the fast-moving Hong Kong film market and its Taiwanese derivative. Most of the best GWG movies were produced over a three-year period between 1987 and 1990 - the year that marked the rise of Category III. With each passing year Category III productions pushed back the limits of censorship, evolving into four distinct types: relatively graphic pornography, ultra-violent films - often with misogynistic themes nick-named "roughies," and either contemporary or classical action films with risque content. These opportunities propelled a new group of actors to the forefront, some of whom (such as Anthony Wong, Simon Yam or Amy Yip) became prominent in their own right. Such a shift in emphasis toward graphic sexuality posed a potentially serious career challenge for more traditional female action stars. By 1993 the GWG genre - that had interwoven the traditional martial arts themes of violence and vengeance with contemporary feminist themes or examination of gender roles (with widely varying degrees of sincerity) - had been almost entirely displaced. As a result, the female action stars of the late 1980s, with some exceptions, were either increasingly stranded in the barren territory of low-budget Taiwanese, Thai or Philippino productions, or were presented with the risky career gamble of Category III.
Michiko was one of the few who was prepared to embrace Category III - a logical enough decision given her previous starring role in the Japanese "pink" film "Young Lady Detectives" (1987). She had already appeared in one graphic (although not explicit) sex scene in the uncut version of "In The Line of Duty III" (1988) as well as sexually seductive roles in "Princess Madam" (1989) and "Angel Terminators" (1990). Michiko spent most of her screen time in "Hero Dream" (1993) either nude or clad in a bikini, and her character is depicted engaged in sex in front of onlookers. Other relatively graphic sequences included being the target of attempted rape ("Whore and Policewoman, 1993), and romantic sexual scenes in "The Real Me" (1991). Michiko's physique and apparent eagerness to undertake such parts extended her career beyond the demise of GWG, although at the price of appearing in some inferior sequels.


"Take it if you don't find me lousy" (Michiko, "Magic Cop")
Several of Michiko's most distinctive early roles did not involve martial arts or seduction, but rather the popular Chinese entertainment themes of gambling and sorcery. Each brought her striking early appearances ("God of Gamblers," 1989 and "Magic Cop," 1990) followed by considerably less potent reprises ("King of Gambler," 1991; "Witchcraft versus Curse," 1991) that involved elements of gratuitous violence and sexual scenes, respectively. "Magic Cop" (1990) involved an unusual zombie plot in which Michiko's distinctively Japanese ice-cold sorceress was ranged against Lam Ching Ying's Taoist cop. The second film, "Witchcraft versus Curse" (1991) again presented Michiko in relatively passive poses rather than an action role. Although her character remains aloof from the extensive carnal activity around her, her witchcraft is assisted by partially nude dancing girls and performing elephants. Another pair of films ("My Lucky Stars," 1985 and "The Mighty Gambler," 1992) repeately cast Michiko in female fighter cameos within movies featuring prominent gambling action, while she was similarly cast as a fighter in another witchcraft title ("Fatal Seduction," 1993).
Although Michiko was prepared to risk active participation in Category III productions, her Hong Kong film career did not continue to flourish and she eventually relocated to Hollywood during the mid 1990s, where she continues to work as a stunt player.
---