Hong Kong Film Posters 7
---

The Green-Eyed Lady
Director: Chan Lit-ban
1967
Starring: Suet Nei, Kenneth Tsang
Production Company: Yung Hwa Motion Pictures

From what little I have seen and heard of Suet Nei, she never really went for cute - she would rather be deadly and she was in some
ways the predecessor for all the stone-eyed heroines that followed. Chan Lit-ban directed one of my favorite Connie Chan films, I'll Get You One Day,
one of many films in which they worked together.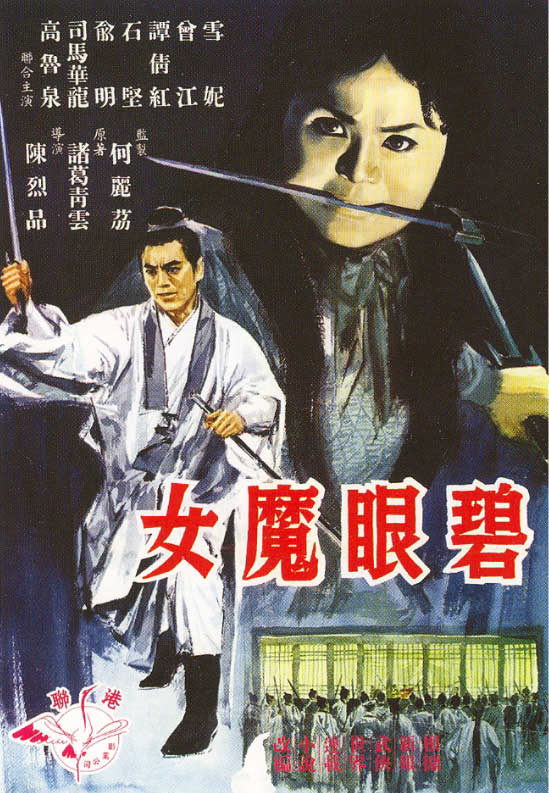 ---

Seven Knights and Thirteen Chivalrous Men
Director: Leung Fung
1967
Starring: (left to right) Law Yim-hing, Yam Yin, Walter Tso Tat-wah, Sek Kin
Production Company: Kei Fung

Between Sek Kin and Walter Tso, they must have appeared in over 90% of the Cantonese action films of the 1950's and 60's. Just amazingly
prolific stars - Sek Kin almost always cast as the villain and Walter as the good guy. Both lived long lives, working into their 80's. Sek Kin died just recently in 2009.
Law Yim-hing didn't have too shabby a career as well - literally hundreds of film credits from the late 1940's till the end of the 60's. They just don't make them like
this anymore.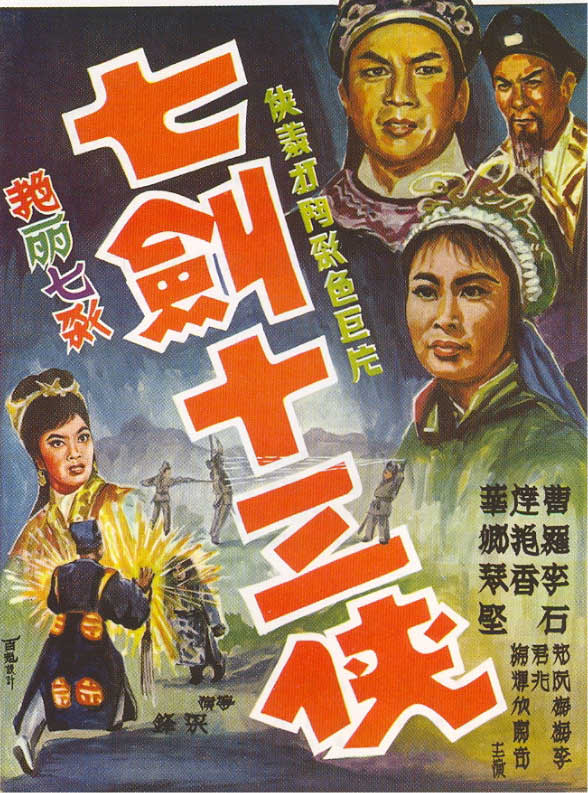 ---

Wife of a Romantic Scholar
Director: Wong Tin-lam
1967
Starring: (left to right) Zhao Lei, Jeanette Lin, Annette Chang, Tin Ching
Production Company: Cathay

By 1967, Cathay was searching for a winning formula but was floundering in the wake of the Shaw Brother's success with their martial arts films. Many of the usual Cathay
talent is still on hand though for this Huangmei Diao (Yellow Plum Opera) - the great Wong Tin-lam behind the camera, Nellie Chin Yu who wrote some of the great
Cathay scripts (Her Tender Heart, The Wild Wild Rose, Sun, Moon and Star) delivering this her final script before retiring and moving to Canada, Zhao Lei, Jeanette Lin
and Tin Ching in front of the camera and finally Yao Min composing the score. Yao Min composed many of the finest film scores for Cathay.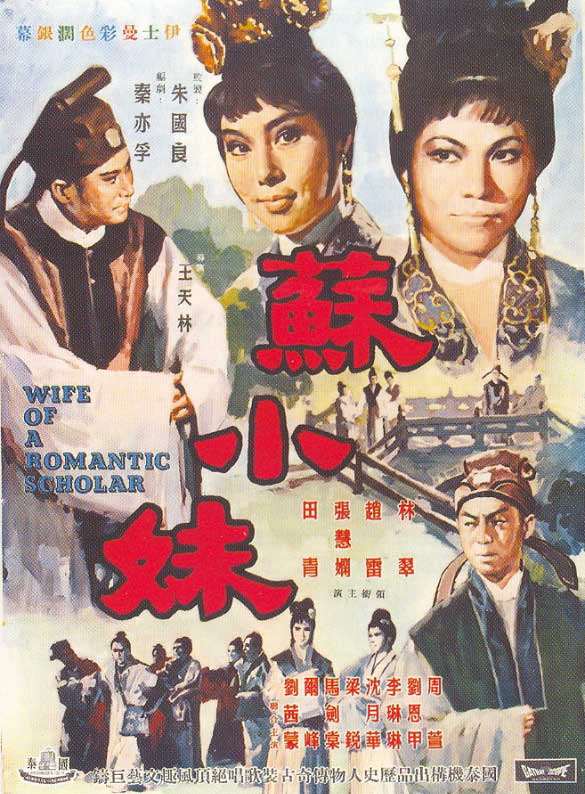 ---
Adventure in Fishing Harbour
Director: Chan Lit-bin
1967
Starring: Connie Chan, Ha Ping, Law Oi-Seung, Kenneth Chang
Production Company: Sin Hok Gong Luen

This is another collaboration between director Chan and actress Connie Chan. I saw something from Durian Dave stating that they worked together on 26 films.
Of course since she made around 230 films (according to the HKMBD), that was still only 11% of her total films! Oh, and she retired at the ripe old age of 25!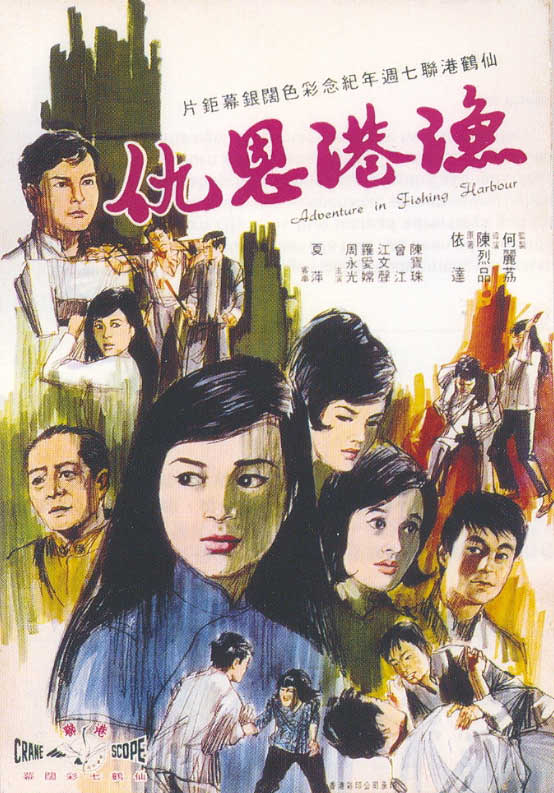 ---

The Impartial and Incorruptible Judge Pao
Director: Ling Yun
1967
Starring: Lam Ka-sing, Ng Kwun-lai, Liang Tsi-pak, Leung Sing-bo
Production Company: Gam Aau

Judge Pao is reknown as an honest and wise judge who lived from 999-1062 and a thousand years later he still has a hold on the Chinese imagination. He has been portrayed in
various films but to an even larger degree in a few TV series. Here he is portrayed by the great character actor Leung Sing-bo who appeared as an exasperated father
in a number of the Cathay films.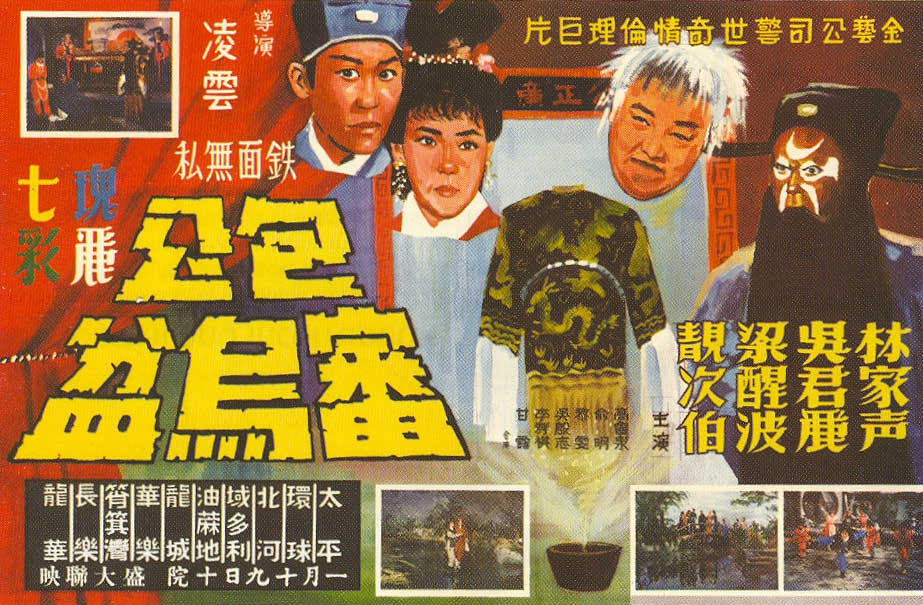 ---
Wong Fei Hung: Duel for the Championship
Director: Wong Fung
1968
Starring: Kwan Tak-hing, Sek Kin, Kenneth Tsang
Production Company: Yue Lok

How many times I wonder did Kwan Tak-hing and Sek Kin cross each other's paths in the Wong Fei Hung series. They were together for the very first in 1949 and for the final film
in the series in 1970. The series is really remarkable for its longevity - 21 years and over 70 films. That has to be some sort of record and for many of these movies three great icons of
Cantonese film - Kwan, Sek Kin and Walter Tso - just kept going.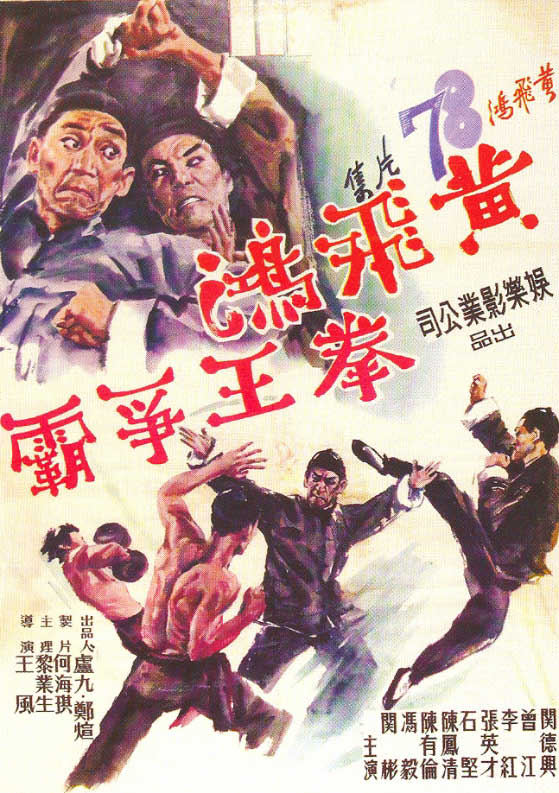 ---
Red Lips of May
Director: Wong Yiu
1968
Starring: Josephine Siao, Hong Wai, Pai Ying, Yue Ming
Production Company: Yulin Film

This one looks like fun. One of so many Cantonese films of this period that will likely never come to video. The description on the calendar has this to say:
"In this film she (Josephine) is chased by some villains to the back stage. She then disguises herself as an actress to sing and dance on the stage." What more could you want?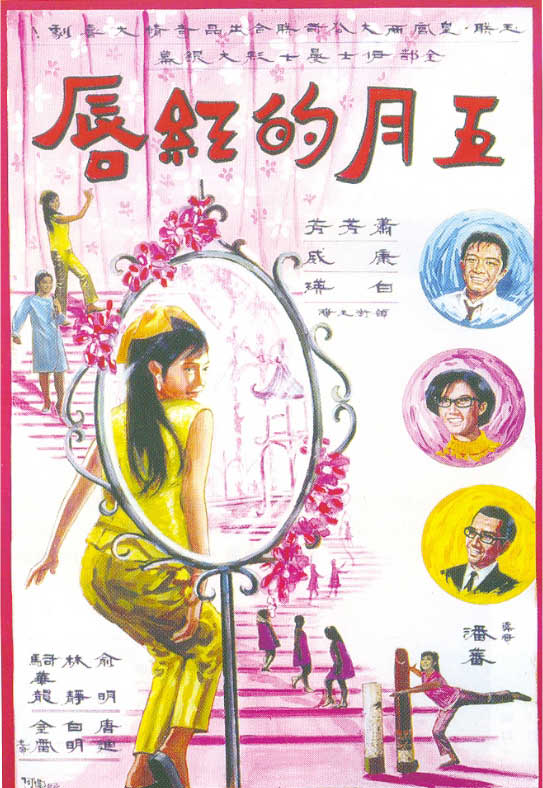 ---

The Charming Mini-Skirt
Director: Ng Wui
1968
Starring: Wu Fung, Suet Nei, Cheung Ching, Ha Ping, Yue Ming
Production Company: Shun Yee Film

Wow, the mini-skirt gets to Hong Kong! And Suet Nei without a sword in her hand. She still looks pissed though!
Ng Wui began directing in 1941, his last directed film was in 1979 - but he continued to act in films till 1994 (Hail the Judge).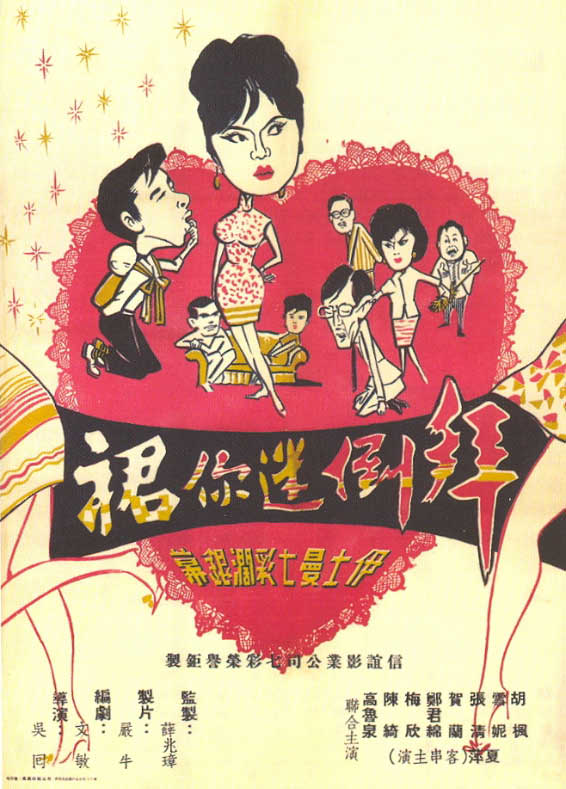 ---

Darling Stay at Home
Director: Wong Tin-lam
1968
Starring: Betty Lo Tih, Zhang Yang, Tin Ching, Tina Ti
Production Company: Cathay

The sex bomb Tina Ti - I did not know that she started out at Cathay (in a film intriguingly called Operation Macau). For some reason though she isn't pictured on the poster
- instead they have three photos of Betty. Betty was reputed to have left the Shaws because she got so angry at them for giving Ivy Ling Po more attention than she received
after Love Eterne. I guess Cathay was going to be sure that did not happen again! This film is on DVD.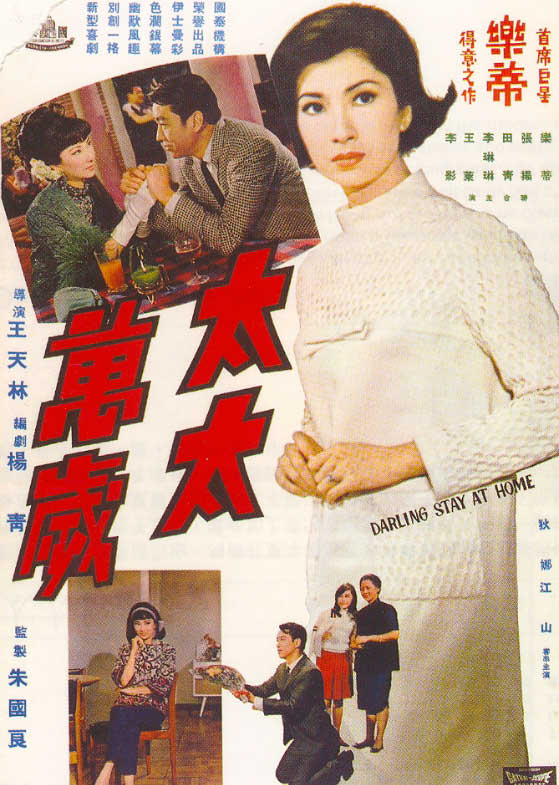 ---

Social Characters
Director: Daniel Lau
1969
Starring: Alan Tang, Petrina Fung Bo Bo, Lydia Shum
Production Company: Yue Lok

What the heck is this film about? Everything important I think - rock and roll, rebellion, girls, heartbreak and a basket full of yellow garbed girls on
motorcycles (including Lydia!). How very cool. Another film I need to see.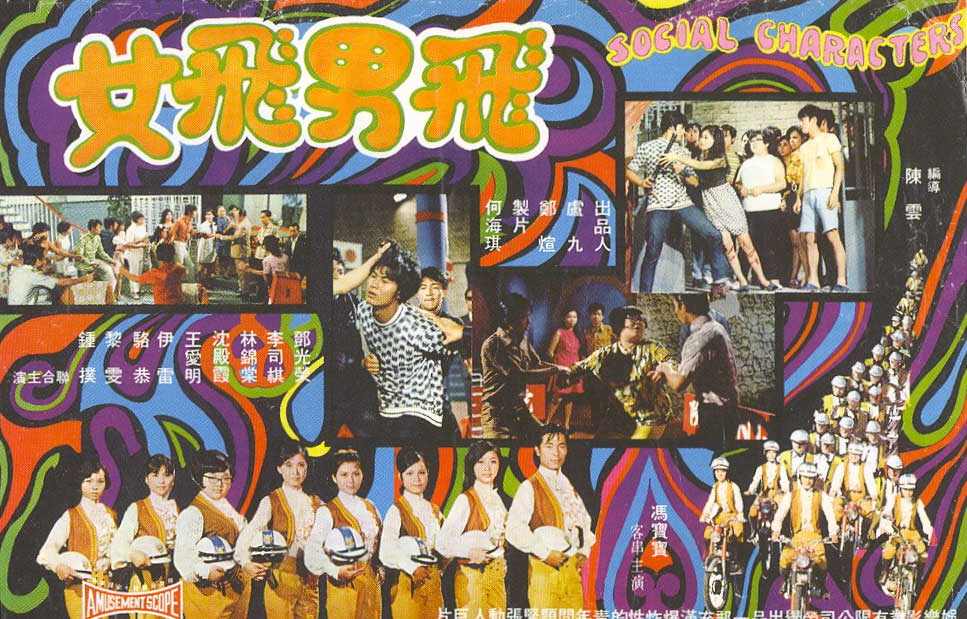 ---