Hong Kong Film Posters 5
---

Night Errand (a.k.a. Red Thread Steals a Precious Box)
Director: Lee Sun-fung
1963
Starring: Josephine Siao (pictured), Connie Chan, Walter Tso
Production Company: Fong Fong
Josephine Siao was 16 years old at the time of the production. Who plays her male lover in the film? Connie Chan, of course.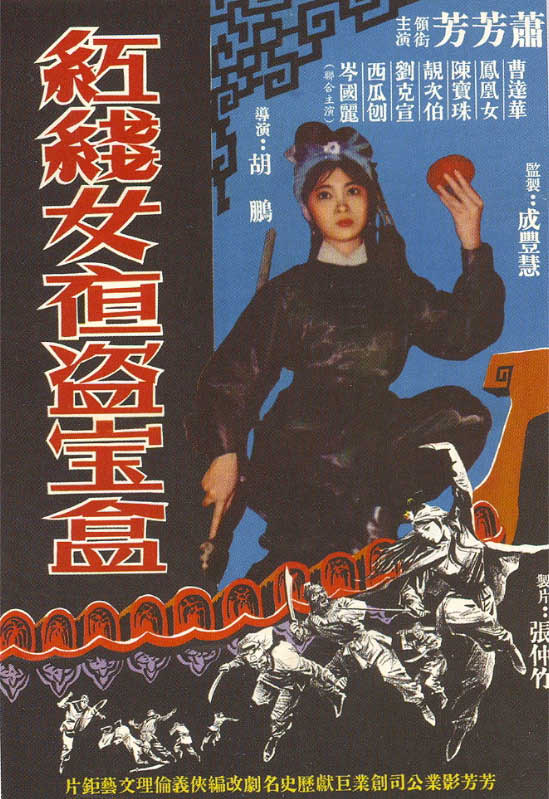 ---

Liu Hai Meets Fairies
Director: Lee Sun-fung
1963
Starring: Shek Hwai (the female pictured), Liu Hai (the man pictured)
Production Company: Feng Huang
Director Lee Sun-fung is considered one of the great progressive Cantonese filmmakers of the 1950's and 1960's. He was born in China in 1909 and moved to HK in 1933 and by 1935 had entered the film industry. He was one of the founders of Union Films, a film collective that became one the premier production companies in HK. The Hong Kong Film Archives has published a book on the director but I tend to doubt if any of his films are available with English subtitles.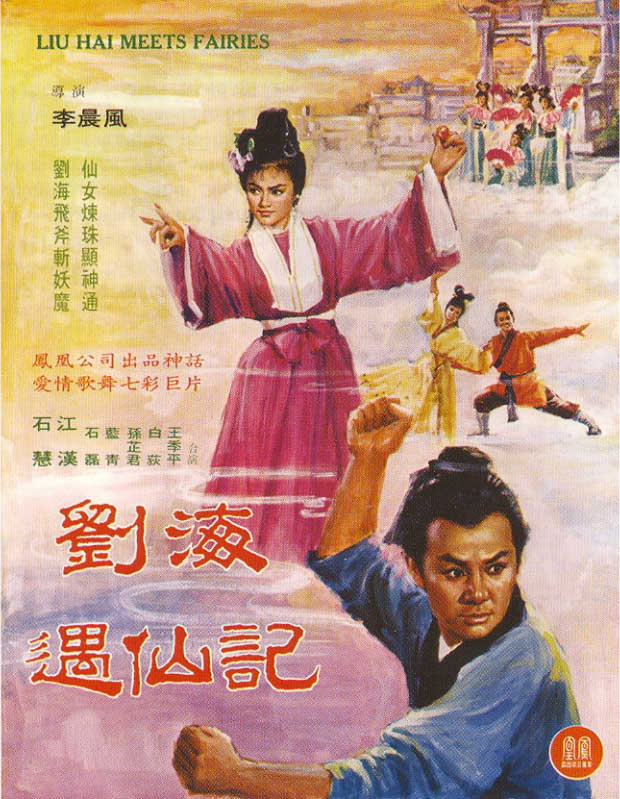 ---

The Silver Arrow and the Golden Blade
Director: Wu Pang
1964
Starring: (counter clockwise) Law Yim-hing, Lee Heung-kam, Yeung Chi-hing, Walter Tso
Production Company: Mingxing
Wu Pang was known particularly for the many many Wong Fei-hung films that he directed from the first one in 1949 to his final Wong Fei-hung film in 1967.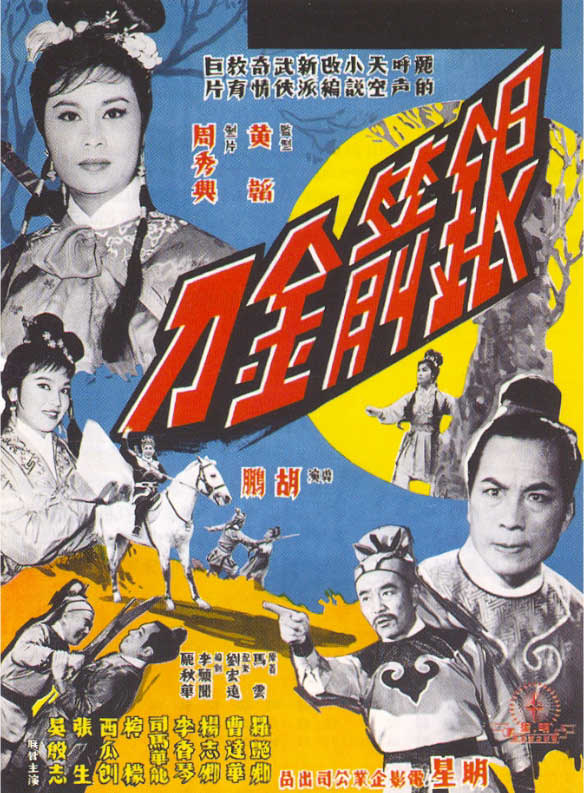 ---
The Paradise Hotel (a.k.a. A Big Restaurant)
Director: Cho Kei
1964
Starring: (left to right) Cheung Ying, Ha Ping, Walter Tso, Hon Ying, Yeung Sai, Lui Kei, Wong Man-lei
Production Company: Gum Wa
Ha Ping is always a favorite of mine to spot in old films or posters. Her film career began in the mid-50's, she shows up in lots of Shaw films and then has a busload of credits from the 80's to her last one in 2007. Though her roles in the 70's forward were often very small, in the 1950's through much of the 1960's she was considered a leading lady.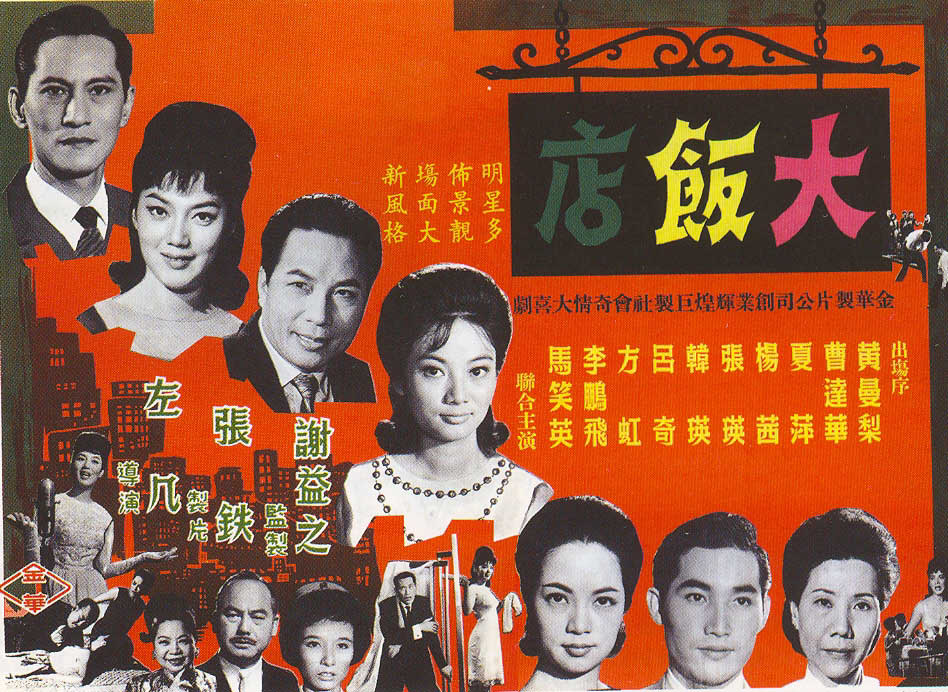 ---

Pigeon Cage (a.k.a. The Apartment of 14 Families)
Director: Yeung Kung-leung
1964
Starring: (left to right) Tang Pik-wan, Ha Ping, Wu Fung
Production Company: Gam Hoi
Not only does Ha Ping also appear in this one but so does Tang Pik-wan, another actress who had a very lengthy career, from 1950 to 1990. comprising a vast number of films. By looking at her filmography it appears that she basically left acting when Mandarin films began to dominate in 1967 and did not return until Cantonese films were back in 1983 thus missing the whole Shaw Brothers era. For many of us, her best known role may be as the mom in She Shoots Straight in 1990.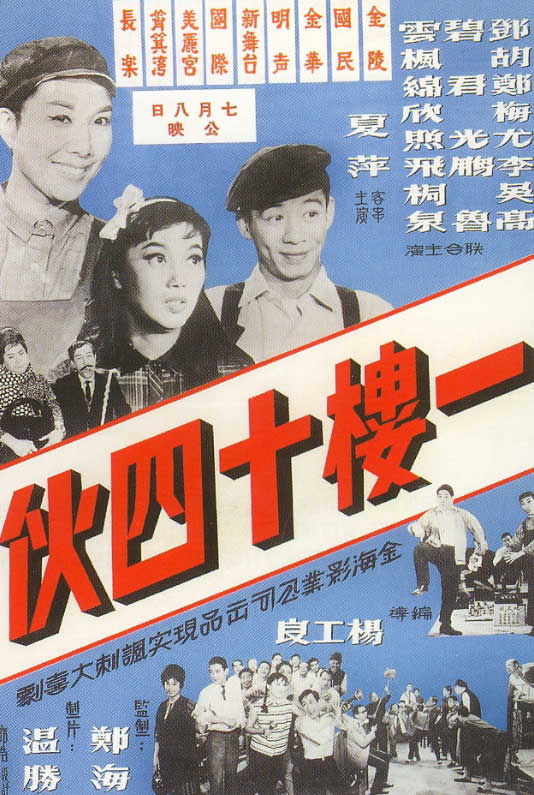 ---
A Half Bed Space
Director: Wong Hak-sing
1964
Starring: (top to bottom left) Ha Ping, Lam Ka-sing, Yu Lai-jan
Production Company: Lai Si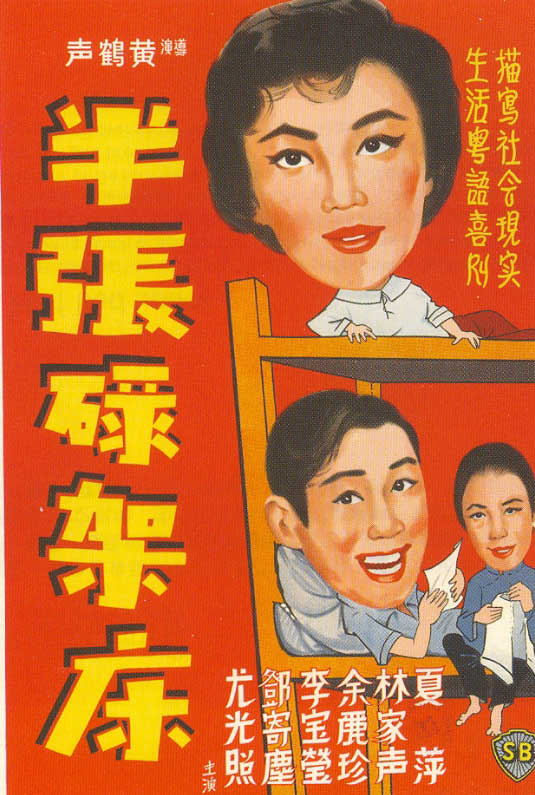 ---
A Story of Three Loves, The Sequel
Director: Lee Sun Fung
1964
Starring: Grace Chang, Jeanette Lin, Roy Chiao, Zhao Lei
Production Company: Cathay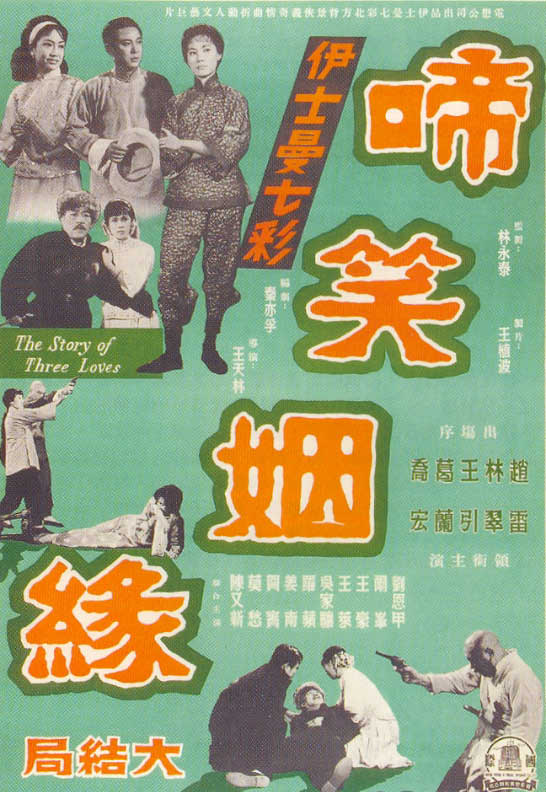 ---

Ghost Bride (a.k.a. The Bride from the Grave)
Director: Cheung Ying
1964
Starring: Cheung Ying, Yeung Sai, Lui Kei, Pak Yin
Production Company: Luen Wa
Actor Lui Kei was still working his way up in 1964 but was soon to become a Cantonese heartthrob co-starring along with Connie Chan in many films.
Then he left acting to become a director of many softcore films for the Shaw Brothers.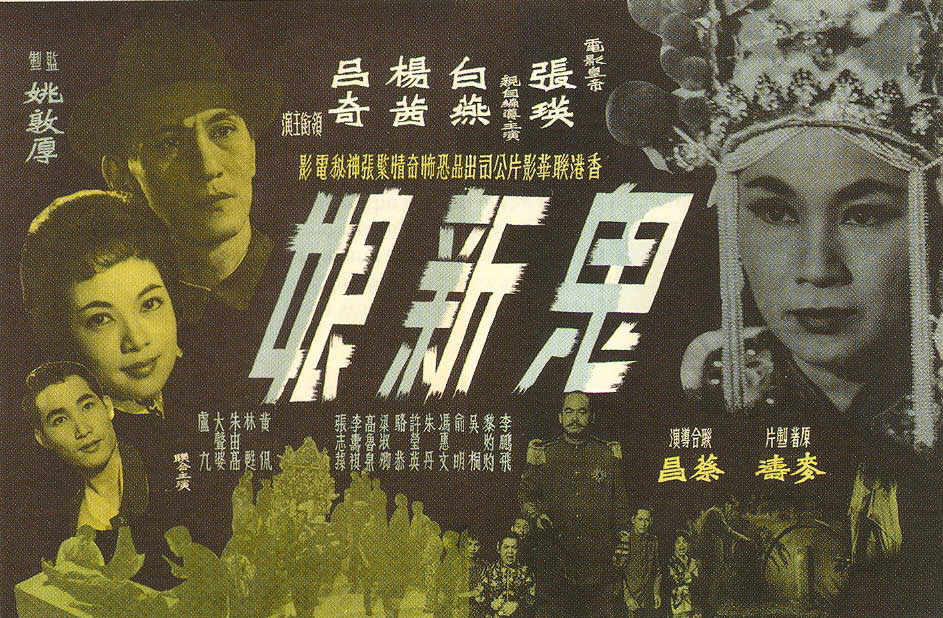 ---

A Beautiful Ghost
Director: Cho Kei
1964
Starring: (counter clockwise) Ha Ping, Geung Chung-ping, Lee Pang-fei, Sze-ma Wah-lung, Leung Oi, Lui Kei, Lo Tun
Production Company: Gwong Shing
The calendar has this to say about Ha Ping "Her name was derived from Audrey Hepburn. Ha Ping was far more cheerful, westernized, and modern than her contemporaries. In this film she oozed charm playing both a sharp and spunky girl next door, and the graceful, but mysterious daughter of a wealthy family. Regrettably she soon turned to playing mothers and sirens, leaving her previous roles to Connie Chan and Josephine Siao."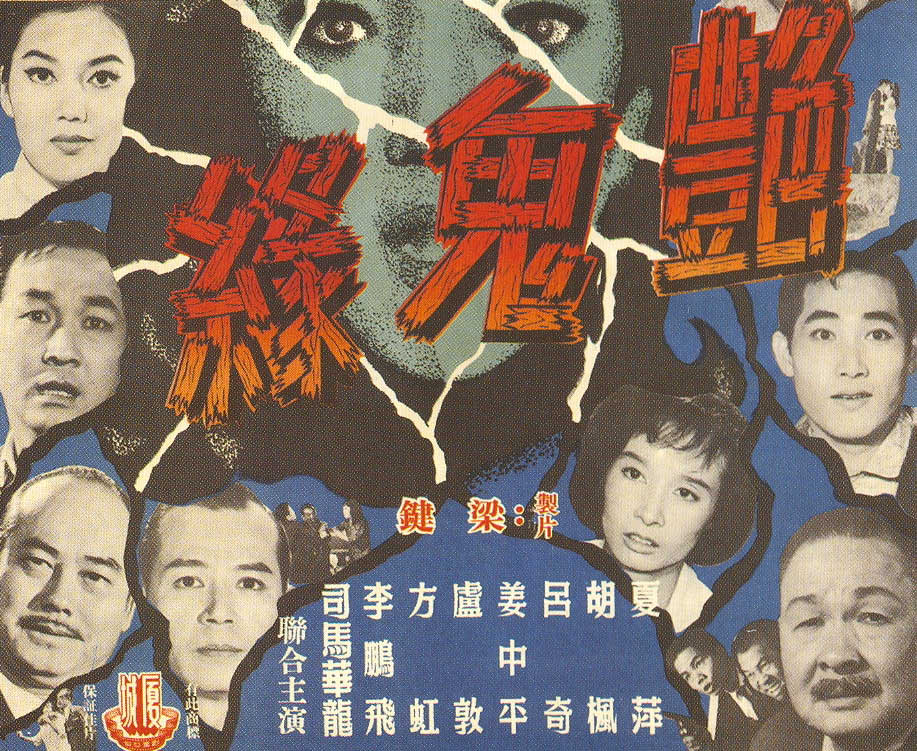 ---

My Darling Wife (a.k.a. Romantic Lover)
Director: Chan Wan
1965
Starring: Lui Kei, Nam Hung
Production Company: Haiyang
In the calendar director Chan Wan takes credit for making Lui Kei a romantic star, pre his hook-up with Connie Chan.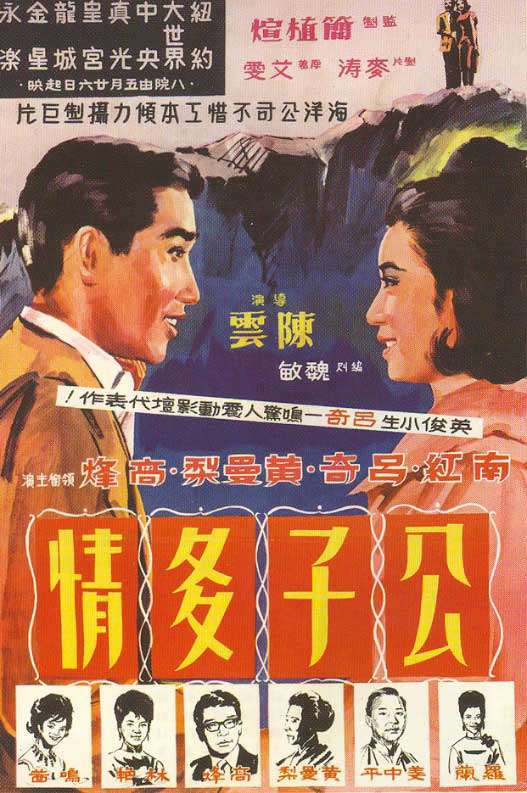 ---