The Huntresses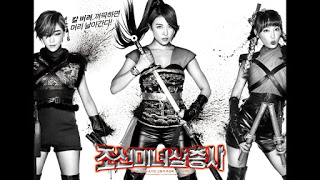 ---
Director: Park Jae-hyun
Year: 2014
Rating: 5.5

This is pretty goofy for much of its running time though it being a Korean film it inevitably dives deep into melodrama like a drowning man at some point. But I was in the mood for this silliness though admittedly it begins to slightly wear out its welcome as time goes on. The main pleasure for me was watching one of my favorite Korean film actresses, Ha Ji-won, who I liked so much in The Phone, Sex is Zero, the TV series Damo, Duelist and the ping pong film As One. She is part of a trio of lovely female bounty hunters with Gang Yi-won and Son Ga-In who always get their man. It being a period film circa 1600's this is even more farfetched than it sounds.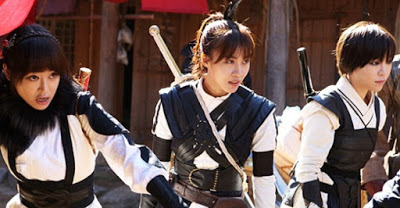 But it is all fairly comical in nature with highly exaggerated action scenes, modern inventions, disguises, deadly yo-yo's, funny cute faces, hang gliders and wild chases until suddenly it isn't. It moves into more serious territory when the Government asks them to track down one of their agents who has top secret information and who is being chased by enemies of the throne. It gets more complicated though when Ha discovers that the man who killed her father years ago is behind this and that the boy she loved as a young girl is his cruel assassin.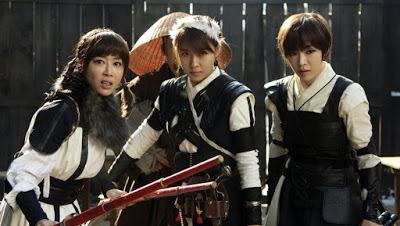 The action heats up and the comedy slows down - though it is still there - and I began to think that this would have actually been a much better film if it had been serious right from the get go - three killer women having no mercy rather than pseudo Charlie's Angels. Still watching Ha is never a chore and one of her co-mates, Son Ga-in, who is a member of the girl band, Brown Eyed Girls, is quite easy on the eye as well.