The Shadowless Sword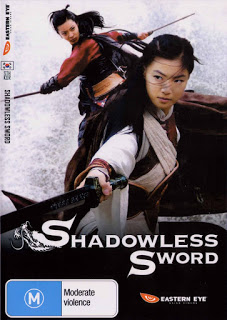 ---
What a gorgeous high flying Korean wuxia this is. It is as if the director Kim Young-jun spent his formative years slavishly and repeatedly consuming the Hong Kong wuxias of Tsui Hark, Ching Siu-Tung, Yuen Woo-ping, King Hu and Chor Yuen. Kim takes it all in like a junkie and splashes all of it on the screen in Shadowless Sword. It felt like a return to the 1990's for me. Now this is not to indicate that this film is close to the Swordsman trilogy or Dragon Inn or Magic Blade or A Touch of Zen in quality but is a fair amount of fun. Wirework galore. Yup. Flying darts. Yup. Exploding bodies. Yup. Exploding water. Yup. Strong deadly beautiful females. Yup. Swordplay. Yup. Great costumes. Yup. Evil villains. Yup. Dead bodies all over. Yup. It is all here.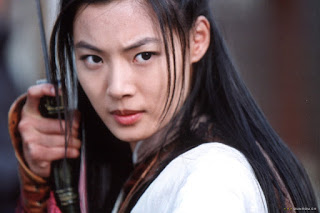 Unfortunately, so is too much typical Korean melodrama and two leads who don't really engender much empathy. In fact, the villains are so much cooler and more interesting than the heroes. So between the many imaginative colorful action scenes is a lot of tedious dialogue and some whining as well. Still they are well worth sitting through because the next action scene is just around the corner. None of these actors are trained in martial arts though apparently they did a lot of training before the film shooting began - so the director uses massive amounts of editing to make them look good but he does it with flair and almost seamlessly. It just looks so good.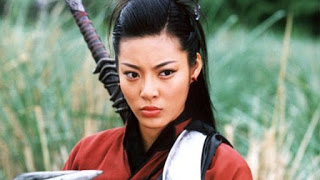 The plot takes place in the 900's and there is the normal internecine wars in Korean between two competing powers. One uses the Killer Blade mercenaries to kill off all of the royal family. With one exception - a prince (Shin Hyeon-jun) who has been in hiding for years and has become a shady criminal. A bodyguard is sent to protect him - and a stunning female bodyguard it is who comes in the demure form of Yoon So-yi who is a master killer. The bad guys soon show up (Lee Seo-jin and Lee Ki-yong) and their many minions soon show up and it is all go from that point on. The Prince has no desire to go back and take on his responsibilities and unite his people but his bodyguard tries to bring out the King in this. There isn't much doubt of that.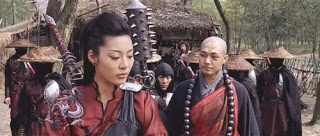 After watching the film I eagerly looked up the filmographies of both the two female stars - both are ravishing and though Yoon So-yi underplays her role to a fault she is serenely lovely - but it turns out they have very little work that I can access. Yoon had already been in Arahan which was a contemporary wuxia film that I saw a long time back and has done basically TV since this film and Lee Ki-yong was a model and appeared in only one more film (My Wife is a Gangster 3) after this. Oh well.
My Rating: 7.5