Wandering Ginza Butterfly 1 & 2
---
Year: 1971/1972
Country: Japan
Ratings: 7.5/ 7.0

Wandering Ginza Butterfly - 1971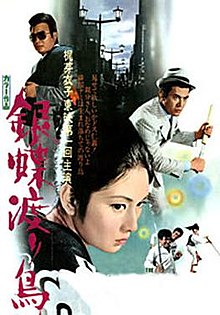 It's Ginza, Jake. "In Ginza an honest person can not survive". In the neon lights of Ginza are a myriad of hostess bars, hostess girls, gambling dens, Yakuza thugs, drugs, victims, wide ties, high school girls in the daytime; selling favors at night. In this milieu sentiment and honor is hard to find but it is there if you look for it.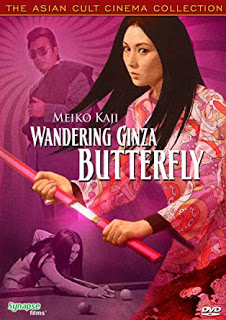 It also has Meiko Kaji and what more can you ask for if you are a fanboy. Meiko Kaji is an iconic actress in female empowerment - generally through the sharp edge of a sword or knife - fighting her way through a rough man's world. By 1971 she had appeared in a series of films termed Stray Cat Rock and other hard girl films for Nikkatsu, but she moved over to Toei in 1971. Her first outing was this film followed soon by the second in the series. But it ended there. Soon though she was launched into the Female Scorpion series and then the two Lady Snowblood films. These cemented her legendary status. I am a big fan of hers. Not trained in martial arts as far as I know, she was just very graceful, beautiful, charismatic and with a cold eyed stare that could freeze your blood at 20 yards.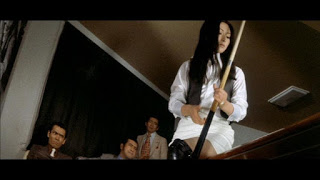 After three years in prison for a murder of a mobster, she moves back to Ginza and finds a job in a hostess bar. She generally stays silent as events around her bar turn sinister until she can take no more and she reaches for her . . . pool stick! She plays the Yakuza in a version of billiards called Carom Billiards in which you have three balls and use one to hit another ball that then has to carom three times off the cushions and then hit the third ball. When this doesn't settle matters she finally goes into full Lady Snowblood mode in kimono, umbrella and sword. Really enjoyed this but not sure how much for the film and how much for Meiko.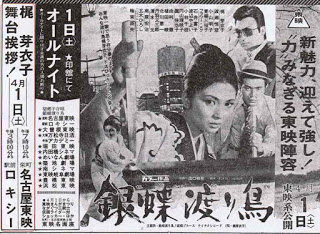 Wandering Ginza Butterfly 2 - 1972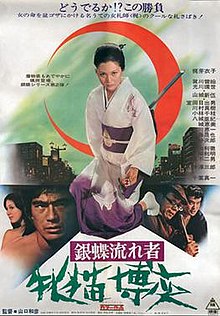 The second (and last) film in the Wandering Ginza Butterfly series is a bit rougher and certainly bloodier than the first one. This captured a trend in Japanese films in the 1970's that were becoming bloodier as the decade progressed. By the time you get to Lady Snowblood just a year later it had become a bloodbath. Compare that to the Zatoichi films of a few years before in which loads of people are killed but the blood is kept tasteful, minimalistic and not spurting like the Trevi Fountain.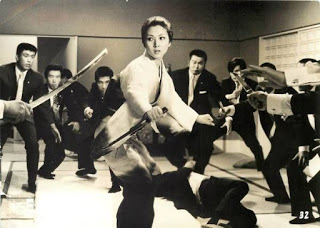 Strangely, Meiko Kaji plays Nami Higuchi as she did in the first film, but the character seems to have little resemblance to her. This time out she is a professional gambler of a game translated as Bon and she comes to Ginza to gamble but in reality to find the murderer of her father 18 years previously. She once again gets entangled in the affairs of the Yakuza in order to help out a friend. She also meets up with Sonny Chiba and after a long lead up in which Nami is quite passive the two of them take on a gang of about 30 men and slice and dice their way through. Seeing the two of them side by side, swords in hand, blood stained as a betel nut is quite the iconic image. Too bad that this was as far as the series got but Meiko did shortly go on to do Female Prisoner Scorpion and Lady Snowblood. I think I could watch her in anything - just balefully glaring at an empty chair for 20 minutes would be fine but unfortunately the vast majority of her films are not available with English subs.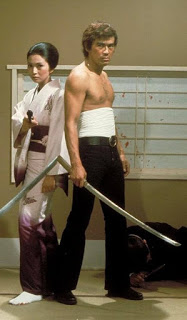 I was reading that Toei hired her to replace Junko Fuji who had just retired when she got married and who had been their go to actress for action films - in particular in the genre they termed ninkyo eiga which are period - usually in the 1800's - gangster films. If you ever come across Junko's Red Peony Gambler series grab it. This Wandering Ginza film certainly feels like a ninyko eiga film but brought into the modern day with Meiko garbed in kimonos, gambling and finally bringing out the sword.