Wrestling with a Memory (a.k.a. Gachi Boy)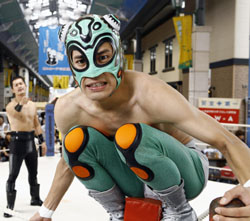 ---
Japan
Director: KOIZUMI Norihiro
Year: 2008
Here is another audience feel good film that is hard to resist even though it has one plot turn that may make some of us groan with its familiarity. The film manages to rise above it though with surprising poignancy among the many laughs and silliness. Ryoichi shows up one day to join a "professional" wrestling team at Hokkaido University – but this isn't your legitimate college wrestling – this is one strictly put on for show in which the students wear outlandish costumes and choreograph all the routines ahead of time. It is all about fun and entertainment and they perform at fairs and on the street. They accept the highly enthusiastic but extremely skinny Ryoichi (played by a Jim Varney look-alike, Ryuta Sato) because he is reputed to be one of the smartest kids in school having passed the lawyer bar exams even before graduating. Thus it is surprising to them that he can't seem to remember the routines even though he writes everything down in a notebook and takes Polaroid's of everything.
I didn't see it coming but perhaps it should have been obvious – but it turns out that he suffers from the 50 First Date syndrome – he had an accident and wakes up every day having forgotten anything that happened since his mishap. He keeps the notebook and pictures at his bedside to let him know what has happened in his life since then and doesn't let on to anyone what his true condition is. At this juncture in the film I have to admit that I nearly decided to make my way to the exit because I just saw an impending flood of teary melodrama coming my way – but the film handles it with great dexterity – keeping it generally quite amusing, but with some heartfelt rueful moments in which Ryoichi reflects on his life with dark sadness as he realizes he has no future, only a past to remember and cherish. There is no Adam Sandler showing up in his life. Sato impresses greatly as he takes his character and slowly gives him depth and great humanity.
He realizes that wrestling is somehow keeping him going – not that he remembers it but that he can feel the bruises that it causes. Then the villains show up – a couple punk arrogant chiseled body wrestlers in blond hair who decide to first put him up on a pedestal by allowing him to win some matches and then knock him off it by humiliating him in the ring. Not so fast, as he refuses to go down in a match that is brutal and exhilarating. Much of the film hits a lot of commercial and obvious marks – the goofy group of wrestlers, the father who can't face his son anymore, the girl he has a crush on and his rejection – day after day after day - and his redemption at the end – but it is done with such a sweet nature that it just doesn't matter – it works. Or to quote the Mark Schilling review in the Japan Times, "You'll come out of the theater ready to put a headlock on life".
My rating for this film: 8.0

---