Crows - Episode 0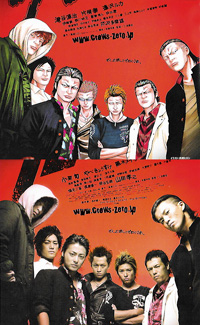 ---
Director: Takashi Miike
Japan
2007
138 minutes
Miike continues to make more films than I write reviews it seems – he has two of his films playing here at the fest and they couldn't be more different – one a Japanese western and this film based on a popular Manga. It takes place in a boy's high school called Suzuran where the graffiti is omnipresent and the teachers barely visible - these students are the worst of the worst – called crows. The only thing that counts here is surviving and getting to the top of the food chain. There are assorted gangs of boys who all want to be number one – to rule Suzuran – but that doesn't come easy and as one student says near the end – "you can't win here – all you do is fight and fight – and then you graduate". But in the meantime, fighting is the only thing on the curriculum.
Leading the pack is Tamoe – a soft eyed gentle looking kid with the punch of a mule and a love for a good fight – and his crew and every challenge is met with a vicious kick or a hard elbow. Into this mix comes Genji, a transfer student with something to prove to his yakuza father – if he can tame Suzuran, he can inherit his father's gang some day. With the help of a low ranking yakuza he begins to form alliances with other gangs in hopes of getting enough numbers to take on Tamoe. When he does the challenge is put forth and the rumble is on and hundreds break heads in the pouring rain.
Set a bit in a Manga world where every punch is thunderously loud and every character is either totally cool or off-beat strange, Miike has created an enormously entertaining piece of energetic filmmaking that crackles like punk rock but never takes itself seriously. Even with all the head banging going on, it is almost family fare as there are really no bad guys in this comic world, no one gets killed (though there are plenty of bruises and cuts) and by the end you like all the characters in the film who beneath their tough exterior are basically all softies at heart. Filmed with Miike's usual flair and panache for visuals, it moves with a wonderful sleekness from scene to scene and rarely slows down. Certainly not Miike's best, but one of his most fun films.
My rating for this film: 8.0

---