Kamome Diner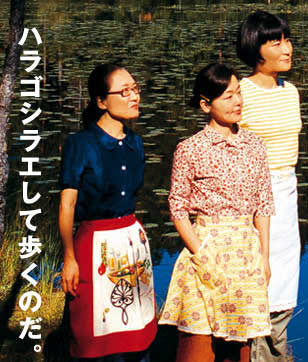 ---
Kamome Diner is a film of small quiet accumulating pleasures adding up to a wonderful whole. It is difficult to clearly impart why I enjoyed this film so much as the plot is minimal, the character development is enigmatic and the majority of the film takes place in one interior location, but it was like a warm soup settling into my stomach and simply making me happy and content. From the first quizzical scene to the final perfect happy dissolve, the film pulled me into this lovely and mildly absurd cinematic world of hot coffee, wry musings, new friendships, anime theme songs, comic trivia, rice balls, personal exploration and home. The film's message seems to be that home is where you make it even if it is far away from your country of birth and upbringing, but at the same time your country will always travel with you.
This is an extremely unusual setting for a Japanese film as female director Naoko Origami (Yoshino's Barber) places it in Helsinki, Finland – about as far as one can get from home – which to a large degree was likely the point. Living in a new land is a common theme in American films, but fairly rare in the somewhat insulated environment of Japan. This is about three middle age Japanese women who come alone to Helsinki for different reasons and find a place that resonates within. One of the things I appreciated about the film is that it completely avoids dramatically charged scenes, but instead with a great deal of affection and whimsy simply details the lives of these women becoming friends and how they interact with their surroundings.
Sachie (Satomi Kobayashi) has come to Helsinki to open a diner for reasons never really explained – at one point she says it is because both the Japanese and the Finns like salmon, at another time she jests that it is to meet good looking men. Her specialty is rice balls – what she calls the soul food of Japan (though the recent Udon claimed that Udon noodles was the soul food of Japan!) and she won't advertise or add to her offerings because "I don't want to cater to homesick Japanese or to Finns who are after stereotypical sushi or sake". But in the meantime she has not had one single customer as the Finns seem too shy to intrude into an ambience that is also foreign to them - with one elderly lady looking through the window and wondering if Sachie was a child as she looked so small.
Finally, a young male Japanese speaking Finn enters with a request for coffee and the song lyrics to the Gatchaman song. Sachie doesn't know but later that day she spots another Japanese woman in a bookstore and asks her – this is Midori (Hairi Katagiri), a tall awkward woman who has ended up in Finland because she closed her eyes and stuck a pin in a map and promised to go wherever it landed. Now she is here and has no idea what to do – they soon become friends and Midori begins working at the diner for no pay and with no customers. Next to come into the picture is the spinsterish Masako (Masako Motai), whose parents just died and she came to Finland because she saw some natives on television competing in odd games like air guitar and sauna. She too begins to work in the diner and seems to have the art of being able to converse with the Finns though neither speaks the other's language. Eventually customers begin to come.
And that's about it. But as I said before it is the little details that fill in the picture that make this such a treat – the quirky conversations, the welcoming bows, the steaming food, the tears that come with a good helping of rice, the surprised or dead pan facial expressions, shopping for reindeer meat , the sense of community and the fact that these three women who seem to have had nothing for them in Japan find meaning in the mundane in a strange new world. It speaks to our need to sometimes reinvent ourselves. The three actresses are so good and their chemistry together so harmonious that you never want to say goodbye to them.
My rating for this film: 8.0

---