Two Idol Films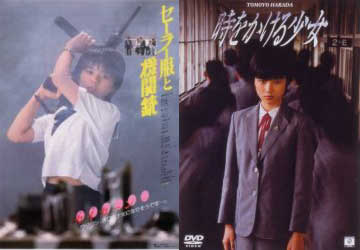 ---
Back in November of 2006, the Japan Society in New York City put on a retrospective of five female idol films from the 1980's that they titled Lolita in Full Bloom. Unfortunately, I was away at the time but I was able to get screener access to the two most famous films in the line-up – Sailor Suit and Machine Gun and The Little Girl Who Conquered Time. Both films starred young appealing wholesome actresses who became very big stars because of their roles in these films and also embarked on pop singing careers. This idol phenomenon seems to make occasional inroads in film industries at some point – in the U.S. during the early 60's when Annette and Frankie road the waves in numerous beach movies and Hong Kong seems to be in the middle of one now. In truth, talent is not always a requisite – it is mostly about being really cute. The Twins certainly come to mind. In a 1983 Time Magazine article, they wrote of these two actresses, "Their faces are soft and pretty, their voices tender and sweet. When it comes to pop music, the Japanese like their stars young and female. Last week the top of the pops belonged to a handful of singers whose claim to fame owes more to their winsome looks than their modest vocal talent".
No doubt both actresses in these two films were certainly cute – short haired, petite and quite girly – but time has shown that they had talent since both have continued to act in films long past their idol expiration date. Many Asian film fans from the West have possibly seen one of them recently – as the loving mother in Always: Sunset on Third Street or as the advisor Hagi in Princess Raccoon – but to the Japanese, Hiroko Yakushimaru (b. 1964) will always be burnt into their collective memory as Izumi, the tiny machine gun wielding Yakuza school girl in Sailor Suit and Machine Gun. The image of her is so iconic that it was recently chosen as one of their stamps in a series paying tribute to Japanese cinema. Another one of her better known early roles was as the Princess in Legend of the Eight Samurai. Tomoyo Harada (b. 1967) as The Little Girl Who Conquered Time looks almost to be a clone of Hiroko – the same short haired pixie look – but she too has gone on to a very lengthy film and singing career. Co-incidentally, I have come across her in films twice recently – Until the Lights Come Back and The Village Photo Album.
Both these films from the 80's feel very much like products of their time and place, but perhaps that is now a part of their charm. In each film the women sing the theme songs at the end. I believe both films are available on DVD.

---
Sailor Suit and Machine Gun (Japan, 1981)
Though a brief synopsis of the film may sound like the absurdist campy fantasy of a female teenager, this supposed "idol" film is far from a teenage cartoon romp as it constantly infuses the proceedings with surprisingly adult dramatic situations and themes. At its roots it is a rather sad and disillusionary tale of loss and the loss of innocence with Izumi's last words in the film being "I gave my first kiss to a middle aged man. I think I am becoming a foolish woman".
On top of that the cinematic direction and set-ups from Shinji Somai are very intriguing and clearly not the stuff of typical teenage film fodder. Many of the camera shots are taken from a long distance – one extreme one near the end is entirely shot from another building down on the roof of an adjacent building where the characters are mourning the death of a gang member. Another difficult cinematic technique that he uses are some long takes – one that is really outstanding begins with Izumi sitting on a giant Buddha statue talking with her friends – has her jump off – walk down the street around the corner – meet up with a group of tough motorcycle gang members – hop on the back of a motorcycle and drive down the streets of Tokyo – all in one shot. Somai 's debut was only the year before in a film called Tonda Couple which also starred Hiroko and it feels like she very much trusts him here. According to one article I read, his style of shooting became known as the "Somai Style". It seems to have worked in this film and it certainly made Hiroko a star as the film was the top box office earner of the year. Somai went on to make a number of films in the 80's – Typhoon Club being another youth oriented film about teenagers at school waiting for a typhoon to come. This also played at the Japan Society retrospective.
A few days after the death of her father, Izumi looks out the window of her class at school to see a large group of obvious Yakuza's asking for her. Fearing nothing, she jauntily approaches them when she is suddenly grabbed by one and thrown into a car and driven off. Back at their office they tell her that a relative of hers had been the head of the Medaka Gang and when he died he named Izumi's father as his heir – but since he was also dead the honor was hers. She tells them the obvious in her refusal – I am in high school and a girl – how can I be a head Yakuza – it doesn't matter is their reply but if you refuse we have no choice but to kill ourselves in an attack on our enemies. It turns out that there are only four members remaining in the Medaka Gang – the others at the school were hired for show – so they have no chance of victory. Not wanting this to happen, she commands them to stop and that she will comply with their wishes – when one of them calls her Izumi, she barks out "Please call me boss!"
Being boss of a gang no matter how small turns out to be no after school assignment – she is soon expelled from school anyways – when the Matsunoki Gang tries to muscle in and one of her men is killed – "I promise to avenge your death" she says over his dead body – but instead she finds herself to be a pawn in a search for some missing heroin and at one time is dunked into cement from a crane and on another occasion is forced to balance herself for hours on a mine set to explode. Finally, she can take no more – she dons her school uniform, picks up a machine gun and heads down to the headquarters of the bad guys. The famous scene in which she lets go and screams out "ecstasy" is in truth very short and quite bloodless – it was more the image of this schoolgirl firing off a machine gun that got audiences excited than the actual result. The film is an odd but effective mix of serious dramatic scenes interspersed with moments of whimsy, humor and girlish behavior that makes for a fascinating look back. Don't be expecting an early "girls with guns" shot of adrenaline – it is nothing like that at all.
My rating for this film: 7.5
---
The Little Girl Who Conquered Time (Japan, 1983)
This whimsical and quaint coming of age tale falls much more into what you might expect an idol film for teenage audiences would be – yet at the same time its very unhurried dreamy pace, interesting film techniques and melancholy mood plays to adult audiences as well. Based on a novel written by Yasutaka Tsutsui in the 1960's it was first made into a TV series in the 70's, then into this film and recently into an animated feature (2006). Much of the pleasure of the film is the simple depicture of life in a small town filled with narrow winding streets, old fashioned small businesses and lovely traditional wooden houses. The film was made in director Nobuhiko Obayashi's hometown of Onomichi and he shoots the outdoor scenes with a loving tenderness. Though the story is wrapped in a sci-fi time travel gauze, it really feels much more to be a story of a young girl – sweet sixteen – going through puberty and first love - and that going back in time is almost a metaphor for her not wanting to go on to adulthood.
In her school – all filled with kindly caring teachers – Yoshiyama Kazuko (Tomoyo Harada) along with two of her male pals from childhood – Goro and Fukamachi – are given the assignment to clean up the lab after school. Kazuko goes into the back room where a beaker breaks that causes her to lose consciousness, but when she is woken up by her two friends there is no broken beaker. Somewhat confused but feeling fine, she goes home but time starts playing strange tricks on her that are at first barely perceptible but grow in intensity. A poster in her room of "The Wizard of Oz" as well as a picture of Judy Garland on her bureau hints that she is no longer in Kansas anymore. That night an earthquake occurs that starts a fire behind Goro's house. Kazuko rushes down and runs into both Goro and Fukamachi – but the fire is under control and she tries to return home but blacks out on the way. The next thing she knows, she is waking up in her bed the next morning – but soon realizes that it is not the next morning, but in fact the previous morning and she has to relive the same day over again.
As she tries to get to the bottom of this she begins to find some answers that are very strange and in the end almost depressing – thus giving the film an unexpectedly downbeat ending that is perhaps slyly sending a message to teenagers that becoming an adult really is a drag. It reminded me of the ending of Miike's The Great Yokai War when the child is suddenly an adult and all the magic of life can no longer be seen. That same sense of regret resides here as well.
My rating for this film: 7.0
---