Sugar and Spice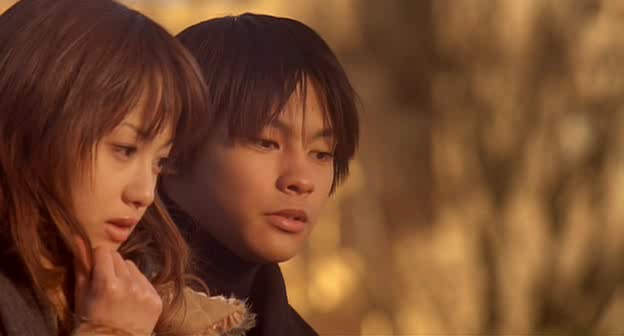 ---
Director: Isamu Nakae
Year: 2006
Sugar and Spice and everything nice. That would of course describe Erika Sawajiri who is pictured to the left. Not that this image appears in this film, but I am going to use it whenever I get a chance! She was more than adorable in Pacchigi (2004) but sort of disappeared in her role in Shinobi (2005) as Hotarubi. Here that crooked jagged toothed smile is on full display and the main male character at one point says to her that her smile is perfection. Only in Japan. I can't think of any other film industry these days that would allow an actress to be a romantic star who has teeth that look like a 10 car traffic accident. And in fact it is perfection and I hope no one ever persuades her to get them "fixed".
Unfortunately, her smile is the highlight of this rather tepid romance that felt like we had seen it all before many times. Shy, reticent guy meets outgoing girl and falls in love almost instantly. This was released by Fuji and feels very much like a JDorama with its earnest, slow approach to first love. It also throws in that stereotypical outrageously irreverant grandmother who doles out wisdom and wackiness in equal measures - to the point where all I could wish for was an embolism. None of this works - it all feels calculated and it's probably a bad thing when you don't really care if they end up with one another.
Shiro (Yuya Yagira - in his first grown up role after "Nobody Knows") has just graduated from high school and instead of going to university opts to work at a gas station. He has also never been in love - something he doesn't really understand but he uses the word "uncontainable" to describe how he feels it must be - and I kind of liked that. Soon after he starts there, Noriko (Erika) is also hired and soon they become the best of buddies and hang out at his grandmother's (Mari Natsuki - "Ping Pong") GI bar. He is in love but she is more on the rebound from another relationship - but even so they become a couple. Since Shiro has the personality of a turnip it is hard to say exactly why - why is it that so many Japanese men in the movies are characterized as socially inept where you have to pull words out of their mouths? It all gets annoying. Overly cutesy at times and never at all gripping, this gets by strictly on young star power.
Directed by Isamu Nakae and based on a novel by Amy Yamada. There are a couple references to "Dil to Pagal Hai" and Maduri Dixit that I liked.
My rating for this film: 5.5

---