The Village Album (Mura no shashinshû)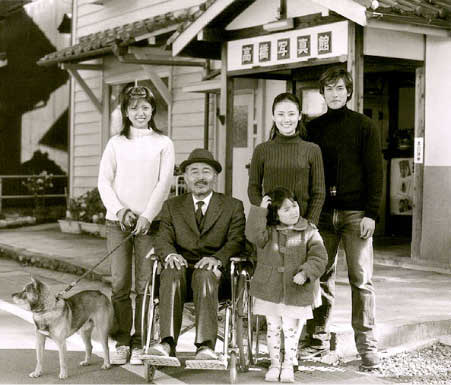 ---
Director: Mitsuhiro Mihara
2005
Duration: 111 minutes
Director Mihara digs deep into two of our soft sentimental gooey spots with this tender ode to family and community bonds. This tale of a ruptured family coming together and an idealized rural village on the verge of vanishing has tearjerker written all over it, but it does so with delicate and subtle strokes. Takashi (Ken Kaito) has done his best to escape rural boredom and his difficult father (Fuji Tatsuya) by moving to Tokyo and taking on various menial jobs in hopes of becoming a photographer. He hasn't been home (that he tells his girlfriend is in the middle of nowhere) in ages, but is compelled to do so by a plea to help his father complete a project and to attend the 6th anniversary of his mother's death. He also hopes that his older sister Noriko may return as well after she fell into the father's disfavor and disappeared years previously.
The project sponsored by the village council is to photograph and record each family in the hamlet before a dam is built and life in Hanatani is changed forever. The father Kenichi is a difficult man to like and to understand with his taciturn, stubborn and straight-backed ways and the relationship between father and son is more than a little strained. Takeshi's younger sister Kana (Mao Miyaji) does her best to make peace in the family, but the father and son are at constant loggerheads. Yet as the two of them slowly trek over the rolling hills, past the gentle streams and through the autumn foliage in near silence to visit and photograph all the extended families – young and old- they almost grudgingly begin to reach out to each other. When Takashi's Taiwanese girlfriend Lin (Pace Wu) visits for a few days he begins to see his father and the village through her eyes and realizes that there is a wonder here that he had grown immune and hardened to.
The film unfolds in verdant lush landscapes, long quiet walks, village rituals, memories of loved ones and the faces of all those that are photographed – lasting images that build a heartfelt, bittersweet and nostalgic picture of a way of life and community that is quickly disappearing all over the world as the accelerating migration to the cities continues. This is the director's moving tribute to this life – in a sense captured in this film for the same purpose that his characters capture the faces of all that live there – for posterity.
My rating for this film: 8.0

---