Linda, Linda, Linda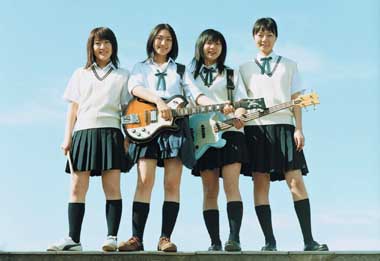 Kyoko, Kei, Nozomi and Son
---
Director: Nobuhiro Yamishita
Year: 2005
Running Time: 114 minutes
Production Company: Bitters End, Inc./Covers & Co./Vap/Cave
This film sneaks up on you like an affectionate cat and slowly rubs against you until it begins to purr. It's leisurely pace, laid back attitude and near plotless narrative may test your patience in the early going, but by the end chances are you will be completely hooked and not quite understand why. It's a film of awkward conversations, listless moments and shy glances, but when Bae Do-na finally breaks exultantly into "Linda Linda Linda" it is near cathartic - and when she turns and smiles radiantly afterwards the world could end and it would be perfect.
In three days Shiba High is holding their annual Holly Festival when the male and female students put on various activities from selling trinkets to crepes to performances. Trouble is brewing though in a girl's rock band when the lead guitarist Moe injures her finger and has to bow out. One of the co-founders Rinko tries to bring in a male replacement but this doesn't sit well with the three other members and they decide to form their own band. They have Kyoko (Aki Maeda – Battle Royale) on drums, Nozumi (Shiori Sekine from the real life band "Base Ball Bear") on bass and Kei (Yu Kashii – the very cool looking secret weapon in Lorelai) switching from keyboards to guitar. After searching through some dusty music tapes found in the closet of the school practice room, they decide to cover three songs from the 1980's band "Blue Hearts" – "My Right Hand", "Endless Song" and their biggest hit "Linda, Linda Linda". But they need a vocalist and so in a detached manner decide that they will offer it to whoever passes by next.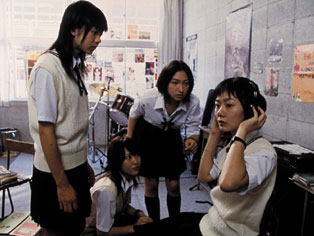 That turns out to be a shy but spunky and determined Korean exchange student named Son (the marvelous Bae Do-na) whose Japanese is sketchy and who has never sung – but what the hell, this is high school and it's rock and roll and everything goes. One of them just says matter of factly "She can learn Japanese". The rest of the film simply tells the tale of this band coming together as a cohesive unit and as friends, but it is all so underplayed that it feels extraordinarily real and a sly charm begins to warm you all over. Not a lot of time is spent on background issues or character development – you are basically an observer of them frantically practicing, chatting together and a few minor romantic interests. They still come across very much as individuals with their own quirky personalities – Kyoko seems eternally cheerful but is unable to tell a boy she has a crush on him, Nozumi is shy and somewhat gloomy with her hair falling down like a mudslide on the left side of her face and Kei is the leader – strong, lanky and easy to irritate but as Son says in her practice introduction very kind.
Ba Do-na as the Korean exchange student is the wonderful surprise here. Of late she hasn't been used nearly enough in Korea as they seem to have turned to younger cuter actresses but for my money she is the best actress in Korea and she proves that here with her amusing and very charmingly stilted performance. Even though she must be getting into her late twenties, she can still do high school characters without raising any eye brows from the audience – and her singing as she shows in the end – in Japanese – rocks. This is sort of a nice companion piece to that other wonderful girl's forming a band film – "Swing Girls" – but while that intentionally hit every cliché with sublime and utter perfection, this film tries to generally avoid them till the very end where it gives in and it works just fine. The first time I watched this I have to admit to thinking it charming but a bit vague, but the next day I saw it again and the pacing, the dialogue and everything just felt so right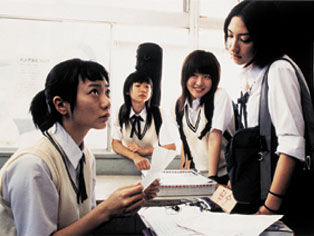 By the way, a word of warning – you will have a hard time getting the "Linda, Linda, Linda" tune out of your head as it ricochets around in there like a crazed bee. I liked it so much that I picked up three cds of the Blue Hearts. They were a popular rocking Clash-like band from the mid-80's till their breakup in the 90's and they are great. Whenever the girls are asked what they are playing, they respond "The Blue Hearts" and everyone just nods their head and says "cool" and so they are. Also as a note of interest, the soundtrack is from James Iha of the "Smashing Pumpkins"and he keeps the music very unobstrusive throughout.
My rating for this film: 8.0
Source: Screener

---