Sad Whistle/Tokyo Kid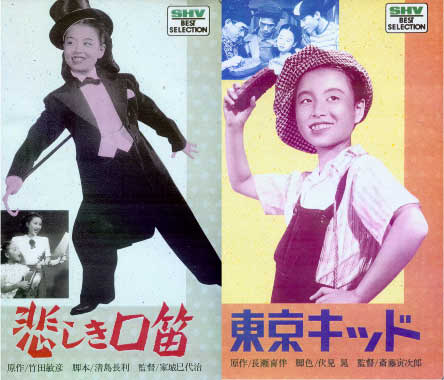 ---
Somewhat similarly to Shirley Temple in the dark days of the Great Depression, another child actress rose to immediate fame in the ashes of post war Japan to help lift the spirits of her countrymen with her wide grin, plucky personality and astonishing singing talents. This was of course Hibari Misora who over time came to have the phrase "Japan's Greatest Entertainer of the 20th century" attached to nearly every article about her like a royal title. Over her career, which ended with her death in 1989 at the age of 52, she made over a hundred movies and put out a huge number of records. Having seen her recently in some of her later films I was completely charmed and had been curious about the films she made as a child.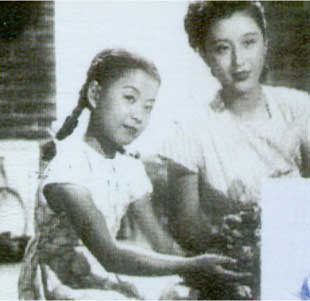 In a Japanese video store in NYC I came across her two most famous early ones – "Sad Whistle" and "Tokyo Kid" – and though unsubtitled they are an absolute delight to watch and fairly easy to understand – though no doubt I have some of the plot points and relationships confused. As one might expect, they are quite old fashioned and wonderfully sentimental. Both films are set in the hard times following the war in which our little heroine is initially on her own and simply trying to get to her next meal. The settings take place among the homeless, the poor, the shattered, the seedy nightclubs in which everyone is trying to scrub out a living. With her smudged face and crooked teeth, Hibari is completely adorable whether she is breaking out in a smile as wide as your arm or looking as if her pet dog just got run over. Most amazing though is when she breaks into song – which she does often – with a voice that has no right coming out of the mouth of a child – instead it belongs to a much older person who has felt the pain of life and sees no end to it – deep and sorrowful it blasts a hole in your heart.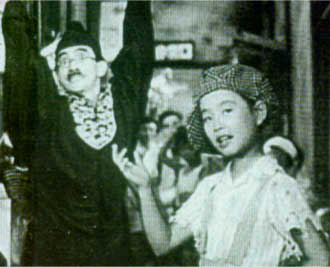 Many of her films are on DVD - none with subtitles except a few on the gray market – but Muldoon from the Asian DVD Guide has put together a phenomenal page on these DVDs with many picture captures, links and information – thanks very much to him for this. If these films had subs, I would be buying all of them – she is that good.

---
Sad Whistle (Kanashiki Kuchibue)
Director: Miyiji Ieki
Year: 1949
Production Company: Shochiku
Running Time: 83 minutes
Hibari had made her singing debut in 1946 at the age of nine and in 1949 she made her first recording and then quickly followed this up with some five films in 1949 and 11 movies in 1950 (source of data: http://www.misorahibari.com/), but the film that really jump started her career was "Sad Whistle", which touched the hearts of a nation. Miko (Hibari) is an orphan living among a group of homeless men – she is trying to stay one step ahead of the cops who are rounding up the children to send them to orphanages – but she wants to keep looking for her much older brother who she has become separated from. He was an aspiring composer who had written one tune called "Sad Whistle" that Miko sings constantly in hopes that he will hear it and also to keep from forgetting him. He is also looking for her and wanders the city on an empty stomach until he collapses one evening, but is helped by a kind waitress Kyoko – he soon afterwards is offered a job to help some men in a shady business and accepts.
Kyoko has already taken in an old man into her small home – once a concert violinist – but now eking out a living playing his instrument as a wandering street musician – and when they come across Miko singing late at night they take her in as well. The next thing you know she is out of her dirty cap and overalls and into pigtails and a dress. Troubles lie ahead though – the old man loses his sight, Kyoko is forced aboard a boat to be sold into prostitution, the house burns down and Miko is homeless and on the road again – but don't worry a happy ending is just ahead as the brother saves Kyoko, Miko hears some music from a nightclub and walks in and begins to sing, the owner hires her and puts her in a top hat and tails, Kyoko is saved yet again when Miko sees her being kidnapped and leads the homeless in a rescue with a big rock in her hand and the brother walks by and hears his song being sung by his little sister – all is right in the world again.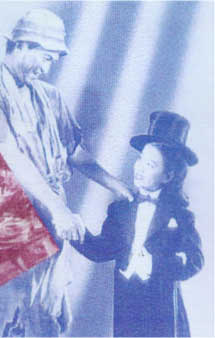 It is pure sentiment that works perfectly for those who haven't totally succumbed to modern cynicism. Hibari sings six songs during the film and the title song was a huge hit with its mournful melody and her top hat and tails became an enduring image in Japanese cinema. Here are some captures that Muldoon made of the film:

---
Tokyo Kid
Director: Torajiro Saito
Year: 1950
Production Company: Shochiku
Running Time: 79 minutes
"Tokyo Kid" was Hibari's next big hit and contains one of her best-known songs in which she sings ""I have dreams in my right pocket, chewing gum in my left pocket". Though I am a little confused about parts of this film because of the lack of subtitles, once again it appears that Hibari's character Mariko is alone in the world again after her mom (?) dies, but she is taken in by a nightclub hostess to live in her one room apartment in a shabby low class tenement building that is filled with an assortment of oddball characters. Mariko attempts to become friends with Sanpei (Haruhisa Kawada) an itinerant street guitar player and singer, but he rebuffs the little kid – especially when she breaks into song over his strumming.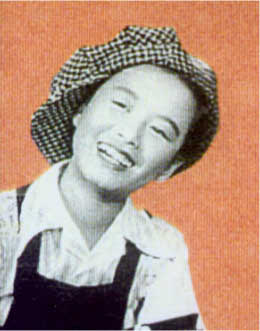 There is a lot of Chaplinesque comedy interspersed in this film – some of it rather mean spirited but quite funny. The woman who is taking care of Mariko is killed when she is run over by a car and in her last words she gets Sanpei to promise to look after Mariko. So he takes her in and then does his best to get rid of her – in one sequence he takes her all around town by car, by street car, by rickshaw in an attempt to confuse her and then ditches her and runs back to his apartment – only to find her waiting for him. Next he takes her on a row boat and leaves her on a small bit of land and rows away – only to fall overboard and have to be rescued by Mariko. At this point he becomes resigned to having her about and in short order becomes attached to her and incorporates her into his musical act.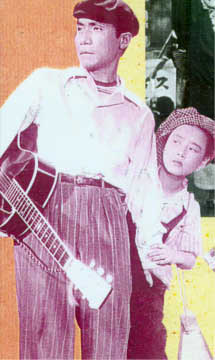 Earlier in the film a picture of Mariko had appeared in the paper with a reward for her whereabouts and she has disguised herself as a boy in a cap and patched overalls – in one amusing scene one of the apartment dwellers recognizes her and looks for the newspaper – but it turns out he has used newspaper for everything from stuffing his mattress to wallpapering his room and he has to tear everything apart. It appears – though I am not clear about this – that her father is alive and living in America and looking for her. The finale has her boarding a plane and waving goodbye to her friends as they walk down the road into the sunset with an umbrella up – again bringing memories of a Chaplin film. Hibari sings a boatload of songs in the film – some eight in total – has a dream that takes her to Hawaii where she gets to hula and she also does some soft shoe steps. This isn't as satisfying as "Sad Whistle" from a sentimental perspective but is still quite enjoyable with its scenes from Tokyo, the vaudevillian comedy and of course Hibari.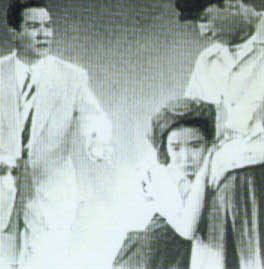 My rating for Sad Whistle: 8.0
My rating for Tokyo Kid: 7.0

---