Edo Girl Detective (Hibari Torimonocho)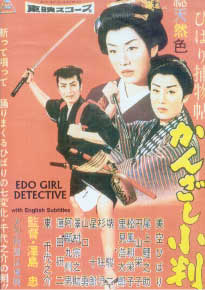 ---
Director: Sawashima Tadashi
Year: 1958
Production Company: Toei
Running Time: 85 minutes
A small attractive woman with thick manicured eyebrows that slope downward like rushing trains on course for a head on collision and finely cut eyes that sparkle with humorous grace begins to sing while encased in her traditional kimono. One might expect a high-pitched feminine vocal to come out of the mouth of this petite woman but instead comes a deep tremulous bluesy sound that feels as if it originated from the bottom of a gin bottle deep inside her. It carries the pain of every damaged heart and every broken promise in its melody. It feels as if the song should be sung under the dim lights of a street lamp waiting for another lonely night to pass. The singer is Hibari Misora and the style is Enka. Many have termed Hibari as "Japan's Greatest Entertainer of the Twentieth Century" and Enka was a form of music that contained the collective angst of the country.

The music reminds me of the tragic tone of Edith Piaf and though the two singers were physically continents apart their styles were formed in the desperate times of post WWII. Hibari was born in Yokohama in 1937 and came of age in the post war ruins. Her father was a fish seller and possibly unknown to many of her later fans was her partial Korean ancestry on her grandfather's side. Her mother was intent in getting Hibari into show business and the girl showed inordinate talent at a very young age. At the age of nine she appeared in a talent show and stunned the audience with her grown up world weary voice though the judges considered her a near aberrant life form and were almost suspicious that there must be some slight of hand going on – no small girl could really sing like this.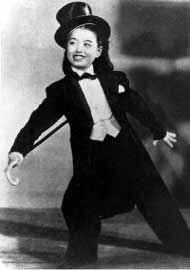 Three years later she cut her first album with Nippon Columbia – the record label she was to stick with over her career – and debuted in her first movie, "Sad Whistle" (Kanashiki Kuchibue) in which she plays an orphan looking for her lost brother. The song "Sad Whistle" was released and sold 450,000 copies and she was an overnight star at twelve years old. The next year she was in "Tokyo Kid" in which she sings some of her trademark lyrics "I have dreams in my right pocket, chewing gum in my left pocket". At a concert in 1956 the audience madly rushed in for seats and ten people were killed in the process. A year later a young female fan threw acid on Hibari's face because she wanted her idol to be more "normal", but Hibari recovered with only minor injuries (a fellow actor next to her was not so lucky and was blinded).

Her songs spoke to the tough times that Japan was going through and she quickly became enormously popular with an overwhelming output of songs, movies, concerts and TV appearances. Over her career she was to make around 150 films and 300 records (some 1,400 songs) and became the highest paid entertainer in Japan during the fifties. This was a driven life propelled to a large degree by her mother who was a constant presence and a simple need to be successful. Her life was show business and she appears to have had left little time for her private life. She was married for two years to actor Akira Kobayashi, but it didn't work out and after being divorced in 1964 she never remarried. As musical taste began to change in the late 1960's and 70's with the emergence of the J-Pop sound, her songs lost their popularity among the new generation, but her fans from the past stayed fiercely loyal to her. When she died in 1989 at the age of 52 her funeral procession was attended by thousands of mourners.

I am not sure where "Edo Girl Detective" falls in terms of importance in Hibari's film career – but it is a charming if slight affair and certainly gives Hibari lots of opportunity to display her skills as she sings and fights with equal élan. The character she plays is Oshichi – or at least that is the name she goes by. In truth she is a princess but finds life behind the protection of her brother and the high walls to be quite dull so she takes on another identity and lives in a small cozy house with her comic relief assistant Gorohachi and pretends to be a singer. She also likes to think of herself as a girl detective – an Edo version of Nancy Drew – and so when a young woman is murdered after a singing contest Oshichi decides to investigate. She soon runs into a group of samurai who warn her to keep her nose out of the affair, but she tells Gorohachi that she has to continue because "I'm a detective, I can't back down".

When a large force of samurai surround her, she takes out her short sword and fends them off until Sasaki (Azuma Chiyonosuke), a sleepy eyed alcohol imbibing ronin, gives her a hand – for a price. He wants payment per kill and as she later cheerfully tells him "I owe you for forty now". Another woman is killed and Oshichi begins to track back the trail to a robbery of three golden hairpins four years previously from the Matsunaga Clan. To enable her sleuthing she takes on various disguises – as a man, a geisha, a fencing student, a royal lady in waiting and a kabuki performer – all these giving Hibari a chance to have some fun and show her range. The film rarely pauses and when it does it's usually for a song – one of the best being a drunken pal song between Oshichi and Sasaki – and for me it was a nice light introduction to this legendary performer.

My rating for the film: 7.0

---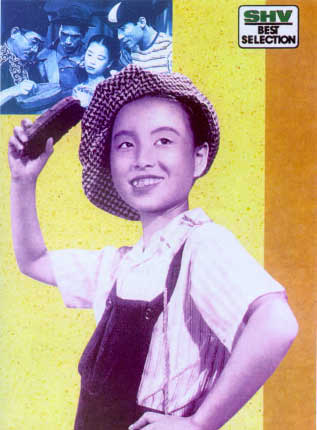 Tokyo Kid