---
Sai Gwa Pau
This old fellow shows up in a number of films in the early to mid 80s - Dreadnaught , Magnificent Butcher, The Good, the Bad and the Beauty, Naughty Naughty (the flower stall seller), Winners and Sinners (the sidewalk performer), a servant in When Fortune Smiles.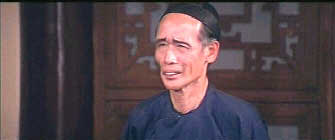 But he turns out to be a legendary actor as the original Bucktooth Ah So in the black and white Wong Fei Hung films. He is still alive and in his 80's - one of the last survivors from that legendary series.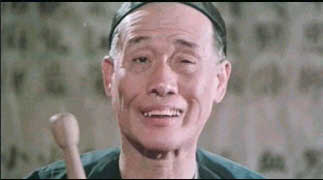 ---
Sally Yeh Tse-man
Born 09/30/61
Sally will always have an honored position in Hong Kong film history for being in two of its most celebrated films - as Jenny in The Killer and as the character somewhat suspiciously identified in the English subtitles as Pat Neil in Peking Opera Blues. If this were not enough, Sally was also the "Queen of Canto-pop" during the 1980s with a room full of hit albums (This in spite of her reported feeling that "singing in Cantonese is like singing in prison" due to the language having nine tones that need to be accounted for when singing as well as speaking (See pg. 257 of the ""Sex and Zen" & "A Bullet in the Head"" for Sally's quote)).

She was born in Taiwan but moved to Canada at the age of four. When she was eighteen she returned to Taiwan in hopes of starting a singing career. Instead, she first got her opportunity in films debuting in 1982 in the horror film Marianne. In an interview, she mentions that she was discovered while buying chicken at the market. Then while doing her early films, she was heard singing to a song on the radio and the producers asked her if she wanted to sing the theme song for the film! So her dual career was more by accident than anything according to Sally. Within a short period of time she was a huge singing star.

Most of her early films were low budget "B" films though some such as Golden Queen Commandos and Pink Force Commandos (both of which starred Brigitte Lin) have taken on cult status. She began working for Cinema City and in 1984 she was one of the three main leads in Tsui Hark's Shanghai Blues playing a ditzy provincial girl in the big city. It was a wonderful role for Sally and she attacked it with a comic zest that was inspired. Not long afterwards, Tsui was to use her once again as he teamed her up with Brigitte Lin and Cherie Chung in Peking Opera Blues, a film that many consider the greatest ever made. The chemistry among these three women is primarily what makes this film so special and so enduring. Sally received a HKFA Best Actress nomination for her effort. She also sang the beautiful theme song.

For me, Sally was primarily a buoyantly light comedienne and it is in these types of performances that her irresistibly appealing personality best comes out - much more so then in her melodramatic turn in The Killer. She seemingly had a gift for screwball comedy and it is easy to picture her in the Jean Arthur roles of the 1930s in Hollywood. Unfortunately, she never really had a male Joel McCrea type to co-star with and so many of her terrific performances do not get much notice these days. Other than her comic turns in Shanghai Blues and Peking Opera Blues, a few others to look for are Cupid One, Welcome, I Love Maria (as the robot not the villain of course in her dual role performance!) and Diary of a Big Man (in which she does in fact have the support of Chow Yun Fat).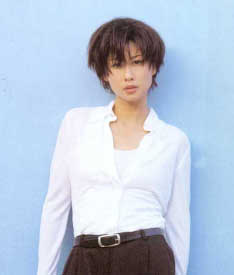 She continued acting sporadically (her entire resume consists of around 20 films) until the early 90s, but retired soon after The Killer to focus primarily on her singing career. In 1996 she married fellow actor and singer George Lam. There was quite a scandal surrounding this at the time because he had been married to another women and Sally was considered a homewrecker.
If you ever want to purchase one of her cds I would recommend the 16 track one collecting her movie and TV theme songs (cover shown below) – including ones for Peking Opera Blues (Track 12), Shanghai Blues (Track 15), A Chinese Ghost Story (Track 10), The Terracotta Warrior (Track 5), I Am Sorry (aka Her Beautiful Life Lies) (Track 8), Sisters of the World Unite (Track 4) and Promising Miss Bowie (Track 6) – but regretfully not one for The Killer.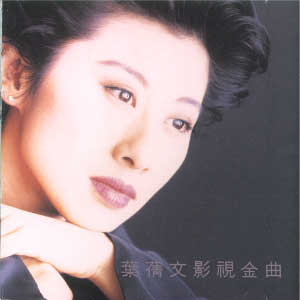 ---
Sam Lee Chan-sam
With eyes that often look to be showing the effect of an unusually high intake of illegal substances, a body language that defines languid and an attitude that all but thumbs its nose at authority, Sam has come to embody the slacker generation in Hong Kong. To some degree he has created a new kind of character in Hong Kong films – edgy, hip, comic and anti-authoritarian but he runs the risk of being stereotyped into these sorts of roles. Of course, he is still likely in shock that he is even an actor not to mention one of the more popular stars of the past few years. With his peculiar non-leading man looks and background it must have been the last thing he expected.

Acting was not in the game plan – but in 1997 he was picked up off the streets of Hong Kong by director Fruit Chan who liked his street attitude. Fruit was making a very low budget film called Made in Hong Kong and was casting it entirely with amateurs that he found. Up until then, Sam was an electrician by trade. As the lead actor, Sam made an incredibly impressive debut that was critically acclaimed (the film received numerous Best Film awards at international film festivals as well as domestically, and Sam was named Best Newcomer at the HKFA). Since then he has been in constant demand – thirteen movies in 1999 alone – and he has certainly become one of the top young actors in Hong Kong.

He followed Made in Hong Kong with a picture perfect slacker role as Jordan Chan's stoned out friend in Bio Zombie as the two of them attempt to fend off a horde of zombies in a shopping mall. Oddly enough, he was soon to take on the role of Jordan Chan's Young and Dangerous character Chicken in Young and Dangerous: The Prequel in 1998. Another well-received film that year was The Longest Summer, which was also directed by Fruit Chan.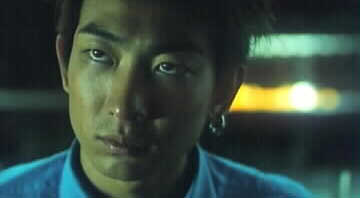 In Gen-X Cops Sam took a stab at doing action – and though far from the next Jackie Chan – he wasn't too bad and the movie was quite a hit – and was followed with the sequel Gen-Y Cops in 2000 (to much less acclaim). A few other films that he has appeared in are his very comic turn in X'Mas Rave Fever, When I Look Upon the Stars (Leo Koo's friend and rival), A War Named Desire (Francis Ng's assistant), Skyline Cruisers and another zombie film – Bio-Cops. Also, look for him in the wonderful Japanese film, Ping Pong, as the Chinese player brought in to win a championship for his school.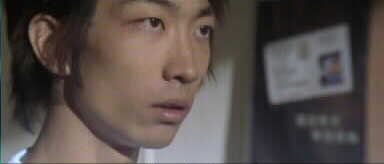 ---
Sammi Cheng Sau-man (her former English name was Twinny!)
Born 08/19/72 in Hong Kong
Sammi Cheng has charm. Lots of it. Buckets full of it. More charm then should be legal. When she is on the screen she positively glows. It is like fireflys circle her in the night. Yes, everybody loves Sammi these days and if you don't you should be spending more time with your analyst to discover why. After her irresistibly lovable performance as Kinki Kwok in Needing You (box office winner of 2000), she owns Hong Kong. The city lies at her feet like a sycophantic supplicant.

Of course, Sammi isn't really an actress by trade – she is a Canto-pop singer. Since her film debut in 1992 Sammi has made only 8 films and in Hong Kong that doesn't even count as a hobby. Most HK actors can make that many films during spring break. Since winning the TVB New Talent contest in 1988, Sammi has primarily focused on her singing career and has made that one of the more successful in Hong Kong for the past decade.

Every so often though she takes a break from her musical career and makes a film. Her debut movie was Best of the Best in which she co-stars with Jacky Cheung in an action romance tale and she is surprisingly natural and perhaps not so surprisingly charming as well. There was nearly a four year gap until her next film, the very popular Feel 100% and Feel 100%, Once More. In this one she teams up with another pop star (a recurring trend) Ekin Cheng and though I can't say I am a big fan of these films – it is still difficult not to like Sammi.

Since then she has made Killing Me Tenderly with Leon Lai in which she plays a pop star and gets an opportunity to sing a few songs in the film, The Lucky Guy, her star turn in Needing You with Andy Lau, teamed up with another pop star, Richie Ren, in Summer Holiday and recently she was in Wu Yen with two Canto-pop stars – but females in this case – Anita Mui and Cecilia Cheung.
At this point Sammi is the top romantic comedy star in Hong Kong, but whether she will begin focusing more on film or still do it only periodically is impossible to say – but certainly Hong Kong film needs someone with her star wattage these days.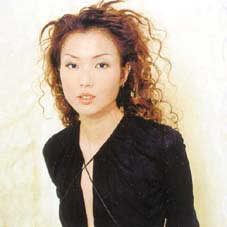 ---
Sammo Hung Kam-bo
Born 11/07/52 in Hong Kong
One cannot help but be astonished and respectful when looking at the totality of Sammo Hung's career as an actor/producer/director and action choreographer. From the early 1970s to the late 1980's there was perhaps no one who had a greater impact on Hong Kong film than Sammo. It can certainly be argued that Tsui Hark was the greatest director and Jackie Chan the greatest entertainer, but Sammo did it all. While Jackie became a genre unto himself, Sammo showed himself to be the greater innovator as he created one genre after another. For over twenty years his fingerprints were everywhere – from King Hu to Wong Kar Wai - Sammo made enormous contributions and provided huge dollops of entertainment over this time.

Sammo never had a political or social cinematic agenda in the same manner as Tsui Hark – though themes of loyalty and filial respect run through many of his films – instead Sammo wanted to entertain the audience – have them see things that filled them with delight and tears and at this he certainly succeeded. Entertaining the audience was very important to him – stemming perhaps from his years as one of the Seven Fortunes performing before live audiences – and he was constantly coming up with something new for them – a new twist, a new fighting style, a new genre. Yet one senses that Sammo has never really received his due – that he is often overlooked as one of the great figures behind the success of Hong Kong film. This could be attributed perhaps to the fact that his films were generally commercial action films that tend not to be taken too seriously by the film critics (fans are another matter) – but the action film has been the lifeblood of Hong Kong films for the last thirty years now and Sammo has a lot to do with that.

Sammo comes from a movie family. His grandmother (Chin Tsi-ang) was the first female martial artist in Chinese films and his grandfather Hung Chung-ho was a director. The two of them formed a film company in Hong Kong in the late 1930s and produced the first Fong Sai-yuk film. Sammo's parents were also in the film business. As a child though Sammo did not go into the movies, but instead joined a Peking Opera school. Apparently, he was not doing very well in a regular school and so after watching the boys at the school practice he convinced his parents to let him enroll in 1960 at the age of nine. Sammo says that within two weeks and a number of beatings he wanted to get out, but a seven-year contract had been signed and he had to stay.

The work was enormously difficult – often practicing twelve hours a day – and the conditions were harsh. But the students learned acrobatics and other skills and Sammo soon advanced beyond the others. When he first joined the school, pictures show that he was not overweight – this was not to happen till Sammo was in his teens – and he was amazingly quick and agile. He soon gained the nickname "Big Brother" which he has retained to this day. By the way, Sammo is a nickname as well – literally meaning three hairs – it is derived from a popular comic book character – Sam-mo. Sammo was soon teaching the other children and this entailed being extremely tough with them. In Jackie Chan's autobiography, Sammo is made out to be extremely stern – almost an abusive bully – which the other students – Yuen Biao, Yuen Wah et. al - disliked enormously.

Sammo was able to see the writing on the walls and knew that the period of the Peking Opera was coming to an end and that films were the future. So at the age of sixteen he was the first of the Seven Fortunes to leave the school and make his way on his own. He quickly was able to find work as a stuntman in the films. The first thing that one notices about Sammo is that he is a fat man – not just a big man, but a fat man with very little noticeable muscle tone. Sammo has always accepted this fact and makes fun of it in many of his films in which his nickname is some version of Fatty or in a film like The Victim in which he humorously displays his body in front of the mirror. The second thing you notice is how astonishing fast this large man is and the incredible acrobatics that he can perform. For anyone to be able to do what he does is incredibly impressive – but for someone of his build to do it seems miraculous.

From almost the beginning Sammo had two very important connections in the film business - Han Ying-chieh and Huang Feng. Han Ying-chieh was married to the daughter of Sammo's Peking Opera master and was therefore technically Sammo's brother-in-law and was an old friend of the Hung family as well. Han was one of the most important action choreographers of the 1960s. He was instrumental to King Hu's films and did the choreography on many of them - Come Drink with Me, Dragon Inn, Touch of Zen. He had Sammo as one of his assistants on Come Drink with Me even though Sammo was a teenager at the time and many years later gave him his first major acting job (Sammo had been in a few films as part of the Seven Little Fortunes - his first being Education of Love in 1961) as a sword wielding henchman in Hu's Touch of Zen. He was sixteen at the time.

Sammo quickly developed a "willing to do anything" reputation within the stuntman circle and became a top player within the profession. At some point he began ingratiating himself with director Huang Feng and the two of them became very close with Sammo coming to consider Huang as his mentor. When the later joined a newly formed film company, Golden Harvest, Sammo also came along. After a few films as assistant action choreographer under Han Ying Chieh (who also had joined the foundling studio), Sammo graduated to fully-fledged action choreographer for the Huang Feng swordplay The Fast Sword in 1971. This was the first of a collaboration that would last for more than half a decade. Huang had also discovered Angela Mao and Sammo was to do the choreography on a number of her films - most of her classics in fact - Hapkido, Lady Whirlwind, When Taekwondo Strikes, The Tournament, The Himalayan and Broken Oath. Sammo not only did the choreography for these films, he usually had a supporting role as well. This was generally not the genial smiling Sammo that he became later on - most of his characters in these early years were scowling, unshaven villains - that always ended up dead or badly thrashed at the hands of Angela. There were some exceptions to this - first with Huang's Hapkido in 1972 and than a couple of years later in Skyhawk starring the original Wong Fei Hung, Kwan Tak Hing. In both films Sammo plays a young kung fu disciple as a bit of a genial fumbler.
During these years Sammo built up quite the resume. He did action choreography for two King Hu films – The Fate of Lee Khan and The Valiant Ones. The Valiant Ones is full of action – much of it brilliantly done – and Sammo's role as a Japanese pirate is one of his best in this period. His final fight against Pai Ying is a furious set and dramatically staged piece. He was also involved in a few international productions as actor/choreographer – the enjoyable Stoner, The Man from Hong Kong and Queen's Ransom. He worked with John Woo as choreographer in Hands of Death and Michael Hui in The Private Eyes in the same function.
During this time he became friends with fellow Golden Harvest star Bruce Lee and appeared in Enter the Dragon. The legend goes that the two of them initially almost came to blows – Bruce was a well-known brawler and as evidenced by Sammo's scar above his lip (received as a youth in a fight in a nightclub) so was he. A quick foot in the face from Bruce and Sammo wisely gave way. Afterwards they became friends and when Bruce died in the middle of Game of Death, Sammo was called in to finish the choreography. Sammo is also one of the best Bruce Lee imitators and he used this in the 1978 comic film Enter the Fat Dragon and then later in Skinny Tiger, Fatty Dragon.
By the late 70's Sammo felt he was ready to move on in terms of responsibility and convinced Golden Harvest to allow him to direct his first film. Sammo also felt that the straight kung fu film had run its course to a large extent and that something new needed to be introduced. This was a large amount of humor. Though his film Iron Fisted Monk in 1977 had a serious tone, it also had much humor. This film preceded Jackie Chan's breakthrough kung fu comedy, Snake in the Eagles Shadow, by a year.
Iron Fisted Monk was a well-received film. The humor hit a mark, but Sammo was also speeding up the action – making it more intricate and exciting. His next few films were to continue this trend of constantly upping the action ante and they are all classics – Enter the Fat Dragon, Warriors Two, Knockabout, The Victim and The Magnificent Butcher. Sammo had become interested in the Wing Chun style and he practiced it for months (he has stated that he learned very little martial arts in Peking Opera school - it was all picked up afterwards). He based Warriors II and then another classic Prodigal Son on a follower (Leung Jarn) of Wing Chun and many people consider these two of the best Wing Chun films ever made.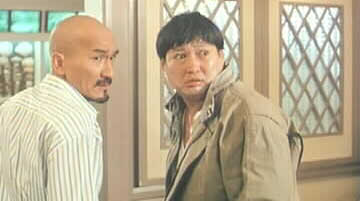 Though still aligned with Golden Harvest, Sammo had the freedom to make films outside of it and he along with Karl Maka and Lau Kar Wing formed Gar Bo films in 1978. In the next few years they specialized in kung fu comedies with The Odd Couple, Dirty Tiger, Crazy Frog and By Hook or by Crook. When Maka left to form Cinema City in 1980, the company was closed.
By this time Sammo had surrounded himself with a wealth of talented stuntmen, choreographers and actors that were to appear in many of his films. Sammo gained a reputation as discovering new talent, nurturing it and giving it opportunities to flourish. Some of his team over the years were Lam Ching Ying, Chung Fat, Lee Hoi-san, Dick Wei, Chan Lung, Leung Kar Yan, Chin Kar Lok, Billy Chow, Fong Hak-onn and Ngai Sing.
Always looking for something new to show the audience, Sammo mixed in kung fu, comedy and the supernatural to make Encounter of the Spooky Kind (1981). The film was a big success and created a whole genre of films that followed in its footsteps. Sammo also appeared, produced and co-wrote another supernatural tale in 1982, The Dead and the Deadly, which was directed by his friend Wu Ma. Sammo's biggest success in this genre though was to come in 1985 with Mr. Vampire. It was really the first major hopping vampire film and Sammo gave his friend Lam Ching Ying the role that would make him famous as the Taoist priest and vampire fighter.

Though the relationship between Sammo and the other students at the Peking Opera school had been less than amicable at the time, afterwards Sammo always did everything he could to assist them in any way he could – getting them work as stuntmen, choreographers and actors. He continued being Big Brother to them. Yuen Biao and Yuen Wah had been in The Valiant Ones and Yuen Biao received his first major roles – Dreadnaught and Prodigal Son – through Sammo. Jackie Chan had also gotten in the door with the help of Sammo and was in films such as Hapkido, The Himalayan and Hand of Death that Sammo had worked on. He had of course gone on to become a star on his own – but by the early 80s he was still trapped in period kung fu films.

In 1982 Sammo produced and starred in the first of the Lucky Star series, Winners and Sinners. This series ran into the 90's and at one time two of them were in the all-time top ten box office films in Hong Kong. Sammo put together five somewhat hapless characters and through luck and sticking together they manage to overcome obstacles and bad guys. The films are partly goofy comedy and terrific action – and they are set in contemporary Hong Kong. For Sammo this was also a large break from his kung fu films – but he realized that the days of kung fu period films were at an end. Jackie had a large part in this film (and two of the other Lucky Star series) and from that point on he also made a departure from the kung fu period films.

Jackie Chan's next film was a major step for him - something very new – Project A – but during filming it was not going well and Sammo, who was appearing in it along with Yuen Biao, was asked to help out and he took over much of the directing duties. The film was an enormous hit and Jackie was well on his way to super stardom. Over the next six years there was a wonderful collaboration between these three – when they appear together on the screen magic takes place. Wheels on Meals (directed by Sammo) was filmed in 1984, Heart of Dragon (no Yuen Biao but directed by Sammo) in 1985 and their final film Dragons Forever (directed by Sammo) was in 1988.
While all this was going on, Sammo also produced the Pom Pom series, Long Arm of the Law, Hong Kong 1941, It's a Drink, it's a Bomb, My Cousin the Ghost and Paper Marriage. Oh and lets not forget Yes Madam. In the mid-80s Sammo had formed a partnership with Dickson Poon to form D&B films. In 1984 he had made and starred in Owl vs. Dumbo with George Lam and an unknown Malaysian beauty pageant winner in her first role. Soon afterwards, Sammo thought it would be interesting to bring the female fighter into the modern age as well and so conceived of a female buddy cop film. He had seen Cynthia Rothrock giving an exhibition of her martial art skills on TV and invited her to Hong Kong. For his other choice he recalled that the demure Malaysian actress had a dancer background and invited her as well. Thus was born the "Girls with Guns" genre and Michelle Yeoh's start as the goddess of HK action films.

In the late 80s Sammo began a series of three very ambitious films that were large in scale and had very high budgets. Some people speculate that the reason for this was partially because he was frustrated that Jackie had become such a bigger star than he had – and this was his answer. In my opinion all three films are wonderful – very different from one another – but full of amazing stunts and action and stars. The first in 1987 was Millionaires Express that was Sammo's version of a HK mad mad mad western. It seems to have nearly everyone in it - except Jackie who declined – a fact that angered Sammo considerably. Next he directed Eastern Condors – a HK version of The Dirty Dozen. It is a fabulously intense film with one of Sammo's best performances. Appearing in it also was another new discovery of his – Joyce Godenzi as one of the Cambodian guerillas. The last of the three films was a return to his kung fu roots with Pedicab Driver. Unfortunately, all three films did less than expected at the box office (though Millionaires Express was second at the box office - it needed to do much better to cover costs) and this led to a bitter parting of ways with Golden Harvest and in a real sense the end of Sammo's creative burst of energy.
Without the financial backing of Golden Harvest and no recent blockbusters, Sammo had to lower his budgets and his ambitions in the nineties. Though many of these films are very enjoyable in my opinion, there was very little that was new. To a large degree also cinematic tastes had passed Sammo by as fans were captivated by heroic bloodshed/triad thrillers or fantasy flying films. Though Sammo had his hand in these films as well, they were by no means his forte.

He made a few films with Joyce Godenzi - License to Steal, the terrific She Shoots Straight and Slicker vs. Killers. Sammo was to marry her – and his divorce from his wife and the mother of his three children did not set well with the Hong Kong public. A few of his more noteworthy accomplishments in this decade were directing Blade of Fury, Moon Warriors, Mr. Nice Guy (Jackie now doing Sammo a favor) and Once Upon a Time in China and America, producing Lover's Tear and the action choreography for The Eagle Shooting Heroes, Kung Fu Cult Master and Ashes of Time. He also was the action director, and put in an on-screen appearance as "the chief" action director, for Ah Kam. For many this would be a good decade, but clearly not for Sammo. At the end of the decade he left for Hollywood and two years of Martial Law on television.
One more thing that should be mentioned about Sammo is what a fine actor he can be. Admittedly, most of his acting has been in action films and the opportunity for fine dramatic acting has been scarce, but there have been a few opportunities in which Sammo has been able to show his acting abilities. One was as the mentally challenged brother of Jackie Chan in Heart of Dragon, his fabulous performance in the bittersweet romance Eight Taels of Gold and then his role as a Peking Opera sifu (modeled after his own) in Painted Faces for which he received the HK Best Actors award in 1988.
So to go back to my beginning statement – Sammo has done it all. His involvement in HK film was vital to the industry and it is hard to imagine anyone with more all around talent and who has contributed so much as Sammo has.
(Thanks to Yves Gendron for his important input)

---
Sam Hui Goon-git
Born in 1948
Sam Hui is one the extraordinary talents of our time; a man that can seemingly do anything he puts his mind to. He is considered the "Father of Canto-pop", was involved in many of the ground breaking comedies of Hong Kong in the 1970s and 80s and also was an amazing athlete who could bring action heroes to the screen with a great deal of authenticity.
Sam was born in the province of Canton and he was the youngest among the four Hui brothers (the others being Michael, Ricky and Stanley). He was brought up in Hong Kong and attended the University of Hong Kong to study psychology. Thus, he was among the first HK actors to receive a tertiary education. In school, he was already a very popular singer and together with his friends, he formed the Lotus band in 1966 and signed his first contract with RTHK in 1968.They enjoyed tremendous success and within 5 years Mandarin songs were replaced by Cantopop.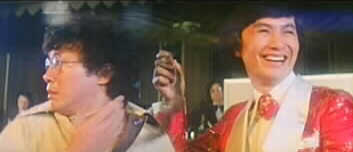 This new music revolutionized Chinese pop music by mixing Western and Chinese elements in a new musical soufflé that came to be termed Canto-pop. He and the band became an integral part of his brother Michael's edgy comedic TV show and when Michael began to direct films for Golden Harvest he brought his brothers (Sam and Ricky) along.

In films such as Games Gamblers Play, Private Eyes and Security Unlimited, the three of them created a new kind of Hong Kong comedy that had a real attitude to it. The films were hugely popular and had much to do with bringing Hong Kong cinema into the modern age and also with re-establishing Cantonese as the cinematic language.

In the late 70's, Sam had a falling out with Michael and joined the new film company Cinema City where he became the highest paid actor in Hong Kong at HK$2MM per film. With Karl Maka and Sylvia Chang he embarked on the Aces Go Places series that was to go on for five films into the late 1980s. With its non-stop pratfalls, gadgets and incredible stunts, the first Aces film broke every box office record existing in Hong Kong. Sam's catchy songs were as popular as the films and he had many hits with them (as he had with the earlier Hui Brother films).

Though primarily known for his singing and comedic talent, Golden Harvest had initially attempted to make Sam a kung fu comic star in the early 70s when it paired him up with Polly Shang Kwan for two classic films – Back Alley Princes and Chinatown Capers. Though he ended up going in a somewhat different direction (though his athletic skill was always well utilized), Sam later returned to his action roots in a number of films in the 1980s and early 90s such as The Legend of Wisely, Dragon from Russia and Swordsman.

During the filming of The Legend of Wisely in Nepal Sam became extremely ill and nearly died and he had to take a one-year hiatus from the screen. Neither Wisely nor some of his next few films did well at the box-office and in 1992 he announced his retirement from film. He continued with his music career though and after his announcement he held forty concerts at the Hong Kong Coliseum thus breaking the existing attendance records. With the exception of a brief one-film return in 2000 as a favor to Karl Maka, Sam has stayed away from the film business.
(Partial write-up from James Chang)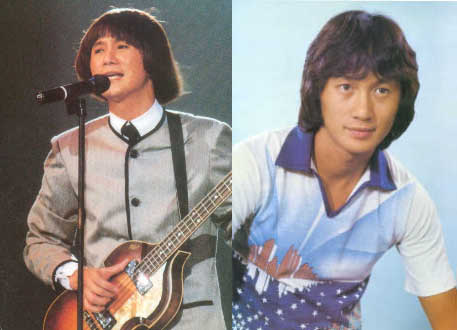 ---
Samuel Leung Cheuk-moon
Though so far Samuel has primarily been consigned to play ever so creepy characters or young punk triads in a series of often low budget films, he has begun to make a reputation for himself with many Hong Kong film fans. His loathsome and yet sympathetic performance in Naked Poison made a believer out of me.

He was educated in the United States and after his sister (ex-Miss Hong Kong Leung Po Chi) entered the entertainment business, he soon followed. His debut was Lost Boys in Wonderland in 1995 and over the next few years he had small parts (often as a triad) in films such as Once Upon a Time in Triad Society, Young and Dangerous 4, Love is not a Game but a Joke and Mahjong Dragon.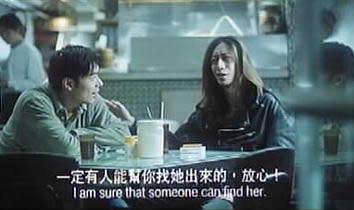 In the past few years he has received larger roles though the films have often gotten cheaper – Killers from Beijing (the guide), Raped by an Angel 5, Hong Kong Pie, Story of Prostitutes and Human Pork Chop.
---
Sandra Ng Kwun-yu
Somehow in her career Sandra has managed to go from Ugly Duckling to Swan and it is easily one of the better things to have witnessed in Hong Kong films. With some 90 films already on her resume (and she is still fairly young) no one can say she hasn't earned it.
She was born and raised in Hong Kong – with her attitude could there be any doubt? Her father was a contract actor for ATV and she ending up also going into the ranks of TV - but at TVB. She had some very small parts in a couple classic films right at the beginning of her career – Twinkle Twinkle Little Star (1985) and Peking Opera Blues (she is one of the first warlord's wives), but it wasn't until 1988 before she began establishing what was to become her film persona for many years.

In no real sense can Sandra really be called attractive – with her hooded eyes, elfin face and large floppy ears – and in comedy after comedy these looks were utilized in roles as a lustful but very frustrated female or as the ugly duckling that no man was attracted to. To some degree she was pigeon holed into these types of roles, but it was a very large pigeon hole and she seemed to show up in every other comedy made for much of the late 80s/early 90s. Within a few years, she was considered the premier female comedian in Hong Kong films. She says that much of this was by choice - that she looked at her fellow trainees in the class of 1985 and realized that she wasn't as attractive as most of them and so decided to focus on comedy - it turned out to be a wise choice.
Her first large role was in Inspector Wears Skirts in which she was a police trainee and does her best to land Billy Lau. In this same year she tried to jump the bones of Natalis Chan in Love Soldier of Fortune, practiced kissing with Chow Yun Fat in The Greatest Lover, was a sex starved secretary in Crazy Companies and was in another female action/comedy film called Operation Pink Squad. She has not really slowed down much since.

Amidst all these comedies – many of them produced by Wong Jing, and quite a few of which (e.g., Holy Weapon and Boys are Easy) were multi-star affairs – Sandra occasionally had the opportunity to flex her acting chops. In Thunder Cops II she co-stars with Stephen Chow as a female version of Chow Yun Fat and looks to revenge her father. It is a terrific performance. She teamed up twice more with Chow, in the 1990 romantic drama Love is Love and the more farcical When Fortune Smiles (which came out that some year), and again showed she was far from a one-note actress.
In the mid-90s though Sandra began cutting back on her output and began to be much choosier in her roles. She also seems to have made a choice to become a serious dramatic actress as well as a comedic one. Her dramatic coming out party was 4 Faces of Eve in 1996 in which she takes on four different roles in four different stories and blew away the critics with her performances. The film was too artistic for audiences and did not fare well at the box office, but it certainly showed what Sandra was capable of.

It wasn't until 1998 before she was able to apply her acting skills to a commercially successful film. In 1997 she had appeared in Young and Dangerous 4 and 5 as Sister 13 and though her role wasn't large, it sparked enough interest for a spin-off to be created around her character. This was Portland Street Blues and Sandra is simply brilliant in it. She still has the big ears and the hooded eyes, but she was no longer the ugly duckling and one could perfectly understand having both Alex Fong and Kristy Yeung fall in love with her.

Since then she has made a few cameos – Hold You Tight (the video store owner), My Loving Trouble 7 (the agent), Metade Fumaca (the triad bookstore owner) and as Sister 13 again in Those were the Days and Born to be King. She has made two films though that have cemented her reputation as one of the best actresses in Hong Kong these days. In Juliet in Love her poignant performance as a lonely woman finding love is extremely touching and as the wife of Tony Leung Ka Fai in Jiang Hu: The Triad Zone she paints as fully realized a character as any triad wife ever has. Perhaps her best role was in the 2002 Golden Chicken that tracks her life from sixteen into her forties as she deals with the travails in the oldest profession.

She has also appeared in a few glamourous fashion layouts and looks absolutely fabulous. What a long way cool she has come and I very much look forward to her future work. I never thought the day would come when I complained about not having enough Sandra Ng films coming out but I wish she would step up her production! How she finds he time for it I can't say - but she is also a radio DJ - (in the film Sex and Love in Eastern Hollywood, the character played by Monica Chan is suppose to be a take on Sandra and her rumored sexual preferences).
She recently wrote a diet book and had this to say in an interview "For more than 10 years, because of her chubby figure, Ng played plain, happy-go-lucky girls in local productions. But she was happy, because she had a good relationship with actor Alex To. Then, in 1992, her world collapsed. He suddenly told me he had decided to dump me because he didn't love me anymore, Ng told Next magazine. I cried my heart out for three days. Then on day four, I decided to lose weight. The result was not just the 16 kilograms she shed, but the popluar weight-loss book Sandra's Diet Diary, which details her 10-year battle of the bulge. Now, at 36 she has a near-perfect vital statistics of 32-24-35".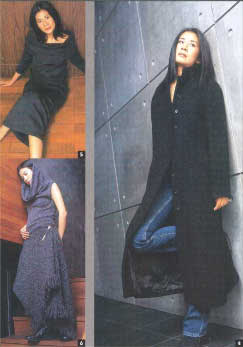 ---
Sandy Lam Yik-lin
Born 04/26/66
The woman who apparently has the rather strange moniker of "Blur Pig's Eyes" (See pg. 189 of ""Sex and Zen" & "A Bullet in the Head"") is yet another singer that made the transition to acting at a point in her career – but her acting career was not nearly as successful as was her singing one. She first started working as a part-time DJ at the Commercial radio station in 1982 in Hong Kong and then put out her first album in 1984. One review I read of her singing phrased it as "her cool yuppie croon is practically a genre of its own."

In 1985 she made her debut in The Intellectual Trio with co-star Leslie Cheung. She only made a few films during the 1980s – with her focus continuing on her singing. Some of her other films were Haunted Cop Shop II, Three Against the World (Teddy Robin's daughter), Gift from Heaven and her last appearance is perhaps her most famous – as one of the acrobats in Shanghai, Shanghai. After this she decided to completely focus on her singing career.
In the 1990's she also stopped singing for a number of years, but has recently returned and released a new album in 2000.
(Info provided by Cissi)
For some in depth information on her singing career, click here.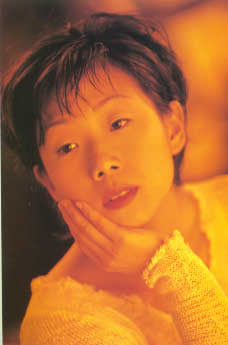 ---
Sarah Lee Lai-yui
This young actress appeared in only a dozen or so films from the mid-80s to the early 90s. Her first film was Sweet Sixteen in 1986, followed by Ghost in the House in 1988 (Nina Li's maid) – but her best known performance was as one of the school girls (Fennie Yuen's friend) in School on Fire for which she received the Best Supporting Actress award.

Some of her other films were Chicken a La Queen (a young prostitute), She Shoots Straight (one of the sisters), Dragon from Russia (Dean Shek's daughter), Truant Heroes, Iceman Cometh (one of Maggie Cheung's friends) and Prince of Portland Street in 1993. She is also the sister of fellow actress and cutie pie, Loletta Lee.
Christopher Fu had this to add when asked about her current whereabouts:
Actually the voice of this younger sister to actress Loletta Lee Lai-Chun can be heared in HK almost daily on Metro Radio where she is a famous DJ.
While her elder sister is the better looker, Sara is endowed with the better voice. In addition to her acting in radio dramas, Sara Lee is also known for singing a number of popular songs composed by her colleague James Wong Jim.

As to why she did not appear in more films during the 90s may or may not have something to do with the following incident:
In March 1998, Sara Lee stunned listeners of a talk show co-hosted by herself by confessing that she had almost died in a suicide attempt eight years ago after being left heart-broken by an unnamed HK actor. Some speculated (at that time) that the actor is Roy Cheung but this has been strongly denied by Sara Lee.





---
Sato Keiji
It is amazing how often I have seen people ask who was this guy in such and such a film. Considering how small these roles tend to be, it is especially surprising. He never says much in these films but he has a strong cool masculine presence that draws your eyes to him. He is a Japanese actor, but unfortunately I know nothing about his background or whether he has appeared in Japanese productions.

His first Hong Kong film was as the grandson seeking vengeance in Jet Li's Hitman and then he appeared in three Milkyway films – A Hero Never Dies (one of Henry Fong Ping's bodyguards), Expect the Unexpected (head of the gang from the Mainland), The Mission (one of the killers – the one who has the face off with Roy Cheung and then smilingly accepts his fate).
---