Black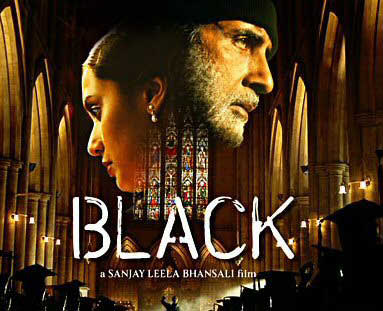 ---
Reviewed by Anabela Voi You
Director: Sanjay Leela Bhansali
Cast: Queen Mukherjee, King Amitaba,
Year: 2004
Running Time: 119 minutes
Black is an atypical Bollywood film, insofar as the creator is the great Bollywood director Sanjay Leela Bhansali who made the pan-ultimate Bollywood film Devdas. Devdas and Black: the two can't be more anathema to each other, but Sanjay made them both and made them masterpieces within their own respective genres. There are no spectacular song and dance routines in Black. Woe! There are no resplendent, colorful saris (with one exception), which are replaced by pearl necklaces and black attire. Shame! There are hardly any cultural and architectural reminders that the film itself is located in India. The horror! Queen Rani's endearing beauty is downplayed. A crime! About half of the film is in English. Terror! Instead of temples there are Anglo-Saxon churches. Sacrilege!

But what you get is a prodigious accomplishment in Bollywood filmmaking. What you get is an abstract vision completely dedicated to evoking the mood and world of Michelle McNally and Mr. Sahai. The sets are woven to be a canvas of European art history, and many of the presentational techniques are stage-like productions, such as the lighting of words on the wall. This isn't an entirely sentimental story about the Indian counterpart of Helen Keller. Rani's Michelle McNally is absolutely a surprisingly painful woman/girl to be with at times, such as causing a terribly embarrassing scene in her sister's engagement dinner. At others her persistence and spirit charms the hell out of everyone. I read critics' concerns about Hollywood actresses using "uglification" to downplay their beauty in order to take on unglamorous roles just to bring them closer to the awards. Charlize Theron, Salma Hayek, and quite a few others have made it a trend to make themselves less attractive to take on their characters. Rani isn't an exception. It is unfortunate that they have to downplay their beauty to be taken seriously. If they really wanted "real" women to play "real" characters, they shouldn't have used the world's most beautiful women to play these characters to begin with! Now that they've used these women, let their beauty shine and stop "ugly-fying" them, for god's sake.

The material was well-handled, and although you get light tastes of Bollywood sentimentalism, they are not overwhelming. Manipulative, sentimental audio cues are minimal. The taboo of a student-teacher relationship did not escape Sanjay, and I think it's extremely important that they addressed this issue – here is a woman who is blind, deaf, mute, and understandably temperamental due to her inability to share her world with others and vice versa. What are the chances she will experience a typical romance and marriage between man and woman? It is not only that she has to struggle hundreds of times more than the usual folk on things we take for granted, but she also will probably miss the very passage of rites that define our lifetimes such as marriage, childbirth, and leading a self-sufficient life. Amitaba, even if his love for Michelle was that of a loving father-teacher figure, still caved into helping Michelle feel like an ordinary woman. Roughly quoting Michelle's regret in asking Mr. Sahai to regard her as a woman instead of a student: "In giving me the dignity of a woman I took away his dignity as teacher. I didn't even get a chance to ask for his forgiveness." I found it deeply touching because it made Michelle McNally into not a clichéd heroic character but a real person with needs.

The most impressive facet of this story is that Mr. Sahai's kindness and compassion gave humanity to Michelle. Few would understand a deaf-blind person like Michelle, and her world of blackness is even more incomprehensible to people whose senses are bombarded and distract by outward experiences in the light. Before she met her teacher, her world was full of insecurity in an abysmal vacuum with no perceived boundaries and full of unidentified sensations. But Mr. Sahai understood her struggle, needs, and dreams and above all understood that they might never be fulfilled and gave his best to help her. He completely understood her and the battles these two kindred souls set out to fight against are what made Black so gut-wrenching and aching to watch.
And the acting, oh, the acting.
Magnificent.
Rani did a lot of research and preparation for her role, but the way she embodied her character and had her spirit flow outwards is a testament to her talent, that no amount of training can replace. Uma Thurman took tons of classes in Japanese, swordplay, and martial arts, and her Bride performance in Kill Bill in the end was just rather mediocre. Rani's acting was so natural and spontaneous you knew that it was the purity of talent that took over. No amount of money and experts can turn an average actor into an extraordinary one. Rani didn't spare her Michelle from unseemly tantrums or bodily fluids a la Russell Crowe. The most natural acting I've ever seen is from Korean actors, and Rani's performance almost made me think she was Korean! Most of the time, I either see bad acting or acting that reeks of acting school training. At other instances I feel some actors are playing themselves and get praised for it. In the end I need to forget a certain actor is playing a character for me to empathize with the character in any way which is why naturalism, not forced deliveries, not method "possession" of a character, etc. which makes a role believable. And Rani was certainly not Rani. She was Michelle McNally and I reckon only an inhumane few did not feel her struggle.

Amitaba is an absolute force of nature. I am speechless at his performance that swept me like tsunami, and I won't say much at all before I detract the luminosity of his craft. It came from the heart, as simple as that. The manner in which he bellowed "light, light, light" in his baritone voice sent chills down my spine, because I could feel, as Michelle said, the agony and wailing of a "battle-weary warrior."
In every year I sometimes stumble onto great films just a handful of times, and this is one of those moments.

Rating: 9

---