Hum Aapke Hain Koun (Who Am I to You?)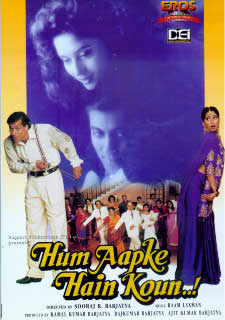 ---
Reviewed by Anabela Voi You
Director: Sooraj R. Barjatya
Music: Raam Laxman; Lyrics: Ravinder Rawal, Dev Kohli
Year: 1994
Running Time: 3 hrs 24 minutes (some DVD versions have been cut)
Hum Aapke Hain Koun is a typical Bollywood romantic comedy, and it is considered a classic as the highest-grossing movie ever in India; I've seen other statistics on how HAHK is the second highest-grossing movie on some Bollywood film lists due to the inflation of ticket prices, but I am sure the economics of HAHK is not your main interest. Madhuri Dixit as Nisha and Salman Khan as Prem were adorable. I've read about accusations of Salman Khan for manslaughter, physical abuse of Aishwarya Rai and other girlfriends, and how he's got a problem with anger management in general. But despite all those preconceived prejudices, Salman came across as very lovable and child-like in HAHK. After reading so much vicious gossip about Bollywood actors, I am quite impressed with the discrepancy between the charming characters they portray on screen and the personalities/reputations off-screen - even if it is gossip. I suppose that speaks for their ability as chameleon actors.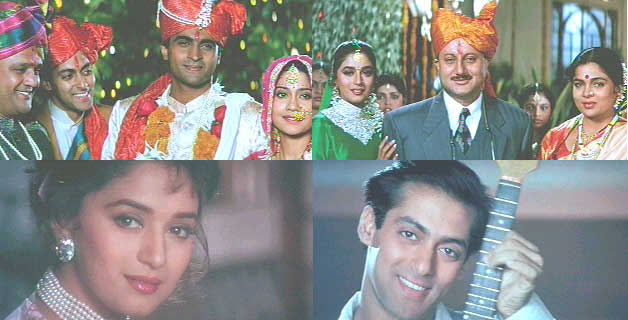 Although 1994 is the year HAHK was released it feels like it was filmed 10 years earlier with Madhuri's big hair and Salman's gigantic shoulder pads, and indeed it just might have started filming in 1984 because it seemed to take me about 10 years to get through it. HAHK was rather laborious for me to go through, because there was virtually no intriguing plot for some 2 hours or so. Pooja, Nisha's older sister, and Rajesh, Prem's older brother, meet, fall in love, and get married. At big family gatherings Nisha and Prem meet often and try to outdo each other in silly pranks. Eventually, they too fall in love and want to get married. However, that is not so easy. I will not disclose what the obstacle is, as I think it is the only somewhat redeeming feature of the movie since it made me semi-curious about the fate of the characters. The real twist of the film doesn't come until two-thirds of the way into film. Until then, it's just a cacophony of dancing and singing, an engagement and wedding scene, and some minor tug-of-war rifts between Madhuri and Salman.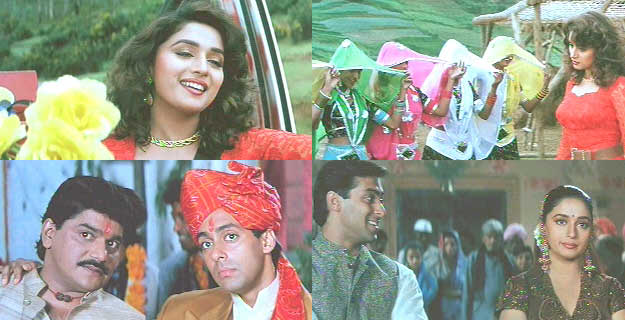 HAHK challenged my Bollywood viewing stamina because it passed the 3-hour mark at some 3 hours and 24 minutes. In fact I could only watch it in more than two sittings because I found the plot pointless and trivial. The set was full of pretty but archaic things to look at. The dancing choreography was minimal, and the music was just too folkloric/culturally specific for a dumb foreigner like me and became even monotonous to me – nothing avant-garde or innovative like the music and dancing in Dil Se. I think they even used a synthesizer as an instrument, the horror, the horror. It just seemed like a mass-produced Bollywood flick of questionable technical and artistic quality that is a mere vehicle for the heartthrob and sweetheart to get together. Some of the lyrics were rather banal – in one Madhuri sang about chocolate and limejuice and it somehow had something to do with how she's a grown, nubile woman now. Madhuri's performance was absolutely lovely and adorable, but she didn't have much of a chance to showcase her dancing abilities. Her performance towards the end was moving when it showed Nisha's transition from a carefree girl to a traditional woman fulfilling her family's duties.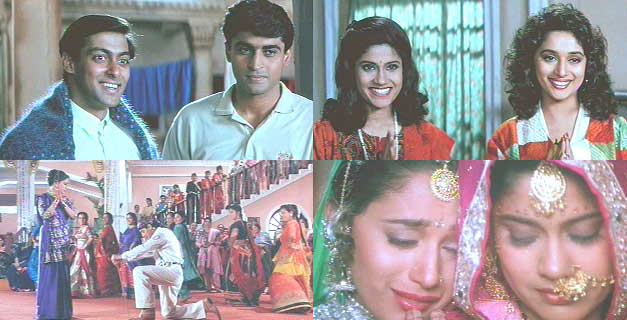 The dance choreography was generally very simple and abbreviated (arms akimbo, hipshake, step-step, hipshake). The whole movie looked like blurred Technicolor to me where everyone seemed out of focus. The subtitles of my DVD version often confusingly appeared at the wrong times, i.e. before or after someone or a group of people said something. I consider HAHK a movie with a moral about how one's love of the family supercedes personal desire for romantic love and how one feels compelled to sacrifice one's happiness precisely because of one's love for the family. Conversely, the family's genuine love for their children encourages their children to pursue true happiness and overlook the principles of sacrifice. The exchanges towards the end are a melodramatic reciprocation of love and honor in the family.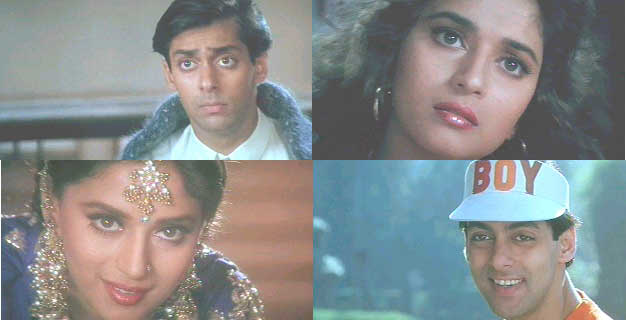 I guess that's why HAHK has been so popular, because the concept and melodrama of sacrifice evoked many deep-rooted feelings and glorified family principles to its target audience. I wouldn't classify HAHK as a great Bollywood film in the ranks of Devdas or Dilwale Dulhania Le Jayenge, and it might appear too archaic and cheesy for the jaded viewer with high cinematic expectations. The whole set screamed of "studio suffocation" – everything felt contrived and enclosed with fake lights while they tried to cram in as many extras as possible. HAKH has the plotline and characterizations as preposterous as any Hollywood movie, but the moral of the story is at least deeper.
Rating: 6.5/7.0 (As kind as I would like to be to this classic)
---
Reviewed by Brian
It is hard to argue with the fact that this film has very little on the surface in terms of plot or tension for most of its lengthy running time – it is like spending an afternoon at a petting zoo only to have a lamb bite you just as you are ready to leave – but I find this to be an exuberantly moving film that has some scenes that are nearly sublime. There is the art of "cool" – this isn't it – this is the art of "nice" in which there are no villains – only really nice people without a hint of darkness in their souls who spend much of the film smiling at each other as if their teeth are in a museum display. If I smiled that much my jaw would hurt. Both of the major actresses are in fact well-known for their radiant smiles – Madhuri has been known to level small villages with one of her landmark smiles and just about any article on Renuka Shahane begins with a comment on her pearly whites.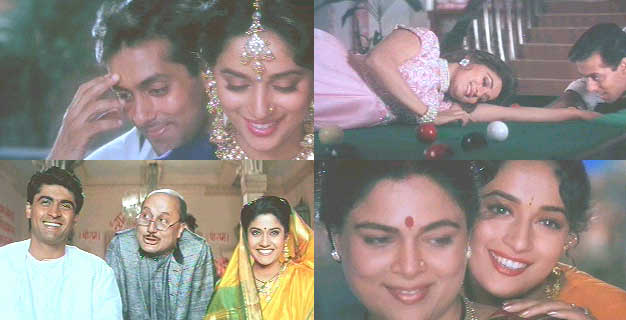 The two actors who portray the father figures in the film – Alok Nath and Anupam Kher – have become the go to guys when you want a nice father type in films – Alok in "Taal" and "Kabhi Khushi Kabhie Gham" among others and Kher in "Dilwale Dulhania Le Jayenge" and recently in "Bend it with Beckham" and "Bride and Prejudice". The one actor in the film of course who's name is rarely mentioned in the same sentence as "nice" is Salman Khan, but this was before all of his personal problems and in fact his career at this time was mired after having gotten off to a bang with "Maine Pyar Kiya" from the same director in 1989 (he was also called Prem in that one as he was to be in Barjatya's 1999 "Hum Saath-Saath Hain"). Salman has become an enormously irritating actor to watch since fame hit him – full of prefabricated charm that is smarmy and makes you check to see if he stole your toilet paper – but he is quite the sweet playful virgin verging on love here.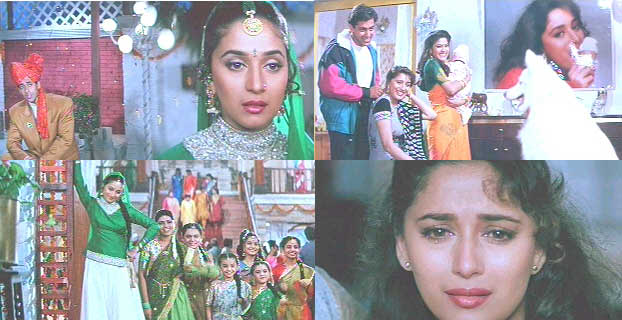 To a large degree this movie began the big happy Hindi family syndrome – or what I believe is more often termed the "Hindi Family Values" genre in which all family members love and respect one another, follow traditions and the wishes of their parents and are all overjoyed to be living in very close proximity to one another. This explains part of the enormous popularity of this film both in India and among Indians living abroad - in a period of social upheaval this was a nostalgic return to Indian roots and culture – yet a very comfortable one. No one here has to share their bedroom or sacrifice a meal – the families in these films tended to be wealthy enough to have all the amenities of modern life and with ample room to lodge a pro football team – so it's the best of both the old and new worlds and this was very appealing to audiences. Even if more fantasy than reality, I find this extended family interaction to be a fascinating aspect about this film. It is a rare moment when anyone is alone here – it is always filled with family – nuclear and extended – and friends and solitude, loneliness, introspection and privacy are almost taboo within this social context. The thought of this might drive many Westerners crazy with anxiety – myself included – but at the same time this family was so adorable that I wanted to be a part of it.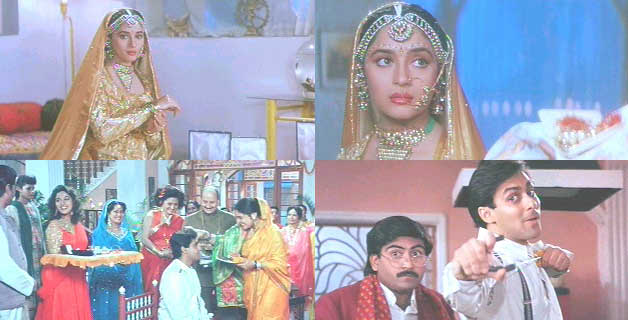 What I like most about this film though is the simplicity of it – in a sense it celebrates the cycle of life and all the rituals that accompany it – represented in this film by a year or two in the lives of two families who become joined through marriage – from the initial introduction of the prospective couple, their engagement, the marriage, the poignancy of the bride leaving her family to join another, the joyful discovery of pregnancy, the birth of a child and sadly death enters the scene – and then the cycle begins again. For the most part the film simply skips by the parts in between and focuses on these highlights of life like a photo album – and it may seem like little else with the romance of Salman and Madhuri playing around the edges of all of these events – but these all blend together to build a moving tapestry of family life and the touch points as we move along the road of life. It almost seems a shame that tragedy is introduced to the film – it adds a level of melodrama that wasn't really needed – the small moments of life and memory are drama enough.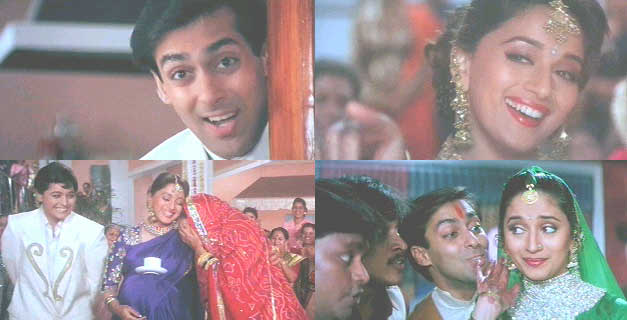 Much of the story comes out of the musical numbers – a gigantic awe inspiring fourteen of them that at times practically collide with one another like bumper cars. The film really brought music back to Bollywood – in the seventies and eighties the number of songs per film had diminished over time to often four or five maximum and the huge popularity of not only this film but the soundtrack made music an essential part of Bollywood films again in a big way. Music is pervasive here – every ritual from cricket to a baby shower is adorned with song – but these are not strictly songs for song sake – out of them springs emotion, the passing of time, family relations and love. There are a few numbers that have much going on under the surface – and they come about in intriguing ways that not only showcase the music but also the tender feelings among this very extended family.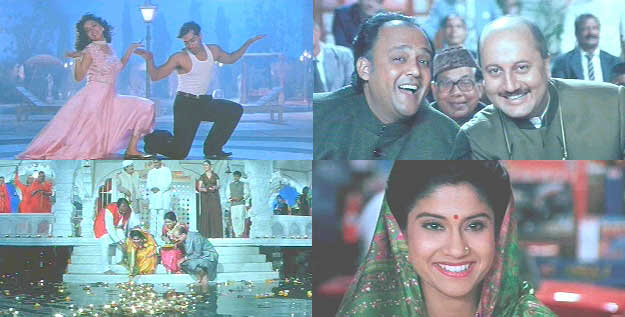 For example in one instance, Alok is egged on by others to sing a song to the mother of his new daughter in law and within this song and the looks that pass between them is a glimpse of what might have been had life taken another turn far back – but there is no bitterness – only perhaps a small regret from Alok and a question in the mind of the mother. It's a beautifully tender song about how lucky Anupam is to have such a wife. Another time the two families are sitting around and they play the pillow game – sort of like our musical chairs – except whoever has the pillow when the music stops has to give a small performance – a poem, a bit of film dialogue or a song – after Satish Shah sings a refrain from the film "Bobby" to his wife it is Nisha's turn and she sings to her mother of her love for her but also makes clear that she is now ready for marriage though her love for Prem is left unstated. And strangely in the chaotic turmoil of festivities this love is noticed by no one (other than the loyal servant) though it feels like it is written in lights for all to see.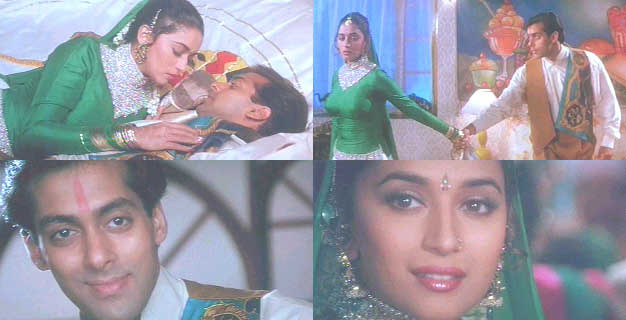 Finally there is the astonishing "Joote De Do Paise Le Lo" or as I think of it the "find the shoes" song. In this ritual/game the bride's side tries to steal the shoes of the groom and his side tries to hide them. The song and actions begin very lightly – Nisha trying to discover the whereabouts of the shoes and Prem trying to keep them from her – much flirting, joking and teasing taking place in the dance steps and gestures – finally Nisha gets hold of the shoes and flies up the staircase with Prem behind her in close pursuit. He ends up chasing her into her bedroom where they accidentally crash into one another and fall onto the bed – whereupon the mood of the song suddenly shifts to the stuff romance is made of – for only an instant they lie there but an inadvertent instinctive caress takes place and Nisha wakes up from this sudden moment of reverie and grabs the shoes to leave – Prem holds her wrists for a moment not allowing her to leave and finally lets go. When she realizes that he is allowing her to win it is a kick in the heart as they both realize that there is something very special beginning here. The look she gives him as these newfound feelings sear through her body is ravaging. Anabela mentioned in her "Devdas" review the moment when she became a Madhuri Dixit fan – this was mine - I was bewitched. It was also Salman's finest moment that nearly redeems all of his acting sins since this film.
The film at the same time can be very goofy – almost childish in the manner people behave with one another or contains abject silliness such as having a dog as an umpire or the "hero" of the film – and this can make you nearly cringe in pain at times – but it is so unapologetically wholesome that it is like having cookies and milk by your bedside or chocolate and lime juice for that matter. For three hours suspend your well-earned cynicism and simply mop it up.
My rating for this film: 8.0

---