Yaadon Ki Baaraat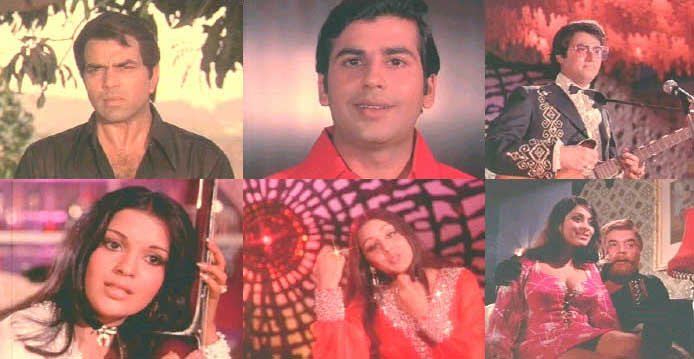 ---
Director: Nasir Hussain
Music: RD Burman; Lyrics: Majrgh Sultanpuri
Year: 1973
Running Time: 155 minutes
So you found out that at birth you were separated from your brother or brothers and have been looking to be reunited ever since. You have two options – hire a detective or travel to India. If you go to India the chances are that you will bump into him at some point whether it be at the airport, hotel or while chasing the same girl. That's just the way it is. India has a way of bringing together long lost families. It might be a country of more than a billion people, but the chances are that the guy you just tripped over is him. In "Waqt" three brothers are separated as small children and amazingly all unknowingly turn up in court together – one as a defendant, another as his lawyer and another as a witness – and they don't even know they are related. In "Amar Akbar Anthony" they not only separate them at birth, but also have them brought up in three different religions and they still find one another and band together to fight off the bad guys. In "Suhaag" they had to go low budget I guess and it was only two brothers who are separated and then later find one another. Though more often than not these things seem to happen to boys – the occasional sister act occurs too as in "An Evening in Paris" when two women – one a good girl and the other a cabaret performer - realize they are sisters (twins in fact) – of course this happened in France but they were Indian.

Once again tragedy strikes a happy family and sends the children off in different directions as if blown by a capricious wind. For dad, mom and their three young boys in their twity bow ties all seems fine in the world as they celebrate dad's birthday by singing the title song in perfect harmony, but the father is soon a witness to a crime by the nefarious Shakal (Ajit). As the boys look on, Shakal kills the parents and chases after them and though they are able to escape they lose track of each other for fifteen years! Rattan (Tarik) is brought up by their nanny; Vijay (Vijay Arora) is adopted by a caretaker and Shankar (Dharmendra) finds no one to take care of him and so learns to take care of himself with first quick hands and as he grows older even quicker fists.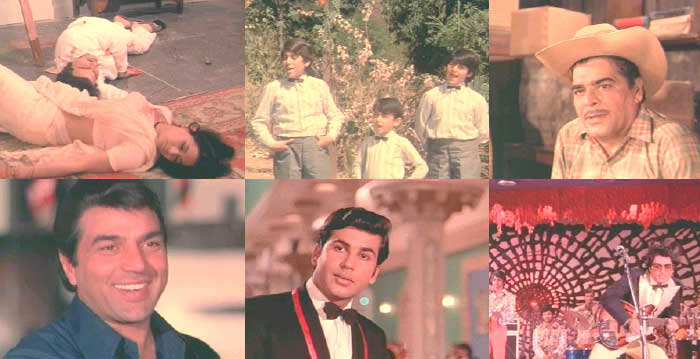 Shankar is a thief – usually dressed in black like Johnny Cash and very all-around cool. When he wants to take a train he just waits on an overpass and jumps on the top as it passes underneath and rides it to his destination like a giant surfboard. He has simple wants – he wants to locate his two younger brothers who he feels responsible for and he wants to kill the man who murdered his parents. Slowly. Vijay on the other hand is a carefree soul – just finished with college and not sure what he wants until he sees Sunita (Zeenat Aman) speed by in a red sporty convertible – her first words to him are endearing – in English - "you idiot". They both end up at a concert at the Heaven Hotel where a young rising rock star ("Monto and his Avengers") in Liberace tinted glasses, a blue cobalt jacket and an electric guitar is shaking down the house. This is Rattan who interrupts each concert to play one special song – Yaadon Ki Baaraat – in hopes that his brothers are in the audience. With the bad luck of a Bollywood movie, Vijay leaves the room just as the song is about to begin and returns right after it is finished – but somehow you know that moment will arrive when he hears it – and when it does it is an emotional kicker. In a sweet if corny touch, the nanny shows up just for this song, sheds a tear after the lack of response and goes home.
Rattan picks two people out of the audience to help sing his next song – and as fate would have it they are his brother and Sunita – in a lovely short red skirt/red boot ensemble. This is the wonderful "Aap Ke Kamre" and the three of them have a rousing time on stage punctuated at the end by Sunita singing a chorus of "Dum Maro Dum". This is a bit of an inside joke as Zeenat made the song a classic two years previously in "Hare Rama Hare Krishna". It's a joyous five minutes with some very cute dance moves from Zeenat. Later when Vijay finds out that his adopted father is the caretaker for her wealthy westernized (bottles of alcohol all over the house) father, he decides to have some fun with this spoiled girl. He pretends to be a wealthy neighbor and to be interested in her - while she thinks he is just an irritation – and the two try and outwit one another in a series of one-upmanships.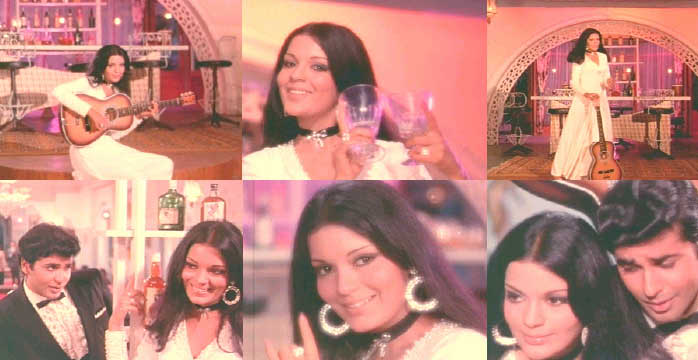 This leads to one of those perfect moments in film – pure harmony as Zeenat dressed elegantly in a white dress sits down and plays a guitar in the beautiful " Chura Liya Hai" and simply dazzles the poor Vijay as well as the audience*. Godard once wrote that to make a movie all you need is a girl and a gun – Husain proves here that all you need is a girl and a guitar - especially if that girl is the stunning Zeenat. She has perhaps never been lovelier than she is in this film – radiant on the verge of womanhood. Less sexually encouraging than in many of her films, she still manages to emit lots of heat and has one quick perfect cheesecake shot that must have been a poster on every boy's wall soon after this film came out. Vijay seems a bit too innocent for this woman – one suspects she will speed by him sexually at the speed of light – but they make a cute couple for now.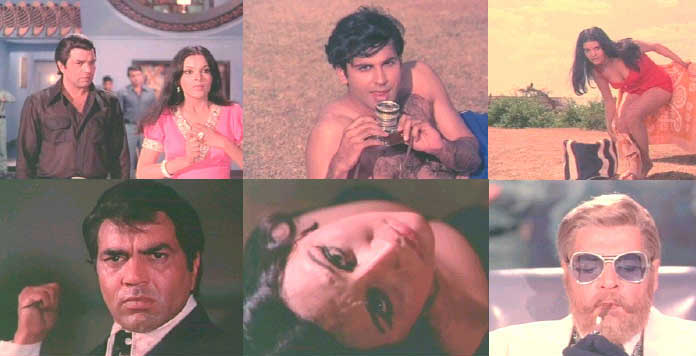 The film shifts eventually back to Shankar who steals a fabulous diamond necklace from the wife of a Maharaja – not exactly a master plan as he basically swipes it off her neck and runs like hell. Another gang with similar thoughts chases him and he finds refuge in a sultry woman's room – who turns out to be the daughter of a man who had been with Shakal the night he killed the parents and had helped the boys escape – one of many co-incidences to come! With all three brothers in one place now they continue to literally bump into each other – at one time they all have their cigarettes lit together and yet don't have a clue. Shankar is hired by the top crime boss in the city to steal something valuable in a museum – the boss? – you should have guessed already – Shakal now encased behind a reddish blond beard and sunglasses. It is only of course a matter of time before all is revealed.

This film is great fun from start to finish with all the masala elements that one expects from a film like this – romance, action, comedy and melodrama. The melodrama is very effective – mainly underplayed – but the scene when the three brothers all realize they are in the same room and know each other is beautifully played out and shot as the camera swoons from one brother to the other in close up. The real star of this film though is the music from RD Burman – primarily utilizing rock rhythms and guitar lines, he produces four classic songs in the film – the three already mentioned and then "Lekar Hum Deewana Dil". The fifth song "O Meri Soni" isn't too bad either. The dance choreography is kept simple or nearly non-existent in most of the music – and only gets a little giddy in "Lekar Hum Deewana Dil". Dharmendra avoided dancing as much as possible in his films - something that his two actor sons Bobby and Sunny Deol should keep as a family tradition - though his daughter Esha isn't too bad a dancer - her acting is another thing.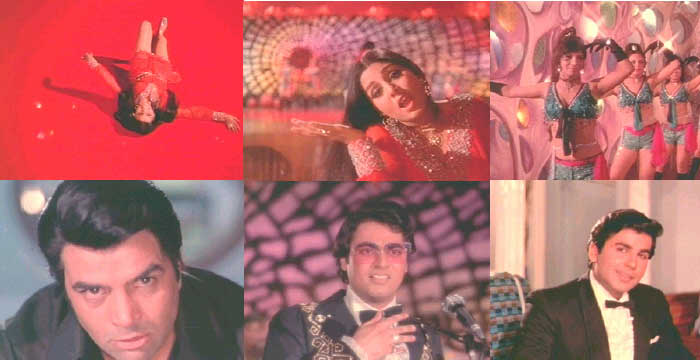 This song is another stage performance by Rattan – who gets pretty much ignored in the story – but Neetu Singh appears as a guest star and does just some of the wackiest moves I have seen yet as if she made them up on her own as she went – very cute if not very graceful. Burman lined up the best singers of the period for these songs – four legends – Lata, Asha, Kishore and Rafi – it doesn't get much better. And neither do films. Though the plot is certainly not original, it works because of the great chemistry of the actors and some electric moments and it simply becomes a great ride to be on.
My rating for this film: 8.0
* In the 2004 film Swades, this is the scene shown on the sheet for the villagers as the male audience oohs and aahs Zeenat. I have also found out since seeing this film that the youngest of the three small children is none other than Aamir Khan!

---