Prince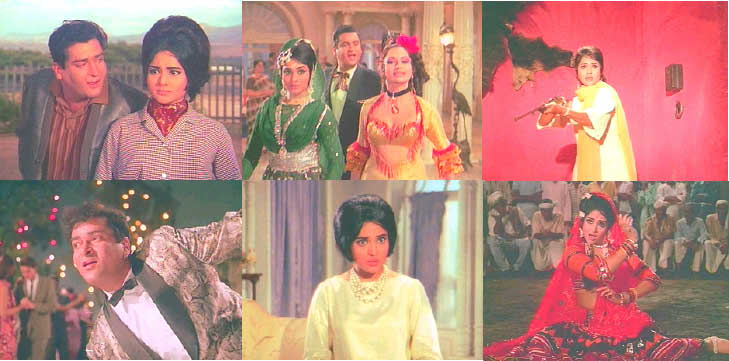 ---
Director: Lekh Tandon
Music: Shanker-Jaikishan; Lyrics:Hasrat/Faruk Kaiser
Year: 1969
Running Time: 2 hrs 37 minutes
It's good to be a Prince. Probably any Prince would do really. Just having people address you as Prince would be kind of fun for a while though over time perhaps it would get a bit dreary. For Prince Shamsher it has indeed gotten very dreary and boring and it is all he can do to motivate himself to chew on his food. As the Prince, Shammi Kapoor is quite wonderful – he is like a gorged tick after a Thanksgiving dinner – his face bathed in indifference, his eyes as lifeless as two beans in a pudding and his hefty slovenly body firmly anchored by gravity to the ground. A beautiful woman adorned in sparkling bangles dances for him, but it is all he can do to keep his eyelids upright as he pops pills and complains about everything. After India became independent in 1947, there were a number of small kingdoms that did not immediately become integrated into the country, but remained somewhat autonomous for a few years. Shamsher (Shammi's real name by the way) and his father are rulers in one of these regions living in an ornate palace with enough servants to populate a small country.

One day this all begins to change when he comes across a holy man who refuses to bow to his will and Shamsher whips him in a frenzy and then collapses in guilt and remorse. The holy man tells him that to become a man again he needs to throw off his princely possessions and go out and live as a normal person for six months. Shamsher takes this to heart and thus begins a light but very enjoyable Capraesque tale of a rich man pretending to be poor falling in love with a rich girl and finding his humanity again. He stages an accident in which it looks like he has died and he goes on the road. He soon gets a ride from an insurance salesman (Rajindernath who seems to show up in many of Shammi's films as the comical sidekick) and they come across a gaggle of supposed village girls – but who are in fact very upper class – looking for a ride. One of these is Vyjayanthimala who breaks into a song in order to gain passage. After letting off the girls, the two men are attacked by dacoits (bandits) and Shamsher is held hostage – but one of the dacoits frees him because he wants to leave the gang and visit his ailing blind mother (Leela Chitnis). On the way though the dacoit is killed, but before his dying Shamsher promises to go see his mother.

Like all good Indian mothers, she is devoted to her long-gone son – but unlike most Indian mothers she can't apparently recall his voice and so immediately assumes Shamsher is her son and he realizes that to tell her the truth would kill her. So he goes along with this and picks up the loving mom he never had. He also gets a job working in the stables of the King (Sapru) of this small region – and just as you would expect if you have seen many Bollywood films, the Princess turns out to be the girl he met on the road – and she takes an immediate dislike to this overly friendly commoner. She is as arrogant as he once was and Shamsher starts a charm campaign to wear her down showing his skills at polo, skiing, dancing and singing ("Oh haughty one, I'm bowled over").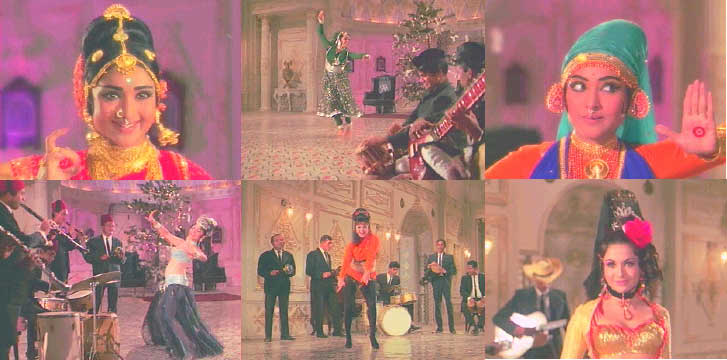 This leads to one of the best dance sequences you will come across as her friend from Europe comes to visit – played by the legendary Helen – and they decide to show this fellow how to dance and put on a bravura display of classical and modern dance that will make your toes curl. Things get much more complicated later on as Shamsher has to fight for his birthright against the always evil Ajit, take on more dacoits, escape certain death, get tortured and keep his weight down. It is great fun with Shammi going back and forth between his commoner and Prince personas as adroitly as he dances. There are some amusing scenes as well – one bedroom farce sequence in which he ends up in the wedding bed of his father and then gets physically attached to the Princess are terrific.

Though Vyjayanthimala looks to be in her mid-twenties in this film, she was actually reaching her mid-thirties and near the end of her career. In 1970 she was to marry the physician of Raj Kapoor and retire from film. She had an amazing career that began in the early 1950's at the age of fifteen and was one of the first South Indian actresses to make it big in Bollywood. She was also one of the great dancers of her time and her popularity made it mandatory for actresses to obtain this skill. She specialized particularly in classical Indian dance and has stunning footwork and form that is well displayed in Prince. Her first huge success was the 1954 Nagin, but it was her role as the tragic Chandramukhi in the 1955 version of Devdas that made people notice that she was a fine actress as well as a great dancer. Some of her other classic performances were in Sadhana in which she played a prostitute, Ganga Jamuna as a washer woman, Jewel Thief in which she pairs up with Dev Anand and Amrapali in which she again plays a courtesan. Though she retired from film, she continued to perform her classical dances on stage and still does at this time. Prince also marked the near end of Shammi as a popular leading man in Indian films. In the same year a film called Aradhana came out to acclaim and ushered in the era of Rajesh Khanna and a new series of heroes. Nearing his forties and fast losing the fight with his girth, Shammi became more of a character actor over the next ten years. In the sixties though no one was more fun to watch than Shammi. There are only two male Indian actors who I want to see everything they made - Shahrukh Khan and Shammi.

As expected with a score from Shanker-Jaikishan, the music is a highlight of the film. It also has the three legendary voices of Lata, Asha and Mohd. Rafi doing the vocals and it is a treat. The music jumps from genre to genre with ease as we get a little bit of everything from classical to pop to latin and even an Egyptian rhythm tossed in. There are six songs of which two are particular standouts. One is the before mentioned "Muqabla humse na" in which Vyjayanthimala and Helen put on a tour de force of dance form as they each have three costume changes to signify a different kind of dance style. "Badan pe sitare" is a romantic torcher in which Shammi begins to break down the Princess's cool demeanor on the dance floor with lyrics like "With the stars adorning your whole body; Where are you headed O' Sweetheart; If you could come closer to me; I would find so much peace". The final song "Bachke jaane na" is another opportunity to just watch Vyjayanthimala dance as the two of them have escaped from the dacoits and take on the disguise of two vagabond entertainers and have to perform for a small village.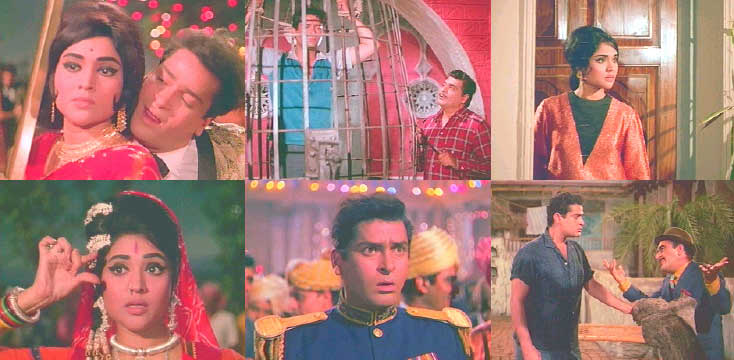 Thanks to folks from Bollywhat who responded to my inquiry about Vyjayanthimala here:
Also, for some information on Mohd. Rafi who almost always sang for Shammi and is such a treat to listen to click here.
And finally, here is Shammi writing about himself.
My rating for this film: 7.5
---