Adventures of Tarzan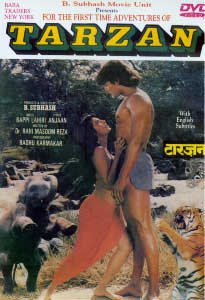 ---
Director: B. Subhash
Music: Bappi Lahiri; Lyrics: Anjaan
Year: 1985
Running Time: 2 hrs 14 minutes
The wonderful "creative minds" who brought the world "Disco Dancer" in 1982 once again dipped into their bag of cheap so-bad-its good tricks three years later and presented us with Tarzan. Full of rubber crocodiles, stuffed lions, a yodeling Tarzan and more wet sari scenes than you can shake a rubber snake at this film is stupid fun if you are in the right mood. I was. It rarely reaches the sublime tackiness of "Disco Dancer" but not for lack of trying – but somehow disco dancing lends itself more to that than a man in a loin cloth swinging through the jungle shouting "ahhh ahhhh" or whatever it was he was saying– you know the classic Tarzan cry that Johnny Weissmuller made famous. To some degree this follows the traditional Tarzan storyline with the exception that it is moved out of Africa to India – which considering all the Indian actors and the Hindi dialogue probably made a lot of sense.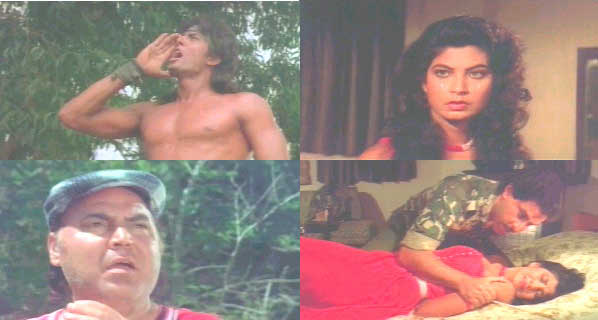 A couple sits by a riverbank casually sipping tea and reading the newspapers with their small son taking a nap in the bright sun. Except for the sound of wild animals in the background, it could be a Sunday afternoon picnic in Mumbai with the wife dressed in a lovely fluffy yellow chiffon skirt and the husband smartly attired with an ascot thrown around his neck. The woman asks her husband "Darling, we have been wandering in the jungles for eight months" – though she looks sparkling brand new and one has to wonder who has been delivering newspapers – to which he replies that she needn't worry because they are on the verge of locating the Shakha tribe that is near extinction. Sadly for him and the wife they are not extinct and they have little regard for anthropological sociologists because when they come across them a minute later they don't even have time to properly introduce themselves before they are unceremoniously killed. I think we know what happens to the boy.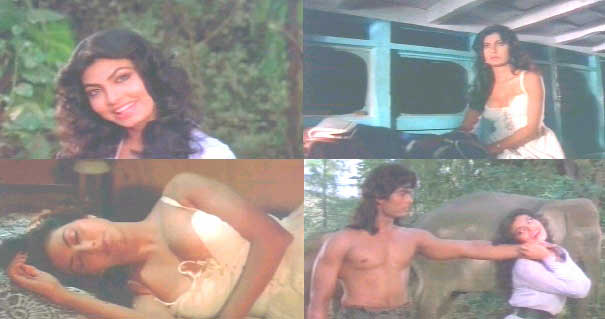 Jump ahead many years later and a beautiful woman (in a matching ensemble of white hat, purse and dress – perfect wear for a trip to the jungle) is looking to find a boat to the Shakha territory – as nonchalant as if she is hailing a cab to the Manhattan upper east side. She comes across two boatmen who are drunk with whisky bottle in hand and of course naturally asks them to take her – they agree but have other ideas in mind especially when she changes into her bodice revealing nightgown. She handles the situation by killing them both with a handy little gun and then hitching to her destination. At the end of this journey, Rubi (Kimi Katkar) finds her long gone father (Om Shivpuri) and a safari guide (the dastardly Dalip Tahil). The two of them have been hired by the Apollo Circus (thanked in the credits!) to hunt down Tarzan and bring him back to be an act – as the owner explains – "people are getting bored with the same old animals". They think that whipping a human and making him do dangerous stunts will entertain their audience – clearly they were visionaries ahead of their time and are now likely in the reality TV business of humiliating and degrading people for our viewing pleasure.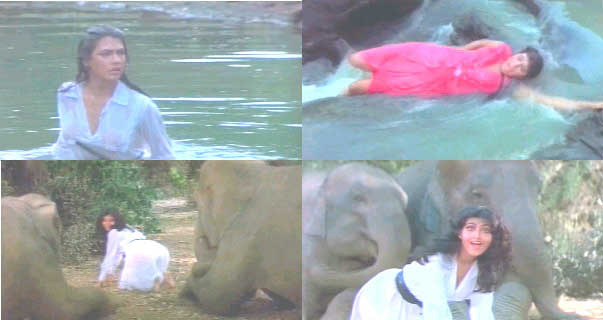 Having nothing better to do Rubi goes along – as well as four other lovelies – what you might ask are four women being hired to go along on a grueling dangerous safari for – well background dancers of course! The first night around the campfire everyone breaks into a song and dance – believe it or not I actually went on a safari in India when I was around six years old – but I don't remember any songs or young lovelies. This musical interlude attracts the attention of Tarzan (Hemant Birje) who hasn't had a chance to see many Bollywood movies out in the jungle or a woman like Rubi and is fascinated by both. As they go searching for Tarzan it turns out that Rubi has a magnetic attraction to water – if there is a body of water anywhere she somehow ends up in it – if there was a glass of water the director would manage to have her somehow would fall into it – this all leading to some rather breathtaking wet sari/dress/halter scenes.
In one long and infamous scene she clearly and pointedly has no bra on under her white dress (she later claimed that she was tricked by the director!) and Tarzan does a happy dance under his loin cloth. Cheetah was fun but nothing like this. Rubi of course falls for the savage in him – a man with muscles and who can only grunt – what more could a woman want. She says to herself "I shall teach him love and the meaning of it" – but first let me teach him whoopee – and she soon makes it clear that she wants to swing on his vine when she breaks out into the wonderfully infectious song "Oh Tarzan, my Tarzan" as she prances and undulates around him in a red halter top and of course ends up in the water. The lyrics aren't translated but the basic gist is "I want you to take me into your tree house and have sex with me for the next 24-hours or I will tell everyone you are dating Richard Simmons".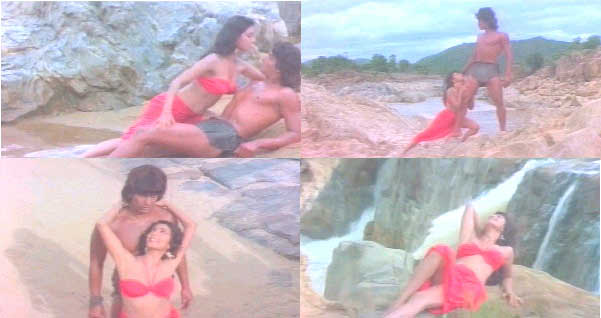 Of course she has to go about trying to mold him as every woman is wont to do – and teaches him the ABC's and then the Do-Re-Me's as she breaks into the Sound of Music and fantasizes about Tarzan in a tuxedo and becoming a famous male model! She falls in love with jungle living – ah the fresh air, the nature, the animals (she has a song that she sings to the elephants and tigers and at one point gets down on her knees and wiggles her bottom at them – the elephants looked pleased and possibly goose her with their trunks). The fact that Tarzan has to rescue her from near death about every ten minutes doesn't seem to faze her but one worries that Tarzan may get bored with this little game - "oh no, not again" – one time from the biggest rubber boa constrictor you could imagine, another time from a fake crocodile that looked like it was all they could do to keep it afloat and another time from a native who is a Richard Kiel (Jaws) look alike. Other than this jungle life was just peachy - until Tarzan is captured and taken to the circus – but don't worry – the animals in the jungle are stirring and reports are on TV that they are headed south!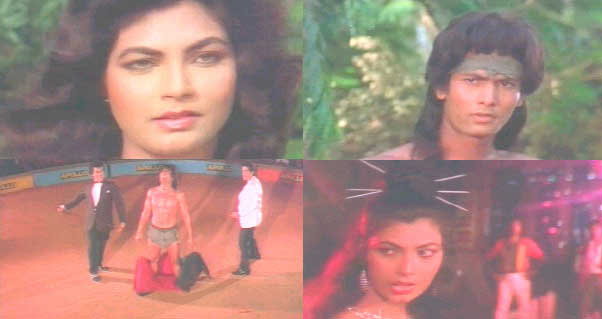 Kimi Katkar is an eyeful – she rarely rose above being in "B" films – perhaps showing her assets here didn't help in mainstream Indian films – but she later appeared in the Amitabh Bachchan film "Tum" (1991) in which she again acquired some notoriety for a song and became known as the "Jhumma Chumma" lady. She was to retire from film in 1994 after marrying a well-known photographer Shantanu Sheroy. Though I have never come across Hemant before he is still in the acting business. In this his debut film he shows some physical prowess and was certainly one of the first muscular "heroes" in Bollywood – something much more common today – but the elephants are more facially expressive.
My rating for this film: 5.5 for the lame fun factor
---