Yuva (Youth)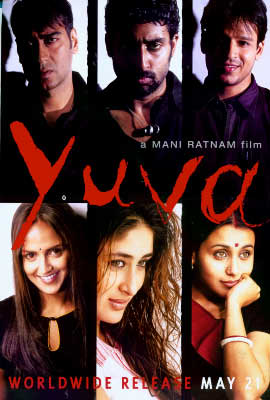 ---
Director: Mani Ratnam
Music: A.R. Rahman; Lyrics: Mehboob
Year: 2004
Running Time: 3 hours and something
A new Mani Ratnam film is always a big event. Over the past ten years he has perhaps become India's most prestigious director with films such as Dil Se, Bombay, Roja, Iruvar, A Peck on the Cheek and Alai Payuthey. Though his films contain many of the basic elements of commercial Indian film such as song and dance numbers, he has often added a political aspect that make his films feel important and much different from the typical romantic commercial fare. His films also tend to be beautifully filmed with big glorious brush strokes and musical numbers that are knock down stunning in their imagery. The numbers in Dil Se set a standard that few films have been able to approach. Most of his films have been for the Tamil movie industry, but occasionally he ventures into Hindi (Bollywood) film. Tamil audiences tend to be more open to political themes than Bollywood does and Ratnam's last Hindi film (Dil Se) which dealt with terrorism in an intelligent manner died at the box office. With Yuva though Ratnam has again made a Hindi film* that this time revolves around political corruption and one can only hope it has a friendlier reception than did Dil Se.

Yuva is a very different Mani Ratnam type of film from his previous ones in terms of style. Unlike those, this lacks his often times lyrical and poetic sensibilities and is quite hard hitting and intense at times. The film follows the lives of three men (and the women they love of course!) for a short period of time before they all "meet" on a bridge in Kolkata (Calcutta). The film actually begins with this bridge scene and then flashes back to the events that brought them there. So to a degree Ratnam is able to tell three stories and each one has a different narrative feel and style to it - one has a definite Ram Gopal Varma underworld edge to it, another is a bit Kamal Haasan like with its populist message and over the top action and the final one is much more traditional Bollywood as it follows a love story. All three do eventually come together.

The three actors - Ajay, Vivek and Abhishek - are all fine though Ajay looks much too old for his role as a student agitator and the lover of baby faced Esha Deol - Vivek is all smiles and charm - good for this role - but it is Abhishek who really trounces everyone here. His character is one nasty nasty guy and Abhishek plays it with such an understated blood boiling menace that he is just plain scary as hell. At the same time, he creates just enough pathos for himself that the audience continues to hope that somehow his life will turn around before it is too late. Whether this performance will finally ignite his force fed career is hard to say – it shows he has some acting chops, but playing a villain – even a complex one – has rarely made an actor a star – especially in Bollywood.

The three actresses take a back seat to their male counterparts but still have some quality time. Esha is . .. well . . . not annoying, Kareena as Vivek's hoped for romance is frisky and fun - with a few up close glam shots - and Rani gives a wonderfully pained performance as the woman who loves Abhishek even though she knows and hates his criminal ways. Almost completely eschewing glamour for plainness, it's a rough role for Rani but I thought she was excellent. Don't worry though, she still manages to throw her platinum smile our way a few times.
On the tough back streets of Calcutta Lallan (Abhishek Bachchan) is little more than a street thug, but with larger ambitions. He works for his older brother who in turn works for an influential politician (Om Puri) and they do his dirty work for him. One of their jobs is physically intimidating a group of university students who want to clean up the political scene and push Puri out of office. Lallan's violent proclivities are only tempered slightly by his love for his wife Sashi (Rani Mukerjee), but even her love for him can't change his ways though a part of him dearly wants to. He has only known violence all his life – it's who he is. Michael (Ajay Devgan) is the charismatic leader of the student movement and his right hook is even more powerful than his rhetoric. He has a secret thing going on with Radhika (Esha Deol). You keep waiting for an explanation as to why Michael is so much older than all the other students – a fifteen-year coma perhaps – but it never comes. Arjun (Vivek Oberoi) has just graduated from college and is trying to figure out what to do with his life when he meets Mira (Kareena Kapoor) at a disco. He finds himself very attracted to her but he wants to move to the United States and she has just become engaged. All these threads meet on a bridge in Calcutta.

The music is plentiful - though with very little choreography and no jumps to exotic foreign locales. There are numerous styles that A.R. Rahman brings to bear from funky dance rhythms to traditional numbers. Unfortunately, the music was played so loudly in the theater that I wasn't able to appreciate it as much as I wanted to and I will have to listen to it again on CD. From what I have read though the music has become quite popular.

I generally liked the film a lot though it often feels like it is going in too many different directions and needed to be more focused and perhaps a good thirty minutes shorter. At times it is also played too broadly - especially Michael's political and community activities that felt awkwardly simplistic. I would have to say that for me it fell far short of my other Ratnam favorites Dil Se and Bombay - technically great, good performances but perhaps lacking that emotional wallop that I like in his films.
My rating for this film: 7.5
* As in interesting note, a Tamil version of this same film with a different cast was made and released simultaneously. That film is called Ayuthu Ezhuthu.

---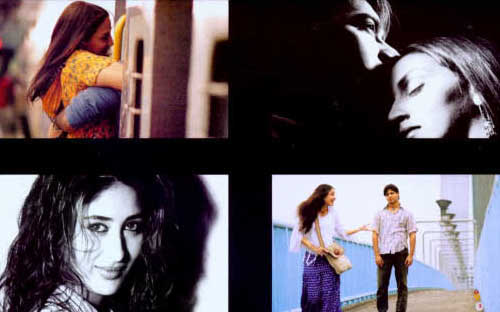 ---