Vaastav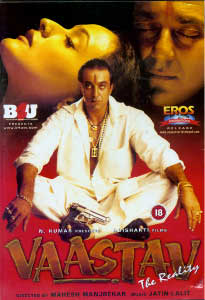 ---
Director: Mahesh Manjrekar
Music: Jatin-Lalit
Year: 145 minutes
Running Time:
Sanjay Dutt has always struck me as one of the more unusual looking heroes of Bollywood. With an oversized head, large square jaw, a forehead you could park your car on, a sharp hatchet nose that could chop wood and deep-set hooded eyes he looks more like a crumpled pillow that Picasso painted on a bad day than a film hero. If Bollywood ever did their version of "Mice and Men", Dutt would have to be cast as Lenny. With these looks, one has to wonder what his chances of breaking into the film industry would have been if he didn't have the star Bollywood parentage (Sunil Dutt and Nargis) in his background. Not only though was he able to break in, but he has also become over the years a major Bollywood star primarily in action films but in comedies and romances as well on occasion. That he is the reciprocate of romance often makes me uneasy as he more resembles a bull tramping on fine china and I worry for the safety of his dainty female co-stars.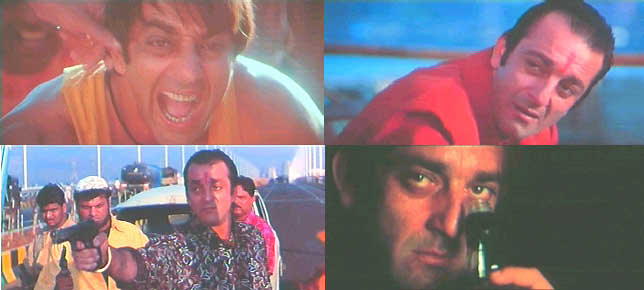 If his looks are not of the classic hero variety though, what he does have to compensate for this is a seething sense of masculine power and menace that nearly explodes on the screen. This palpable aura of menace that surrounds him is only reinforced by his off screen life - such as getting jail time for gun smuggling and an association with Hindi religious terrorists. This is not a guy you want to beat to the last parking spot. This of course makes him just right for Vaastav.

Vaastav is pure anti-hero stuff - a ruffian, a killer without conscience or hesitation - and yet you still find yourself pulling for him to the end. That's because deep down he is a mama's boy and this is like Cagney's "White Heat" on steroids - "Made it Ma! Top of the world". As long as you love and honor your parents (Shivaji Satam and Reema Lagoo) you can't be all bad can you - in Vastav, Dutt comes pretty damn close. Still underneath the cocaine glazed dead eyes, there is a touch of humanity that is looking for a way to crawl out - but in the Mumbai underworld there is little room for kindness and no time for sentiment.

Dutt's character (Raghu) begins as a bit of a lovable lunkhead - a playful rowdy troublemaker with his friends in his poor tenement neighborhood - but no signs of any real malice in his heart. He lives with his parents and his brother (Mohnish Behl) and he hopes only to own a fast food vending cart someday. His father finances it and in no time Raghu is a successful small time entrepreneur as he serves his delicious looking food - bhajis, puris and pilaf to appreciative customers. Trouble comes looking for him though when a couple of gangsters expect to get the food for free and abuse Raghu's friend and helper, Shorty (Sanjay Narvekar ) as well. When things go overboard Raghu has to step in to protect Shorty and in the ensuing fight he kills the brother of Mumbai's biggest mobster - Bandya. With the police in Bandya's pocket, Raghu and Shorty have to turn to Bandya's prime rival ("One-Eyed Vitthal") for protection - and he is only to glad to help - for one small favor - the two friends have to become his in-house killers.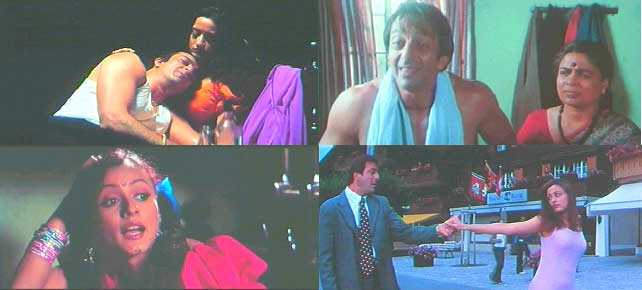 Fueled by alcohol and cocaine, they take to this new profession with a vengeance and with the sponsorship of a major politician they soon have the town at their feet in fear. As the body count rises along with Ragu's intake of drugs, it seems only a matter of time before he will have to be brought down like the wounded animal he has become. Of course mom and dad aren't especially happy with their son's newfound line of work, but Sanjay finds comfort in the arms of the beautiful Sonu (Namrata Shirodkar) a prostitute from the local brothel. They even have time to go to Switzerland for a song!

And speaking of such, the songs in this film are unexpectedly good for such a rough and tumble film. The first song Chota Kad is a clever piece as it mixes in the sounds of sizzling cooking and banging utensils with music to announce Raghu acquiring the food stall. This is followed almost immediately with Har Taraf Hai - a religious celebration that interestingly had an interesting parallel with the Chinese Lion Dance in that two competing teams build human pyramids to reach an elevated target that they smash. The third song is a snappy nightclub number with the usual beautiful women tearing it up on the stage, but framed nicely with impending violence forming on the sidelines. The final song is the trip to the Alps with no songs making an appearance for the final third of the film.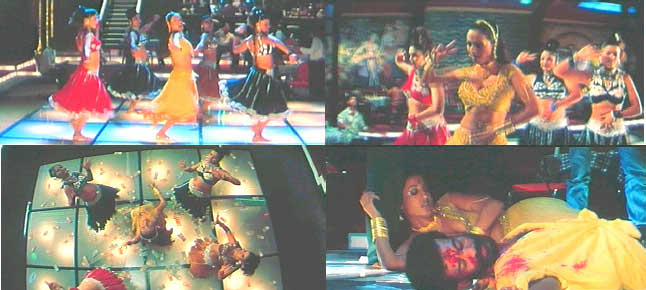 It is a solid film with few compromises made in terms of Raghu's character - he does some really bad things here that are hard to forgive him for. At the same time films relating the rise of a gangster and the inevitable fall have been around for decades and so little really feels new here other than the setting. Raghu's conversion to violence also feels very abrupt and one never quite understands how or why he becomes the man he does.
My rating for this film: 6.5
---