Bobby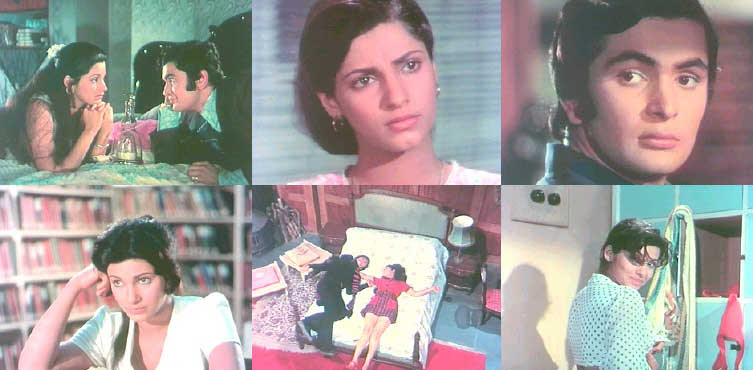 ---
Director: Raj Kapoor
Music: Laxmikant Pyarelal; Lyrics: Anand Bakshi
Year: 1973
Running Time: 2 hours, 42 minutes
If you don't come out of this film wishing you were a teenager again and in love for the first time, you are in need of an urgent oil change. Love here is so sweet, so innocent, so painful and so full of a newly discovered sexual yearning that my knees ached with long forgotten memories. Legendary director Raj Kapoor generally took on fairly serious themes for his films dating back to the 1950's, but after his previous film – Mera Naam Joker – died at the box office he threw together a piffle of a movie to clear his mind. In terms of plot there is little here – young love – heartbreak – parental disapproval - that hasn't been done a million times in every country, but this feels so hopeful, tender and fresh that it is difficult not to surrender to its bubbly charms – and to the radiant Dimple Kapadia. Deservedly, the film has become a classic.

Unlike so many Bollywood films that attempt to make 30 year olds look like teenagers, Kapoor chose two actual teenagers to play his young lovers – one his very own son, Rishi Kapoor, who was eighteen at the time and Dimple Kapadia who was a complete unknown and only fifteen at the time – but who appears and plays older in this film. They both became instant stars – and though Rishi is a bit spongy like a soggy pound cake with a fondness for leather pants, large sunglasses and ascots he still became a heartthrob and Dimple simply stole the collective heart of a nation. She is marvelous in her collection of mini-skirts and wide-eyed gazes. Her first appearance in the film is one of those "across a crowded room" cinematic moments when Rishi sees her for the first time as does the audience – her curious shy eyes taking in the lush surroundings, her distinctive cleft chin punctuating her youth, her awkward stance – and falls in love with her immediately and of course breaks into song soon afterwards "I'm no poet, but my pretty one, ever since I have seen you, poetry has just come to me".

The smirky Pran and his wife (Sonia Sahani) aren't particularly fond of children and fill their time with business and social affairs. Unfortunately, they have a tiresome little boy, Raj (later becoming Rishi) who is being brought up almost solely by his governess, Mrs. Briganza (Durga Khote) and they decide to ship him off to boarding school – and apparently don't see him till he turns 18! If all parenting could be so easy! When he graduates, he comes home and they throw him a birthday party filled with all of their own boring wealthy friends – including the older experienced Aruna Irani who clearly wants to rob Raj of his innocence and puts her ample cleavage to the test. Cake or me her body asks him. Sadly for her cleavage, Rishi has already spotted Bobby (Dimple) and has been knocked for a loop.

She is the granddaughter of Mrs. Briganza and the two start a sweet courtship that bristles with sexual undercurrent. In her bikini, halter-tops and short skirts, Bobby has Raj eating out of her hand as his hormones do a doo-wop chorus. In one song sequence the sexual longing is hanging in the air like a blown kiss as the two of them are accidentally locked into a house and sing to one another "You and I, both locked in a room and the key gets lost" as they roll around in a bed. At one point he takes her to a party at Aruna's in which a foul fellow in a ruffled shirt paws Bobby and gets whacked around for his troubles. The main deterrent though comes from his father who is adamantly against his son marrying a girl from a lower class.

Bobby's father (Premnath) is a fisherman – which in itself doesn't thrill Pran, but the fact that his zipper is down during their entire meeting because of an ill-fitting suit has Pran taking out the checkbook and asking him how much he wants to keep his daughter away from his son and to buy a suit that allows him to zip it. The father refuses of course. So instead, Pran sets Raj up with the daughter of a wealthy business acquaintance and doesn't seem to care that she (a very young Farida Jalal) is totally nuts. At this point the film takes a dramatic turn as Raj and Bobby go on the run like Easy Riders and most of India seems to be nipping on their heels including the vile Prem Chopra – and a Romeo and Juliet ending seems to be straight ahead.

The music from Laxmikant Pyarelal is terrific from the poetic Main Shayar to Nahin to the erotic Hum Tum Ek Kamare Mein and the sparkling big number Jhoot Bole Kauwa Kaate. The dancing here is also quite good – Aruna Irani is always fun to watch in her vampish performances and she has two numbers – and both Dimple and Rishi show a few good moves. The film certainly has a few drawbacks - there are some very awkward scenes and the end in particular verges on being over the top corny, but by that time you have already been sucked into this love story and are able to forgive it for its transgressions.

Dimple is a heart-breaker here and her appearance set off fashion trends and a huge amount of public affection – but much to the public's shock she married either during or right after the film's shooting - at age 16 – to superstar Rajesh Khanna and for all practical purposes retired from the business and brought up their two girls – Twinkle and Rinke (who are also actresses) – until the mid-80's when she returned to huge acclaim. She still acts from time to time today – the older woman in Dil Chata Hai and Leela.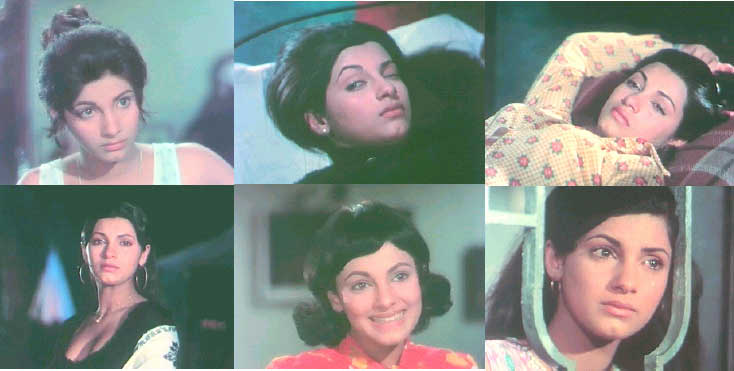 My rating for this film: 8.0
---