Chameli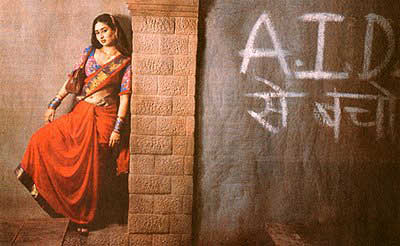 ---
Director: Sudhir Mishra
Music: Sandesh Shandilya; Lyrics: Irshad Kalim, Prof. R.N. Dubey
Year: 2004
Running Time: 1 hour 45 minutes
Who would have thought it? Valley Girl Poo decides to become a street hooker. Kareena Kapoor has a luxuriously haughty air about her – soft and voluptuous - from the most elite of Bollywood families – she always behaves as if a successful acting career was her birthright and getting into films was as easy for her as putting on your pajamas. Since her film debut in 2000 she has appeared in numerous high profile films and has been placidly immune to flops and happily taken full credit for the successes. Her favorite book is reported to be by Sidney Sheldon. Depth wasn't necessarily associated with Kareena and she went from portraying one heroine to another in a string of glossy mostly forgettable bubblegum movies. But she has something – a dark eyed sensuality and full molten lips that hark back to the classical actresses from the 1950's – she would look very much at home in the black and white films that were directed by her grandfather Raj Kapoor.

So when the news came out that Kareena was going to appear as a prostitute in this film people were more than a little surprised – heroines don't usually play prostitutes. Or if they do they are of the "Pretty Woman" variety such as Preity Zinta in Chori Chori Chupke Chupke. Or they are played by established serious actresses such as Tabu in Chadni Bar. But times are changing in Bollywood and actresses are looking for roles that will allow them to stretch their acting resumes - Urmila in a few recent Ram Gopal Varma films or Aishwarya Rai taking on roles in two non-Indian dramas – an updated British version of "Pride and Prejudice" and an American remake of the French film "Chaos". Now Kareena wanted in on this game too and chose to do Chameli – directed by Sudhir Mishra who had directed the terrific Calcutta Mail in 2003 but was known primarily as being an art house director. But Kareena as a low class street hooker who waits in the shadows for lonely men looking for some solace in their lives? No glamour, no pouts, no air of virginal innocence? Much to my surprise Kareena does her best to take on this jaundiced character – gaudy makeup, rough language and sexual explicitness – and does a very fine job of portraying this lascivious if still sympathetically sad but tough woman. Even so she is still perhaps too attractive to play this character and her aristocratic heritage still lingers about her like a warm breeze.

Rahul Bose (art house actor favorite) plays a young entrepreneur adrift in his world. One evening he leaves a party to go home, but the crushing thoughts of his dead wife keep him away. Instead he aimlessly drives around the urban landscape until a pounding rain stalls his car. He finds himself in a lonely dark poverty stricken part of the city – forced by the raising water to find refuge on a small island of sheltered pavement. Out of the darkness a female voice asks him for a cigarette. Kareena (Chameli) is looking for customers in a quick turn around business and at the same time wants to avoid her pimp who is trying to have her service an underworld boss who is rumored to have a "sickness". The deluge is keeping the pimp away but any chance to do business as well. So the two of them begin a reluctant conversation – her hoping to persuade him to give in to her cheap charms; Rahul wanting only solitude for his pain – but after a while they begin to talk about themselves. Eventually other characters intrude on them – like ghosts in the night they glide by – stop, chat and move on. A transvestite streetwalker, her/his runaway lover, a tea vendor, a father who wants to get his son married. As the rain begins to diminish though reality pushes its ugly face on them – the pimp's men come looking for her and she goes on the run through the squalor of the muddy beaten down streets and for some reason that even he doesn't truly understand Rahul goes with her. There is a need within him to balance something in his life – and he sees this as an opportunity to do the right thing. The right thing begins getting a little dangerous though as he finds himself thrust in the netherworld of the dark side of the city where his high status doesn't mean a thing except being an easy target.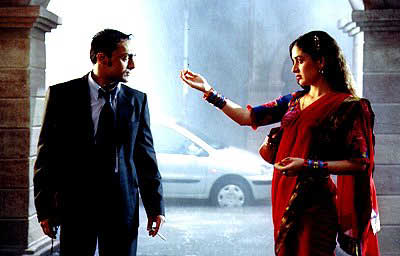 If you are looking for some version of Pretty Woman this is not it – grimy and despairing – though in the end faintly optimistic and hopeful. I thought the ending was perfect - allowing the viewer to guess as to where it goes afterwards. The film is beautifully shot – the pouring rain, the play of light and shadows on Kareena's face, atmospheric and languorous, a cigarette in the dark – and seems to fall primarily into the world of art house parallel films. Into this though Mishra injects a few shots of Bollywood – three dance numbers that are nicely done and not really too unrealistic. Two of them are simply nightclub performances and the main nod to Bollywood is a joyous song and dance by Kareena in the rain. It is lovely and all three songs are very catchy. This sheen keeps the film from truly taking on a realistic edgy socially conscious look at the city – it tends more to skip along the surface with a gazing eye – but that isn't really the purpose of the film. It is more about two people from two very different social strata's who learn from one another and find some healing in that knowledge.
My rating for this film: 7.5
---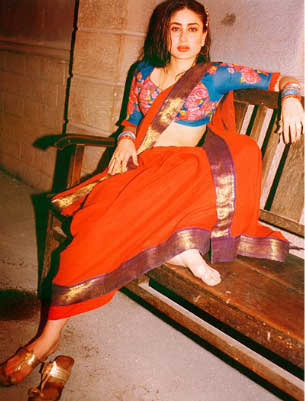 ---