Calcutta Mail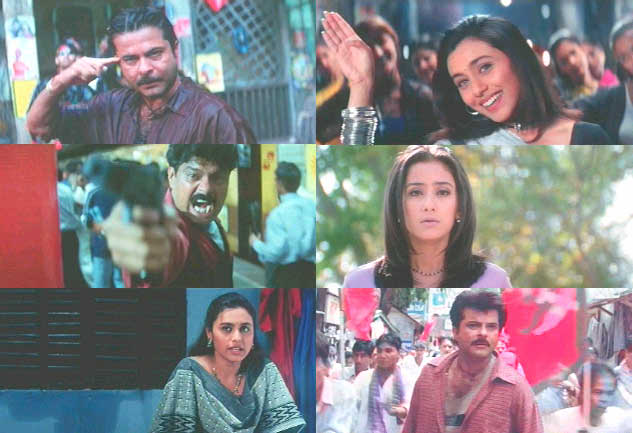 ---
Director: Sudhir Mishra
Music: Vuju Shah & Anand Raaj Anand; Lyrics:
Year: 2003
Running Time: 2 hrs and 7 minutes
The influence of director Sudhir Mishra's art house film background is often easy to discern in this generally commercial film that stars three of Bollywood's biggest stars – Anil Kapoor, Rani Mukerjee and Manisha Koirala. Though at a high-level plot summary it might sound like a typical Bollywood action/romance/thriller, Mishra throws it into a realistic gritty street milieu that gives it a sense of urgency, danger and excitement. He also shows a great eye for detail, color, lighting and his cinematography wonderfully captures the claustrophobic street life, the dingy bars, the dark lonely nights, the crowded tenements, the mass demonstrations and occasional moments of beauty that pass for life in Calcutta (Kolkata). As much as any actor, the city itself is a major character in the film. The first half of the film is an edgy mysterious dive into the heart of this city and the pace is rapid fire, but the narrative weakens later when the back-story begins to unfold and it takes on a more commercial feel as the ending looms. Overall though, it holds up quite well and is an enjoyable ride.

Avinash (Anil Kapoor) comes to Calcutta from Bihar with what appears to be a near psychotic purpose in mind. Arriving by train he immediately tries getting into contact with a man called Paswan through an intermediary named Ghatak (Saurabh Shukla). As soon as word starts filtering through the criminal underground that Avinash has come to Calcutta it sets off fear, loathing and various alarms that prompt various parties to begin readying themselves for war. In the meantime, Avinash finds a place to live and stay low by renting a cheap one-room apartment in a four-story tenement enclave. It turns out that Bulbul (Rani Mukerjee) is already living in the apartment but has been unable to pay the rent and has refused to leave. Avinash takes pity on her and allows her to stay and volunteers to sleep on the balcony outside the door. He also realizes that he will have little time for sleep as he has one thing on his mind – grim revenge.

In so many of his films Anil Kapoor seems so relentlessly serious with a strong streak of self-righteousness running up and down his body. This characteristic has always made it difficult for me to take warmly to him, but there are some films in which this plays out just right – in Nayak as the good citizen going after political corruption and in Taal as the egomaniac showman – and here as well. Grim and dour perfectly reflect the circumstances of his character and Anil plays him like a red-hot poker iron always on the verge of cracking up or killing someone. It is a terrific anguished performance and a lengthy flashback allows him to show some range and a kinder, gentler side.

Bulbul becomes fascinated with this mysterious stranger and begins to draw him out and find out what he is all about. After much prodding Avinash breaks down and reluctantly tells her his story. Years previously he had been on a train to Calcutta when he came across Sanjana (Manisha Koirala) who was on the run from Lakhan (Sayaji Shinde), a sadistic thug who is her prospective husband and a bunch of his gang. Her father (Satish Kaushik) is a wealthy and influential politician who needs Lakhan's brutal ways in his corner and what better way then to make him part of the family. Trade a daughter for a strong and cruel right hand man.

After watching him shoot a man dead at point blank on their first date, Sanjana feels they just might not be the most compatible couple in the world and tries to skip town. Lakhan gets on the train though and ferociously searches for her and only Anil comes to her aid. Now six years later Avinash has come to Calcutta to kill Lakhan and get something that belongs to him. He begins tracking him down on the mean streets of Calcutta, but Lakhan is looking for him as well – he needs Avinash dead - the sooner the better.

It is a tense film full of twists and turns and sporadic sudden violence that perhaps could have done without any musical interludes. In fact, when the first one comes at the 36-minute mark, it is almost a shock and is a blow to the edgy noir like atmosphere that had been built up – but it is an excellent song and features Rani doing a dance in the rain – so I can't really complain! There are two other songs as well – neither is a really good fit – the second one in particular felt like it belonged to a different film.

Another aspect of the film that detracts from the suspense is Rani's character. As much as I relish seeing Rani in any film, her character is not a good fit in this film and one feels that the director is trying to fit a square peg into a round hole. There is no reason to add a romantic angle and as the truth about her character is revealed it seems even more forced – still the final line of the film almost makes it alright and as Rani can do – leaves one feeling all warm and gooey inside.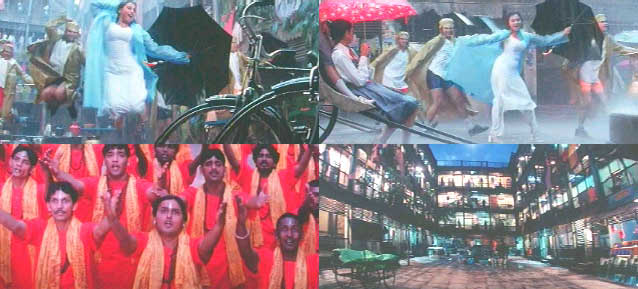 My rating for this film: 7.5

---