Chalte Chalte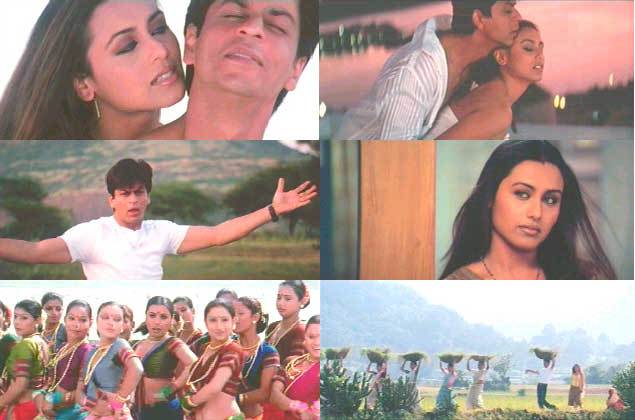 ---
Director: Aziz Mirza
Music: Jatin-Lalit & Aadesh Shrivastava; Lyrics: Javed Akhtar
Year: 2003
Length: 2 hours 46 minutes
Superstar Shahrukh Khan hadn't been very visible for a period of time until this film came out in mid 2003 due to his well-chronicled back problems that had landed him in the hospital on a few occasions. For this one though he was producer as well as lead actor and so dragged himself out of bed each day and performed his duties often in wrenching pain. Knowing this background made me flinch each time he did his dance numbers and particularly in one scene when he takes a nasty fall over a cart. His doctor must have wanted to have him committed. The film also received mass pre-production publicity when Shahrukh in his role as producer fired the initial lead actress Aishwarya Rai after her snippy ex-boyfriend Salman Khan unexpectedly showed up on the sets and caused a major ruckus.

All of these factors led to a great deal of hype and hope for the film that in most critical opinions was generally left unrealized. One thing the film had going against it was that its plot and structure was very similar to the film Saathiya that had been released only months previously to a very positive reception. This and also the fact that both films starred Rani Mukerjee in the lead female role made comparisons unavoidable - and on most levels Chalte Chalte comes in second. Another aspect of the film that made many shake their heads in disappointment is that the character Shahrukh plays in Chalte Chalte is often not very likable and his fans prefer Shahrukh as the fluffy charming boy toy. I thought this was actually one of his most interesting multi-faceted roles and one that could be interpreted by viewers in a number of ways, but there are definitely many occasions in which you just want to spank him for being such a jerk. Overall, I enjoyed this film a fair amount – with these two charismatic lead actors it is difficult not to – but at the same time it did feel clunky in parts, was not particularly stylish and lacked the kind of emotional big bang that one might hope for.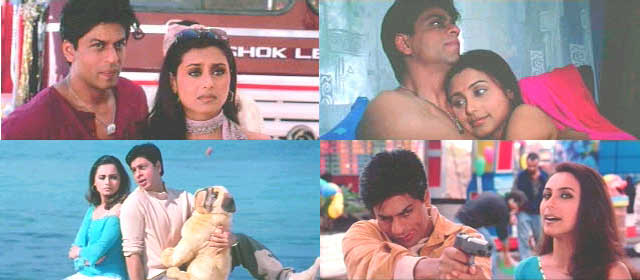 The film is divided into two very structured halves - marked by the intermission - the flowery over heated courtship and then the real life that follows. This is fairly rare for most Bollywood films (and most romances anywhere for that matter) that generally end with the couple finally getting the blessings of their families and performing the wedding ceremony with a "happy ever after" future assured and assumed. This may seem especially unlikely though when you consider that in these Bollywood films the lovers often come from very different backgrounds - either economically or socially - and the chances of a happy marriage are statistically reduced. This film explores those differences and the difficulties it can create in a marriage.

Shahrukh is trying his best to make a go of running a small fleet of trucks and he seems to have no helpful family connections - in fact no family at all. While driving one of his trucks he has a near accident with an expensive automobile driven by Rani Mukerjee and in the ensuing argument the class differences between the two are made explicit. It doesn't matter to Shahrukh of course and he falls in love on the spot - seeing Rani of course makes this all too understandable even if she is cursing you out! He ends up having to give her a ride to Bombay and on the way they of course stop to dance and sing - the Indian countryside often makes that inevitable and few things get to a man's heart like watching a beautiful woman dancing among sheep.

After dropping her off, he loses her phone number and thus spends the next two weeks dancing through the streets of Bombay - often on top of cars or up light poles - in hopes that she will spot him. If only the Olympics had a car roof-dancing event, India would clearly be the favorite for the Gold. Rani in fact does see him but rather than hiding her head in hopes that this nut doesn't notice her, she instead informs him that in those two intervening weeks her family has arranged her engagement and that she is leaving the next day for Greece to have it formalized. Shahrukh stubbornly catches the same plane in a last ditch attempt to woo her and some 20 hours, a stuffed toy and a jump in the lake later, she has fallen for his charms and they get married. Happy ending? Not quite.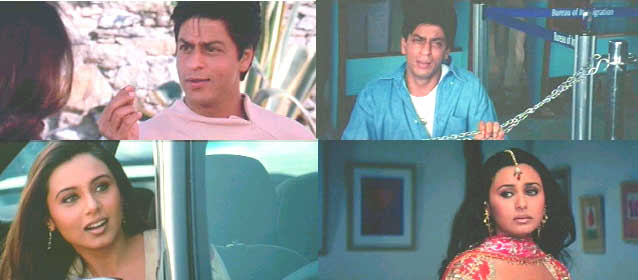 In total they have probably spent 30 hours together and know really nothing about one another - and eventually personality differences emerge along with class problems that hover over everything. This creates a huge boiling resentment within Shahrukh leading to their relationship going south very quickly. It makes for an intriguing story but not one that is always easy to watch - the first half is so charming and the characters are so lovable though far from perfect that it is painful seeing the marriage fall apart. It is also extremely annoying at times seeing them act so stupidly - but of course real people do in relationships and marriage all the time - love doesn't translate into harmony at all – often quite the opposite. There are mixed in with the many quarrels good times as well – often with sex lurking in the background – and there is one wonderful scene in which Shahrukh's towel drops and the expression on Rani's face is classic and speaks point blank to adult sexuality and desire.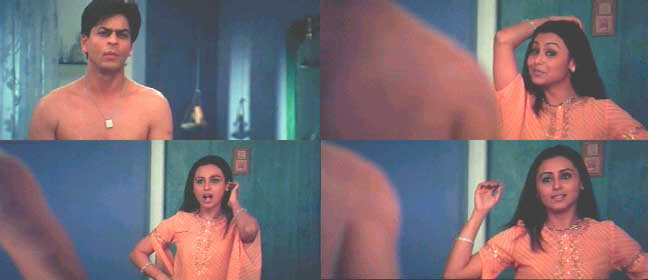 Shahrukh's character is an interesting one - not that I have a degree in psychology (but I have seen Mr. Deeds Goes to Town (1936) many times and this is along the lines of the court psychiatrist in that film) - but I would diagnose him as verging on a manic depressive personality. In his manic stage life thrills him, he falls in love in a minute, he sees no barriers towards his love, he follows her to Greece - a woman that he barely knows and yet who he feels he must have or his world is over. In his depressed stage everyone is against him, everything angers him. He can't see the harm that he causes or how unreasonable he is being. It seems clear that he has a real chemical imbalance and should be introduced to the wonderful world of mind-pacifying drugs! I actually wonder if the ending – which has garnered a fair amount of criticism – is a complete fantasy of his - he has finally cracked and is now living in his own imaginary world.

A real strength of the film are the many supporting actors that populate the film – from ones in small roles like the policeman who can only remember the first four numbers of Rani's phone because he is used to the four numbers on Indian license plates or Rani's elitist aunt played by Lillete Dubey (the mother in Monsoon Wedding, btw – another actor in Monsoon Wedding (Kamini Khanna) plays the airline passenger next to Shahrukh). Most surprising is the sweet and sympathetic performance from that perennial comic sideman and often irritant, Johnny Lever. He plays a homeless drunk who never leaves the spot where he used to look at his unrequited love through her window many years in the past and sings one sad refrain from the song Dilwale Dulhania Le Jayenge over and over again.
The music did not have much of an impact on me – the songs felt too similarly paced without any song having a really strong beat that made your feet twitch. At the same time two ballads – Suno na Suno Na and Tauba Tumhare Ye - were very lovely. The songs though not very cleverly choreographed (though one is very sexy!) do have some nice settings – two in Mykanos, one in the countryside and one on the streets of Bombay. There are six songs in total. By the way as a point of interest - how does Shahrukh drive from Mykanos to Athens as Mykanos is an island far far away and takes about six hours by ferry to the mainland and I don't think taking your car on it is an option.
My rating for this film: 7.0
---