Main Madhuri Dixit Banna Chahti Hoon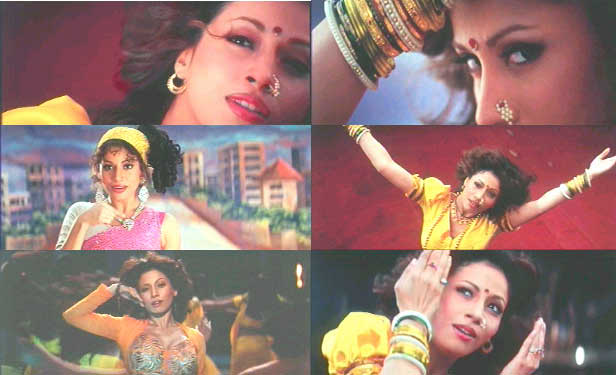 ---
Director: Chandan Arora
Music: Amar Mohile; Lyrics: Nitin Raikwar
Year: 2003
Length: 2 hours 26 minutes
Ram Gopal Varma handed over the directing chores to Chandan Arora for this film, but the subject matter is clearly close to his heart – Bollywood! In two previous films Varma delved into the magical world of Bollywood with terrific results. In his 1995 hit Rangeela he told the story of a young female background dancer (Urmila) getting her big break and in Mast (1999) we followed the journey of a sweet if mildly psychotic fan chasing after his idealized fantasy starlet. Both of these were beautifully glossy candy colored fairytales that seemed to spring from Varma's love of the industry. His attitudes have perhaps changed since then – in a Time Magazine interview Varma made clear his disdain for the traditional Bollywood formulas and for the old fashioned producers who have not been able to change with the times and this attitude seems to have marked this film like a corrosive acid.

This is no fairytale with dream like pastel musical sequences that feel like sinking into a giant marshmallow – this is grunge, this is street level, this is disheartening – a cynical crawl through the unsettling belly of Bollywood. He does this through the innocent unknowing eyes of two simple people from a small village who go to Bombay to make it big. Varma doesn't seem to have much of an opinion of the villages in India - at least in regards to their film taste. In that Time article he had this to say "With my films, I'm targeting the urban multiplexes, the sophisticated media-savvy young crowd. Frankly, I couldn't give a f--- for the villages." It has generally been the thousands upon thousands of villages spread over India that have historically molded the types of films that Bollywood tends to produce – the inclusion of musical numbers, romances and happy endings. Recently, directors like Varma have begun breaking from these traditions and making gritty, edgy films that appeal much more to the more Westernized urban areas than the rural areas in India.

In the tiny farming village of Gajraula there is no movie theater – just a make shift stage and space to play movies whenever the regional exhibitor comes to town hauling reels of the latest spectacle from Bombay. At night the people from the surrounding area crowd in, the lights go out and the colorful images are thrown on the screen for them to ooh and aah at the Heroes and Heroines and the musical numbers. With any luck it won't begin to rain on the leaky shelter and the film will make it all the way through before it breaks down. Here the stars are idolized and Bombay seems like a million miles away from day to day life. Chutki (Antara Mali) idolizes the legendary Madhuri Dixit (considered perhaps to be the best female dancer ever in Bollywood) and she has learned the steps of each one of her songs and can lip synch along perfectly – the moves, the mannerisms, the playful smiles and raised eyebrows have been practiced thousands of times. Tonight Devdas is playing and the faded print plays faintly against the wall and while everyone else is caught up in the unfolding tragedy and sumptuous décor, Chutki only waits impatiently for Madhuri to finally make her appearance. She has no time for Shahrukh or Aishwarya and when Madhuri appears in her glorious sari as a high-class courtesan, she enters into rapture.

Much to the dismay of her mother, Chukti performs Madhuri dance numbers from time to time for the village and receives adulation from the people in her town. To them she is a star and her friends sing to her "You are going to be Madhuri if you only go to Bombay". Her parents finally decide though that it is time for Chukti to settle down, discard these childish things and get married to a good respectable boy. She receives this news with horror, as her dream is to become a star.

Her longtime childhood friend Raja (Rajpul Yadav) who adores her comes up with a plan – he will marry her (strictly platonic) and convince his parents to allow the two of them to go to Bombay to start a business – while in reality they will pursue Chukti's dreams of becoming a star. She excitedly agrees, they get their parents blessings, get married and off they go with suitcases in hand and not a clue how to begin. Bombay quickly hits them with a two by four smack in the face. Unfriendly, teeming with people, everyone looking for a crooked angle and they soon find that this movie business is a slippery snake that they can't get a hold of. Ending up in a small dingy flat in a decrepit building they look for glimpses of splendor and glamour and find only hard luck. Every time things look up, they soon come crashing down and the two eventually look as if they have been through ten rounds of a kick-boxing match. In the end they find perhaps a glimmer of hope but more importantly they find how much they really mean to one another. It is this last sentiment that really cemented how much I enjoyed this film – these two small people with more stubborn pluck than common sense keep coming back for more punishment and eventually affectionately dig under your skin and stay there. The final shot has a wonderful optimism to it that speaks to the human spirit and to love.

I thought this was a terrific little film that did not receive much attention with its lack of star power and lack of glitzy musical numbers. Antara who has become a favorite of Varma as of late (Company, Road) is hugely appealing – first as the village girl so full of hope and it seems literally with stars in her eyes – and then heartbreaking as her dreams begin to crumble before her. She does a great job of imitating Madhuri's dances and on occasion looks just like her. She also has the most toned stomach in Bollywood! Outstanding in a very different way is Rajpal Yadev. He always plays supporting roles and will never play the stereotypical hero in a Bollywood film with his small stature and dark average looks, but the character he creates here feels very real – often annoying and needy but very human – and in the end when he walks out with the suitcases in hand he is every bit the hero.

The music is a mix of two original songs and a number of Madhuri songs that are recreated. One of the original songs – Tu Ban Jayegi Madhuri – that the girls sing while strolling around the village is quite catchy and nicely filmed with various villagers joining in for a lyric or two. There are some five Madhuri songs – ranging from some done on the village stage and one in a musical video. They are all set and presented in a fairly realistic manner.

As a note, a recent documentary I saw called Bollywood Bound only reinforces how extremely difficult it is for those with no connections to break into the film business in India. This documentary tracked four Canadian-Indians who go to Bombay to get into film and all the disappointments they meet – the unreturned calls, the broken promises. If you get a chance to see it – it was being shown on HBO – I recommend it.
My rating for this film: 7.5

---