Waqt (Time)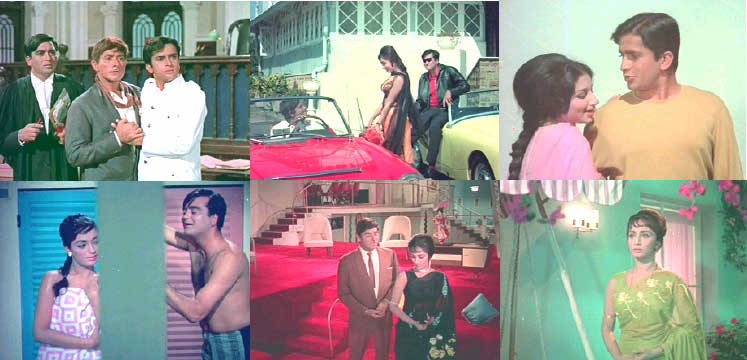 ---
Director: Yash Chopra
Music: Ravi; Lyrics: Sahir
Year: 1965
Running Time: 2 hours 58 minutes
Waqt is a big, sprawling gorgeous spectacle that will draw you in with its pure distilled aching melodrama and then completely delight you with its lush sense of 60's nouveau rich gaudy style. Nearly every frame simply seems to ooze with glamour, glitz and opulence - from the thick rich deep red wall to wall carpeting, the pastel colored décor, the round velvet covered beds, the sleek swift convertibles, the indoor fountains, the casual but elegant attire – it is like getting a glimpse into the lives of the rich and glamorous circa 1965. Back when this film was made, this was a giddy eye opener for the masses within India and was eaten up like sticky sweets by the mouthful.

Though his brother B.R. had already been in the film business for a few years, this was one of Yash Chopra's earliest films – and the one to really mark him as a new talent on the scene. Waqt also featured a number of traits that Chopra was to utilize in many of the films that he came to direct or produce in the future – high production standards, strong family values, big stars (and often multiple ones in the film) – and a theme that he was to return to many times – the lives of the very wealthy in India. In the next forty years, Chopra was to establish himself and his production company as the premier film company in India and they had many classic films to show for it – Kabhi Kabhie, Silsia, Chandni, Lamhe, Dilwale Dulhania Le Jayenge and Dil to Pagal Hai to name a few.

Fate or co-incidence? Or are these the same thing depending on your perspective? This film has more co-incidences than Radio City Hall has Rockettes and they come at you in waves like a chorus line – to such a degree that it would be absurd unless of course you simply mark it down to fate – fate takes care of a lot of absurdities in life. In either case you simply have to go with it – put your heart into it and the payback here is an emotional wallop. Many Bollywood films are based on co-incidence – chance encounters that would get you huge odds in Las Vegas – that to Western cinematic sensibilities may stretch one's incredulity – but to some it is simply fate playing its inevitable hand.
The film begins with a very satisfied Lala (Balraj Sahni) surrounded by his family – three young sons and his loving wife (Achala Sachdev) – his beautiful home and his good friends. He is a self-made man from poor beginnings and he has much to be proud of. They are celebrating the birthdays of all three boys, as they all happen to share the same date of birth. An astrologer tells Lala that as time has given him so much it can just as easily turn around, slap him in the face and take it all away ("Everyman is a slave to time"). The proud patriarch refuses to believe this, as it wasn't luck that got him where he is, but hard work. Clearly, something bad is waiting around the next corner!

That night an earthquake hits the town (with the use of models to nicely re-create a town being demolished) destroying nearly everything and separating the family. One boy is found and placed in an orphanage, another is picked up by a wealthy family and adopted and the youngest is reunited with his mother while Lala is unable to find any of them. He nearly tracks down the one son at the orphanage only to discover that he had just run away because of being beaten by the warden – and in a rage Lala strangles him to death – and is sentenced to twenty years in prison not knowing if his family is alive or dead. Twenty years pass – and fate (or a scriptwriter) then begin to pile up co-incidences like autumn leaves.

The son who ran away from the orphanage (Raja played by Raj Kumar) has become a jewel thief – mentored by Mr. Chinnoy (Rehman) who found him and brought him up to be slight of hand and smooth of tongue. He is a gentleman thief though and when he realizes that one lovely diamond bracelet that he lifted belongs to the beautiful Miss Bombay (Meena played by Sadhana) he graciously returns it to her but has his heart stolen in return. He begins to love her madly, but she is hopelessly in love with Ravi (Sunil Dutt) a joyful playboy high-spirited fellow who enjoys his life style very much.

Another romantic sub-plot involves Ravi's sister (Renu played by Sharmila Tagore) who falls for her classmate Vijay (Shashi Kapoor) but he comes from a poor family, has an ailing mother and has to take a job as a driver for Mr. Chinnoy. When Ravi discovers his sister is interested in a mere driver, he forbids her to see him. Meanwhile Raja is stewing in his love for Meena and decides that murdering Ravi is the only solution. Unless you have been sleeping, you should realize that of course these three men are the three sons of Lala. Their lives become even more intertwined as the father is released from prison and sets about to look for his long lost family as all roads lead to Bombay – and then a murder and a trial bring them all together still unaware of their relationship. It may sound corny, but it is done wonderfully well and the ending though predictable still carries quite an emotional impact that almost takes you by surprise. This is just a terrific melodrama that grabs you in its clutches from beginning to end.
The cast is fabulous – the main five characters were all big stars at the time – and each is given solid screen time though the main story centers around Sunil Dutt, Raj Kumar and Sadhana. I have come across both Sharmila (such a sweet coy smile) and Shashi Kapoor in other films, but this is a first meeting with the other three. With his large ears, small moustache and stiff posture, Raj Kumar doesn't really look like much of a film star at first sighting, but he has an intensity in this film that is fascinating – his character is somewhat immoral and yet he totally captures the viewers sympathies (and he won the Filmfare Best Supporting Actor Award for his performance). Sunil Dutt is the father of current star Sanjay Dutt – his wife was the glamorous actress Nargis (Sunil played her son in Mother India!) and at least in this film he is all easy going boyish charm – very different then the screen persona of his tough guy son.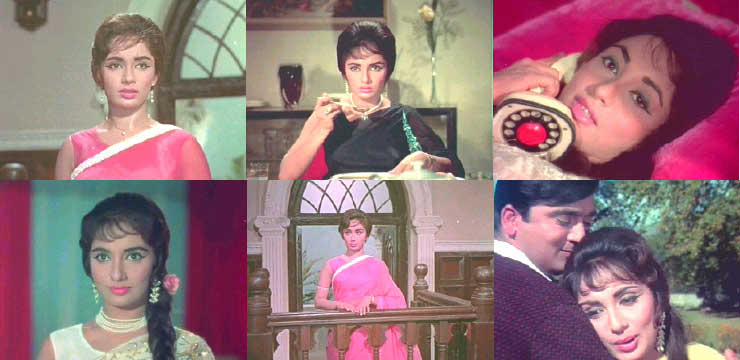 The real discovery for me was Sadhana – though the film doesn't really revolve around her – the camera certainly does. She is 100% style in this film – dressed in a stunning array of outfits and beautifully made up and photographed. The camera sometimes just stops and becomes mesmerized by her. Both her outfits – the well-fitted Muslim styled churidar kurtas that she wears became very popular and her hairstyle became known as the "Sadhana Cut". According to one thing I read, much of the film's interior décor was modeled from her home! She was a very popular actress at the time – in one hit after another – but sadly within a few years she was to develop a thyroid problem that caused damage to her looks and she was soon out of film.

The music is quite good – a few classics within the bunch. Most of it is fairly traditional – generally ballads with only one really upbeat song among them. There are eight songs in total – two that I love - the romantic "O Meri Zohra Jabeen" that Lala lovingly sings to his wife and the mournful "Aage Bhi Jaane Na Tu" in which a number of little poignant dramas play out while a club singer intones:
The future is uncertain
The past is unknown
What we do have however
Is this moment.
My rating for this film: 8.5
Thanks to Bollywood 501 for his review and images of Waqt that got me to see this film!
---