Andaaz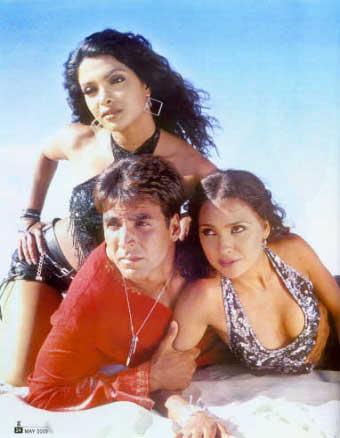 ---
Director: Raj Kanwar
Music: Nadeem Shravan; Lyrics: Sameer
Year: 2003
Running Time: 2 hours 26 minutes
For many of the uninitiated, Bollywood has a number of stereotypes that are as hard to shake as a Helen dance number. One of these is that Bollywood actresses are chubby little unattractive women who spend much of their screen time dancing around trees and making shy gooping eyes at the male lead. Perhaps in the older cinema there is some small truth to this – certainly while cable surfing prior to getting into Bollywood I would come across an older Indian film and reach this same opinion. I have since discovered that there were in fact many lovely Indian actresses in the older films – Waheeda Rehman, Madhubala and Zeenat Aman to name three – but even more so in the current film climate. In fact, beauty is very likely the main factor these days in the Bollywood film scene and I would venture to say that the current group of Bollywood actresses is the most attractive of any film industry in the world right now. I am not sure if it is even a contest.

Perhaps it all started with Aishwarya Rai – considered by many fans to be the most beautiful woman in the world – and hey – she can prove it, as she was the winner of the Miss World contest in 1994. Until she showed that beauty contest credentials could get you into Bollywood, this was never considered a major plus in the way that movie or family connections were. Now Bollywood is rife with former beauty queens jostling to create some elbow room – Sushmita Sen (Miss Universe, 1994), Diya Mirza (Miss Asia Pacific, 2000), Neha Dhupia (Miss India, 2002), Celina Jaitley (Miss India, 2001) or former models who moved from the runway to the movie sets – Preity Zinta, Bipasha Basu. If you were to throw all of the above into a vat and boil them, you wouldn't have more than an ounce of fat left to show for it. It is hard to watch a Bollywood movie and not go – wow – when the newest starlet makes an appearance – even the background dancers are knockouts by any standards – it is pure eye candy and my eyes are glazed like sugared apples. Of course, there are those that complain that this new breed of actress has no formal training and little acting talent – but beauty can go a very long ways in this business.

The reason I am going off on this tangent is that Andaaz has two wow girls – Lara Dutta who was Miss Universe in 2000 and Priyanka Chopra who won the other major award in the same year as Miss World. The two of them together are visual overload of the nicest kind. They could make a blind man see again. This was for the most part the coming out party for both actresses (though Priyanka had been in a Tamil film previously and had a small role in Sunny Deol's "Hero") – and they glow like buttered popcorn at a world premiere. Both may have much to learn in regards to their craft, but in general they acquit themselves fairly well and show that pizzazz factor that Bollywood eats up in mouthfuls. They are picturized beautifully in the musical interludes; the make up is just what you would expect from an ex-Miss and their outfits are skimpy enough on occasion to worry one about their catching a cold.

Now as to this film itself – well – it's sleek with great production values and two stunning actresses, but there isn't very much here that seems new and the script feels like it was pulled out of a dusty drawer and only the genders switched around. Unlike the normal two men/one woman Bollywood love triangle, this one has two gorgeous females fluttering around some lucky guy who spends much of the film looking miserable – I'd have a smile so wide you could see it from behind me. The best way to watch this film is to treat it as a beauty contest – with two contestants vying for the big prize and you just taking it all in like a fizzy drink and placing your vote at the end.

Raj (Akshay Kumar) and Kajal (Lara Dutta) have been friends since childhood when Raj showed up one day with leg braces and nary a friend in sight. Kajal offers her friendship (I'll be your friend for life Raj, she says already clearly practicing her answers for the Miss Universe pageant) – and inspires him to out roller-skate his braces ala Forest Gump in a race. Raj grows up adoring her and her him – and he recalls one day her having told him that she would only marry a pilot – so he joins the air force. Now it is clear to everyone who watches the movie or wanders onto the movie lot that Raj loves Kajal – he even beats the bazookas out of a fellow for saying a bad word against her – clear to everyone but Kajal who thinks of Raj only as a best buddy.

Now picture this drama – it has probably happened to you at some point in your life – you are just about to ask a girl to marry you and she tells you that she met someone and he has proposed (poor Raj, he thought Kajal meant she would marry a man who flew a plane but instead she wants to marry a man who owns a plane – no fool is this girl!) to her and she wants your blessing! What do you do? Raj it turns out has spent too much time fantasizing about Kajal in dance sequences in far off deserts and had never told her how he felt – that's what watching too many Bollywood films will do to you. Instead of breaking down and crying and begging her to change her mind like I would do – Raj bites his lower lip and gives his approval. He puts on a happy face but deep down or each time the camera zooms up close we see how broken he really is.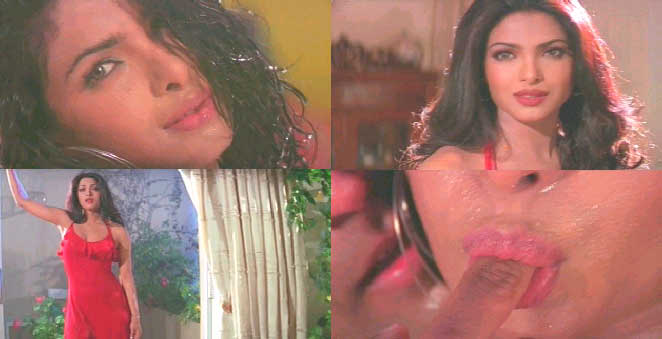 So the film is at the one-hour mark and so far only Lara has made an appearance – the crowd is growing restless – Miss World they chant – and finally Priyanka hits the screen like a shot out of a .45 straight to the heart and places below. She could melt tar and make holy men give up their vows on the spot. She makes my knees feel like rain is coming. What she does with Raj's finger is illegal in twenty-three states and most countries I believe. Lara who? Lara gets stuck with being the good girl – Priyanka gets to wear all the slinky clothes and push her cleavage into Raj's face – it isn't fair. She chases after Raj like a lottery ticket blowing away in the wind – but the sod still loves Kajal and won't give Priyanka the time of day or even a quick roll in the hay – believe me Raj I wanted to advise him – there is no better way to get over one girl than about an hour with Priyanka – she could cure heartbreak and bad skin at the same time. And in one of those isn't it a small world moments – it turns out she is the sister of the man who married Lara – now what's Raj going to do?

It's not really good – but at the same time I enjoyed much of the film and just went with it – wherever Priyanka – I mean the film wanted to take me. The music is plentiful and melodic if not original – and the girls looked great.
It comes down to one final question: What would you do to assist World Peace?
Lara - "I would travel the world and plant a tree in every neighborhood"
Priyanka - "I would put on my most revealing bikini and tease every world leader into signing a peace accord"
My vote goes to Priyanka.
My rating for this film:6.5
---