Sur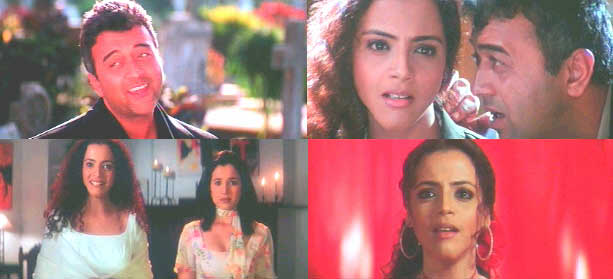 ---
Director: Tanuja Chndra
Music: M.M Kreem; Lyrics: Nida Faazli
Year: 2002
Running Time: 2 hours 22 minutes
For a Bollywood film, this hits some surprisingly genteel notes. In its slow measured pace and literate script it at times made me think I was watching a Merchant-Ivory production until the musical interludes brought me back to reality (well, Bollywood reality anyway!). This is a serious film that explores the meaning of music and leaving ones mark in the world behind you. It is about ego and genius and God. It is about salvation and redemption. Directed by one of India's few female directors, Tanuja Chandra, it attempts to tread both the worlds of commercial Indian film and that of parallel cinema (non-musical) and to some extent it succeeds. Though it did not fare particularly well at the box office, this is a well-made film that may be an indication of where Indian film might be going in the future as it slowly melds its two distinct cinematic worlds into one.

Lucky Ali plays a successful recording artist whose true love is the music school – Sur – which he runs. It is sort of a Fame type of school in which all these young musical talents are brought together and encouraged to create music. Entering into his forties though, Lucky feels as if his life and his music have no legacy – that none of it has meaning unless he can find someone that can carry on his music – in his words to make him "immortal" – which I have found is an immensely difficult thing to do. This is an early warning sign that Lucky has issues – a slight messiah like complex – and like all messiahs, he needs followers to carry on his message.

On his way home his car breaks down in the countryside and he wanders into a small rural church from which he can hear music playing. At the doorway he stands awestruck by the singing of Ave Maria coming from a young woman in the choir and he immediately thinks he has found his answer, his salvation in her form and in her voice. The film is full of Christian religious imagery – both of the agony and ecstasy kind – and this only adds to the sense that for Lucky music and God are intertwined. Dressed in white and with an innocent waif like face, this singer is near angel like – totally uncorrupted – and Lucky is able to convince her sister (Divya Dutta) that Tina Marie (played by Gauri Karnik) should attend his school.

She has absolutely no formal musical training of any kind – and is soon mocked by the other well-heeled students – but she is soon catching up with them and then surpassing them. In fact, she is a prodigy and in no time at all she is playing the violin and composing music – and all those who initially disdained her are happily dancing to her tunes. Her talent though has an intimidating effect on Lucky – it is as if once he has seen true genius – pure music – his own music feels inadequate and he is unable to compose any longer. This drives him to drink, sour thoughts and to do something not very honorable. To some degree this is comparable to Salieri coming face to face with the vast infinity of Mozart's music. The film is interesting in a number of ways, but as much so for where it doesn't really go. The relationship between Tina and Lucky has a clear if understated undercurrent of desire and affection - one feels that if either of them reached out for only an instant something would have happened – but it is all left unspoken (except in dream sequences) and that makes for a stronger film. The film is lacking in many Bollywood staples – no comedy, no action, no extreme melodrama, no big production numbers, non-commercial songs – and that may be why it didn't do well in India – but it has a real center and maturity that is very affecting.

This is the debut film for both Lucky Ali and Gauri Karnik and they are both terrific. Lucky is actually a very fine singer – I really enjoy listening to his raspy singing voice – who has done playback work in a number of Bollywood films, but is now taking a stab at acting. His face has a real world-weariness about it that works perfectly here and he never over acts or feels out of character. Gauri is like a tentative fawn let loose on the world – big exploring brown eyes, a radiant smile that comes from nowhere and a mass of curly hair – she is completely adorable and winning in her first film.

In a film about music, one would hope that the music would be fairly good – but it is more than that – it is wonderful as it fuses a number of global influences from jazz to classical to Brazilian and of course Hindi. It makes for a soulful listening experience as each number feels distinct and melodic – there are seven main numbers but music is everywhere in this film. Most of them are ballads – lovely singing and simple arrangements – with the haunting Aa Bhi Jaa being a real standout and others such as Tu Dil Ki and Kabhi Shaam Dhale being very strong as well. Keeping the film to its low-key personality - and perhaps with a small budget – the picturizations are very basic with only the finale having any real production around it.

My rating for this film: 7.5
---