Jism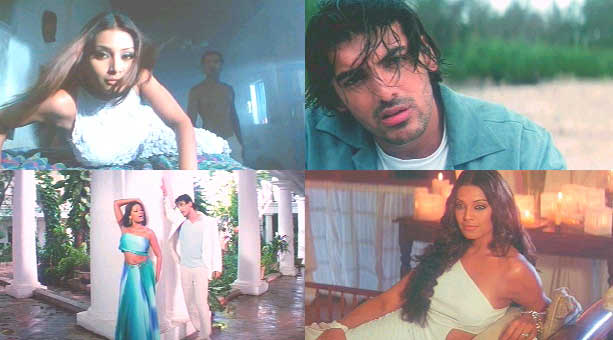 ---
Director: Amit Saxena
Music: M.M Kreem;Lyrics: Sayeed Quadri/Neelesh Mishra
Year: 2003
Running Time: 2 hours 15 minutes
O.K. – stop giggling. Jism. Get it out of your system and say it out loud a few times. Considering the focus of the pre-release hype for this film it's no wonder that many coming across the title might think Jism was more in line with the English meaning than the Hindi meaning (body). The advance publicity was all about selling sex – the raciest Bollywood film ever, graphic sexual situations, lots of revealing flesh and starring two of Bollywood's hottest young actors – one of them being the current poster pin-up girl Bipasha Basu. It sounded like a heady mix of murder and desire that had the older film establishment wagging their tongues in disapproval – here was the beginning of the decline of good taste in Indian cinema as they adapted western standards on sex, promiscuity and morality.

In the end, it turned out that much of this hype and rumor was exaggerated to get ticket buyers in the seats. There is no nudity and not really any more revealing flesh than a typical modern Bollywood film, there are not any steamy sex scenes either though use is made of blindfolds and ice cubes in an erotic fashion – but what the film does deliver is a deliciously immoral heroine with really no redeeming qualities beyond glistening kissable lips, perfect almond eyes and a killer body that has good men doing bad things.

Unfortunately, it isn't really enough to give this film the shot of adrenaline that it badly needs. It sputters along in a tired obvious manner until it picks up near the end and at times tested my patience to the near breaking point. The main problem is a simple one – Bipasha is the main reason to see this film, but she is the mystery woman and so the viewers are given only selected cloudy pieces of her – the prime focus of the film follows Kabir who falls under the sexual magnetism and mystique of Bipasha – and Kabir (played by newcomer John Abraham) is a very annoying and unsympathetic fool.

Sonia (Bipasha) is beautiful, desirable, wealthy and married. She likes the first three parts of that equation, but isn't so fond of the fourth as her husband (Gulshan Grover) is an older man who rightfully wants to keep her and her libido on a short leash. She should wear a neon sign as a fashion accessory that blinks "femme fatale" in red lights so that no one could miss it. Except poor Kabir – he would even miss the blinking sign. Kabir is a bottom rung lawyer more in touch with his whiskey flask than his few clients, but still manages to look very Miami Vice with his always present two day stubble and his lightweight linen suits.

One morning he sees Sonia coming out of the surf and he goes into smarmy overdrive like a dog searching for his bone – almost tripping over his tongue in his eagerness to bed her. She protests that she is a married woman and wiggles her hips and licks her lips as she plays him like a yo-yo in need of a spin. He is soon so smitten with her that his colors almost clash and he painfully alternates expressions between a lounge lizard smirk and a crybaby pout. His lack of acting skills would have a holy man on a meditation retreat cursing him in silence. Boo-hoo – the husband has the nerve to touch his woman – the thought is soon torturing Kabir – gee, Sonia whispers gently into his ear – if only my husband wasn't here we would be together and be rich – ding – the light bulb goes on in Kabir's empty head. My advice is to watch the American film that this was modeled on - Body Heat - instead.

The musical numbers are fairly forgettable – no choreography to speak of as the picturization mainly consists of the two love birds looking into each other eyes and taking long walks on the beach – and though the music is serviceable the songs are primarily ballads that didn't stick in my head for any time at all. Bispasha on the other is stuck there like crazy glue on steroids!
My rating for this film: 5.5
---