Dhund (Fog)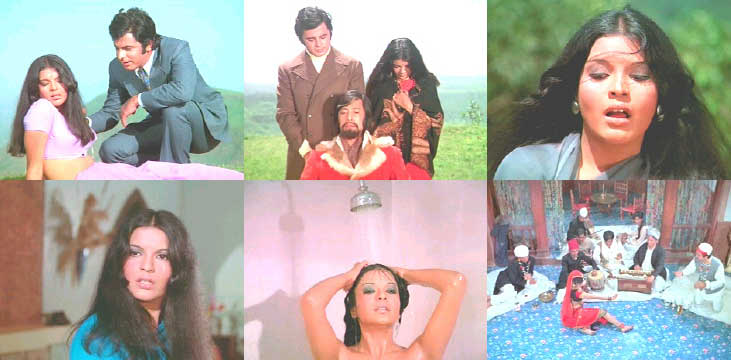 ---
Director: B.R. Chopra
Music: Ravi; Lyrics: Sahir Ludhianvi
Year: 1973
Running Time: 2 hours 4 minutes
A man's car breaks down in the night fog and he walks into a secluded house to get help where he discovers a dead body (Danny Denzongpa) and the luscious Zeenat Aman in a corner with a gun in her hand and a plea of guilt on her lips. Like any man would do in the circumstances, he (Navin Nischol) helps her concoct a story that throws the police suspicions off of her and on to an imaginary man in a dark overcoat. So begins this rather enjoyable murder mystery that slowly winds its convoluted way to the truth. Suspense movies of this sort are a rarity in Bollywood – a few that come to mind are Caravan, Teesri Manzil and Gumnaam – all quite good. Dhund doesn't quite match up to those, as it isn't as crisp as it should be and certainly doesn't exactly keep you on the edge of your seat, but it actually does a better job of keeping you guessing till the end. In fact, at the conclusion the film asks the audience not to tell anyone how it all ends and I will certainly not do so!

One might wonder why Navin is so willing to help Zeenat cover her tracks, but one look at Zeenat in her blue bare midriff sari makes it all very understandable. Zeenat can do no wrong as far as I am concerned and she occupies the screen with an alluring dusky sensuality that just sizzles and glows. Zeenat hit the Indian screens in the early seventies and took them by storm – a highly unconventional Bollywood heroine with her Westernized dress and attitudes and her willingness to exude a heated if still understated sexuality. Till she came along Heroines were generally very traditional – good girls who obeyed their parents and kept sex in a drawer only to be opened after marriage. Zeenat shattered this with her second film Hare Rama Hare Krishna in which she plays a free spirit into free love and cheap available hashish. Her father was a well-known writer and she spent her education overseas – thus gaining an accented Hindi speaking style – she came back to model and became Ms. Asia. From here she entered film but after her debut (Hulchul) bombed she almost left the industry to move to Germany, but Dev Anand convinced her to do HRHK and this made her a huge star.

The police begin their investigation based on the false clues that Navin and Zeenat have given – there are many suspects as flashbacks detail that the dead man (Danny Denzongpa) was Zeenat's husband – an embittered cripple that enjoyed mentally torturing everyone around him – a step-mother, his wife, a servant and a lunatic son from a previous marriage – and he has the annoying habit of shooting at practically anything that moves with an ever present pistol - and so the suspects are plentiful. Of course if this wasn't enough, his use of dead animals as the mainstay of his interior decor would be enough to condemn this fellow to a gunshot in the stomach.

Underneath all this lies the unspoken intimation that the husband was also not able to perform sexually and Zeenat looks to be a woman in need of a lot of love. Using the false leads, the police finally land their suspicions on a young lawyer and aspiring politician (Sanjay Khan) who had become close to Zeenat and appears to have both motive and opportunity. Both Zeenat and Navin watch the net close in on Sanjay – coolly attired in horn rimmed glasses and a series of spiffy suits - including a Nehru jacket – and wonder what they should do.

There are really only three songs in the film – another is sung over the opening and closing credits – but all three are quite good. Two of them are item numbers – one performed by a courtesan in the town brothel, the other a terrific female dancing duo act in a nightclub that shows some intricate footwork and co-ordination. In particular I love one part of their act when the two of them trade these lyrics in staccato fashion:
Yes, I'm chained
But, I've eyes like darts
Yes, I'm svelte
But, my colours are fiery
Yes, there are embers in my eyes
But, my breath is as hot as lightening
Yes, the kohl in my eyes looks like a taut bow
But, it's to shoot arrows at foes
And every step I dance
Is a punishment for my enemy

Unfortunately, Zeenat is in only one of the songs – a lovely ballad that she sings while playing the piano. Zeenat was not one of the great dancers from that period – certainly better at modern songs than traditional songs – but she usually looks very glamorous in her dance numbers and really looks as if she has "embers in her eyes" as she sashays her hips to the rhythm of the music.

Sanjay Khan by the way is the younger brother of Feroz Khan. Though he had a solid career, he never had the success that his older brother did in film but has become a very successful producer in television and is the father in law of Hrithik Roshan. His son Zayed is attempting to break into film presently. Sanjay is also responsible for introducing Bob Christo into Indian films and even today Christo manages one of Sanjay's resorts!

My rating for this film: 7.0

---