Qurbani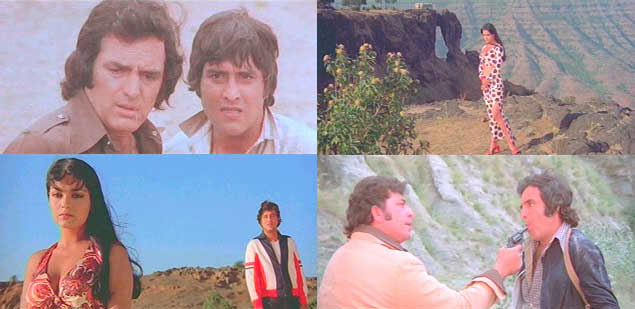 ---
Director: Feroz Khan
Music: Kalyanji/Anandji; Lyrics: Indivar/Qaisar
Year: 1980
Running Time: 2 hours 38 minutes
Qurbani is considered one of the classic Bollywood action films from its period and it lives up to its reputation from beginning to end in a big sprawling messy tale of shoot outs, brawls, car chases, double-crosses, nasty villains, nastier vamps and a heroine with enough exposed cleavage to make any man forget his problems. It also has two heroes who are both on the wrong side of the law but on the right side of honor and both of them have a mean upper cut to go along with their chiselled jaws.

Along with a funky soundtrack, this all adds up to an explosion of fun and it fairly drips with manly testosterone. Similar to Hong Kong films, male bonding is a theme that resonates strongly in many Bollywood films. Oaths of eternal friendship and a willingness to die for one another are exchanged like last cigarettes before the blindfold is put on. In Qurbani two of Bollywood's premier tough guys from the 70's and 80's both fall in love with the same woman – but in the end it is really their friendship that matters.

Rajesh (Feroz Khan) is a master thief and like most master thieves in films he is very cool and debonair, spits death and danger in the eye while calmly puffing on a smoke and usually keeps his shirt only half buttoned to display his hairy chest. He only steals from the bad guys though and sticks up for the downtrodden - and in an early scene methodically destroys an expensive Mercedes with some precision driving in a car garage because the owner insults a beggar. More importantly, he has a dazzling girlfriend played by the curvaceous and beguiling Zeenat Aman.

Until fairly recently, Bollywood actresses were generally divided into either always playing the heroine who was a modest girl next door type or playing the vamp who showed too much flesh, gave off sexual come ons and usually had a bad end. Zeenat (along with Parveen Babi) was one of the few actresses who could ooze sexuality, show toughness and break the traditional social mores of a "good girl" but still be the heroine and that is partly why she still has a legion of fans who adore her. The other reason is that she looks so damn good.
Our first sighting of Zeenat (Sheela) has her singing in a nightclub barely wearing a slinky red number that has more loopholes than a Congressional tax bill – her skin seems to shimmer as she dances across the floor to the disco beat of the legendary song Aap Jaisa Koi – she is like creamy cheesecake in need of a spoon. Later when a letch with mutton chops approaches her, Rajesh gives him a thrashing, though whether it is for being a nuisance or for his facial faux pas isn't clear but you are glad to see it happen. They have been dating for over a year, but Zeenat still doesn't yet know what Rajesh does for a living – patient woman – most women I go out with know my job, my salary and my social security number within ten minutes.

She soon finds out the truth when the comically ominous Inspector Khan (Amjad Khan) catches him with a satchel of stolen goods and Rajesh finds jail his home for the next few years. Zeenat promises to wait but this becomes increasingly difficult when she is saved from a group of hooligans by Amar (Vinod Khanna) who dispatches them through every window glass pane in the place – often with his little daughter on his back ala Lone Wolf. He was a gold smuggler working for a malicious crook called Raka (Amrish Puri with hair!), but left after seeing how cruel he really was. He has a little girl that he has to raise alone and they both become attached to Zeenat quickly. Just as that romance looks like it is about to take off into dances in the snowy filled mountains of Switzerland, Rajesh is released and manages to save Vinod's life twice in a matter of days - this of course makes them buddies for life and Vinod has to hide his love for Zeenat (which would be a whole lot easier if she covered up from time to time and didn't get soaked by the water sprinkler!).

Enter into this complicated tale the brother/sister act of Vikram (Shakti Kapoor) and Princess Jwala (Aruna Irani) who range in behavior from mildly sick to totally psycho. Jwala has these creepy green cat eyes that spell "freaky" and she turns out to be quite handy with a machine gun and a bulldozer. She has a score to settle with her ex-husband Raka ("a woman's vengeance you have not seen" she tells him) and the psycho siblings use all means necessary to force the master thief into their plan of revenge and of course Rajesh's new found friend Amar feels obligated to tag along – so both men who wanted to go straight for the sake of love find themselves dragged back one last time into crime – and Inspector Khan is sniffing around like a man who lost his last bottle of glue.

The film has a solid collection of songs – other than the bouncy Aap Jaisa Koi that Zeenat sings twice – both in dresses that could cause riots in some countries – there are four other songs – Laila o Laila is another cabaret song from Zeenat all glammed up in white and the ballad Kaya Deka The Lo which has the sultry beauty making polka dots look like a fashion statement. A note of interest that I came across was that the song Aap Jaisa Koi was sung by a fifteen year old girl who was discovered in the U.K. by Feroz Khan and this song made Nazia Hasan into a star. She was also the main female playback singer in Star and sings the infectious "Bhoom Bhoom". Sadly, she died in 2000 of cancer.

Also, fans of Bob Christo should note that he has one scene here as a car mechanic and gets into a pretty good fight with Amjad Khan (here is an article I came across on Christo). And one last bit of trivia for those new to Bollywood such as myself – but both male stars spawned future male stars – they are the fathers of Akshaye Khanna and Fardeen Khan. Vinod by the way is now a big shot in the world of politics.

My rating for this film: 8.0
---