Kuch Kuch Hota Hai (Something Happens in your Heart)
---
Director: Karan Johar
Music: Jatin Lalit, Lyrics: Sameer
Year: 1999
Running Time: 177 minutes
If anyone had told me that a film that begins as an Archie like comic romp with Betty and Veronica in close pursuit and then evolves into a film that resembles an old Haley Mills plot would move me so emotionally I would have rolled my eyes – but in fact this film with corn as high as the Indian sky worked its way into my heart and completely won me over. It took a while admittedly and it wasn't really until the second viewing that I felt myself absolutely melting before its charms. Much of this must be laid at the doorstep of three wonderful and personable performances from Shahrukh Khan, Rani Mukherji and Kajol. In particular Kajol simply radiates with a performance that is devastatingly simple, pure and astonishingly effective. When she takes over the film in the second half, it begins its intrusive invasion into your heart.

The plot feels so trite that I almost hate to relay it, but just remember that the plot is not as important as how well it is done – where every scene and every song is constructed perfectly to make you care about the characters. Scenes that feel goofy initially take on added emotional weight later in the film. The film begins with the death of Tina (Rani Mukherji) – the wife of Rahul (Shahrukh Khan) and the birth of their daughter. Knowing that she was likely to die giving birth, Rani wrote a series of eight letters for her daughter to open on her birthdays. The years pass and in the eighth letter, mother tells daughter of how she met her dad and of another friend, Anjali (Kajol), that they knew in college.

The film then goes into flashback mode and recalls the friendship between Rahul and Anjali – the best of buddies – and how Rahul fell head over heals with transfer student, Rani. Anjali realizes then that she wants more than a friendship with Rahul, but it is too late and in complete heartbreak she leaves school and disappears from their lives. Now years later the dead mother pleads with her daughter, also named Anjali, to find the other Anjali and bring her back into her fathers life. Like Haley would, the little girl sets a plan in motion – but discovers that Anjali is about to marry a hunk (Salman Khan) and all seems lost – it appears that she will not be able to fulfill the last wish of the mother she never knew. Is that corny or what? Is it effective? You better believe it!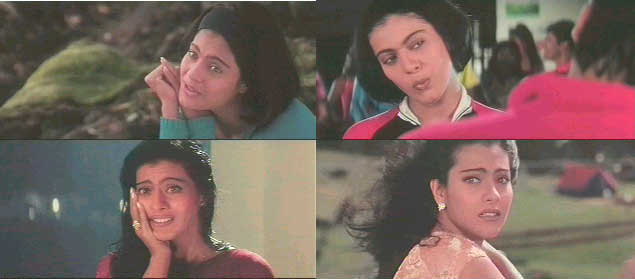 Everyone in the film is excellent – Rani is warm and beautiful and a smile she gives late in the film (ala the HK film Lost and Found) will break what reserve you have left. But it is the terrific chemistry between Kajol and Shahrukh that makes this film work. There are a couple of scenes – when he first sees Anjali again after so many years and their sitting on the bench scene that are nearly wordless – all body language - that are simply brilliant in their subtlety and emotional impact. Shahrukh is extremely charming and low-key in this role and makes it clear why he is one of India's most popular actors even if he is in no way the poster boy type. Kajol in particular though is simply a pleasure to watch. She brings an enthusiasm and spontaneity to this role – and others – that make you wonder where it comes from. Her face is a constant whirlwind of expressions – everything registers in her eyes and mouth like a bang of thunder. When she cries her face crumples up like Kleenex and so do you. She can be completely goofy one moment and heartbreakingly beautiful the next. The film also gets strong support from comedian Johnny Lever and Anupam Kher who plays Rani's father. Salman in a supporting role is quite handsome and dances up a strom.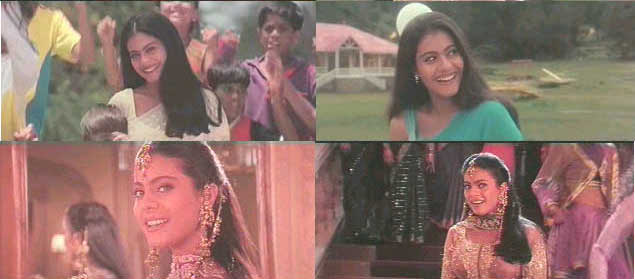 The music is a strong part of this film. It begins in so-so fashion for the first three songs that take place on campus, but as soon as the story becomes passionate the composer becomes inspired and from the fourth to the twelfth song, the music is brilliant and the choreography does its best to keep up with it. The songs push the story and add wonderfully to the emotional layers of the film.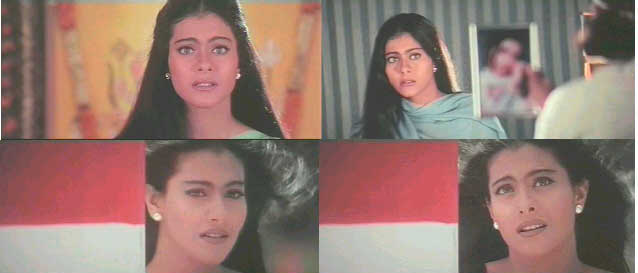 This was the director's first film and it won all sorts of awards for the actors, director, music and much more. It is all well deserved. I have gone back and played this one numerous times and it has not in the least bit worn out its welcome. The DVD is terrific with a lot of bonus material – and even the songs are subbed in English (something many of the Indian DVDs do not do). One of the most enjoyable parts of the bonus material is when director, Karan Johar, shows scenes that were left out and humorously talks about how bad they were. What he left in was certainly not in the least bad.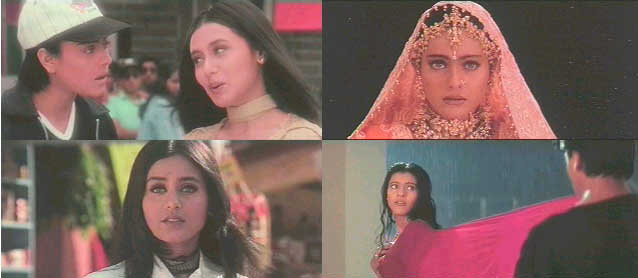 My rating for this film: 9.0
---