Kandukondain Kandukondain (I Have Found It)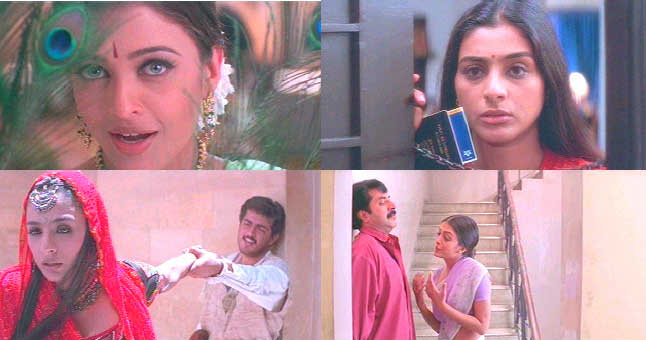 ---
Director: Rajiv Menon
Music: A.R. Rahman; Lyrics: Vairamuthu
Year: 2000
Running Time: 2 hours 35 minutes
Jane Austin might be more than a little surprised to discover that one of her books about polite English society has been adapted into a gorgeous colorful Indian film with a plethora of lavish musical numbers, but I think she would be quite pleased with the results. Re-setting novels from the 1800's into contemporary times generally doesn't make for a good fit (i.e. Great Expectations -1998) as manners and morals have changed so much over time, but Sense and Sensibility makes for perfect subject matter in the world of Indian commercial films. Full of melodrama, romance, sacrifice and dealing with class differences and the role of women in society make Austin a perfect Bollywood scriptwriter!

In truth this is actually a Tamil film, but they share many of the same characteristics as those that come out of Bombay. This was Menon's second film – a splendid follow-up to his Minsara Kanuva (Sapnay) that had some magnificent song sequences and an intriguing unexpected romantic twist, but a disjointed script. With the classic source material as its base, Kandukondain Kandukondain has a much stronger and consistent feel and retains the dazzling musical sequences of Menon's previous effort. At the center of the story is of course two love stories that simply gnaw their way into your heart and sit there like a ticking emotional time bomb.

As soon as Aishwarya Rai and Tabu (both primarily Bollywood actresses) burst out of the water of the swimming pool one knows they are in for a treat. With her wet hair slicked backwards and her eyes looking as big as burning sputniks that have crash landed on her perfect face, Aish is simply dreamy and stunning – a rapturous electrifying moment – and a wet sari scene and its only a few minutes into the film – and there are two more to come! Aish, Tabu, their much younger sister and their mother have to come to stay with their wealthy dying grandfather to take care of him in his final days. The family is not a very cohesive one – the mother eloped years ago and has only come back to see her father now since her husband passed away and the son has not spoken to his father in over ten years.

The two sisters look at love and marriage in two very different ways. Aish wants Urdu poetry, romance and true blistering love while Tabu is more than satisfied to be placed into an arranged marriage – as she says to her sister "God chose my eyes, my face, my body – why should I not trust him to choose my husband". Unfortunately because a previous fiancé killed himself over a love affair with a white woman while in the States, she has been stigmatized as unlucky and no one will have her. Into her life comes an assistant film director (Ajith) looking for location shoots and after a funny and sad "meet cute" scene a slow fire romance bubbles up – but troubles of course lie ahead.

Aish meets a wealthy entrepreneur who spouts poetry like most men do sports scores and she feels like her dreams are coming true – pure unadulterated uncompromising love. At the same time an older ex-military man (Mamooty) who lost his leg in battle feels like his last chance for love is slipping away. After losing his limb he fell into a life of bitterness and alcohol but after seeing Aish dance at a recital he comes under her spell and becomes a changed man – but now realizes how foolish he was to think he could court her – and becomes instead her loyal friend.

When the grandfather finally dies, they learn that he has left everything to the son and the entire family is soon shown the door to find their way on the hard streets of Madras. If you have seen the story in another version you will have a fairly strong idea of where this film is going, but it still doesn't lessen the impact of the emotional heart-stirring ending. It's a wonderful tale of searching for true love that translates into any age and into any culture.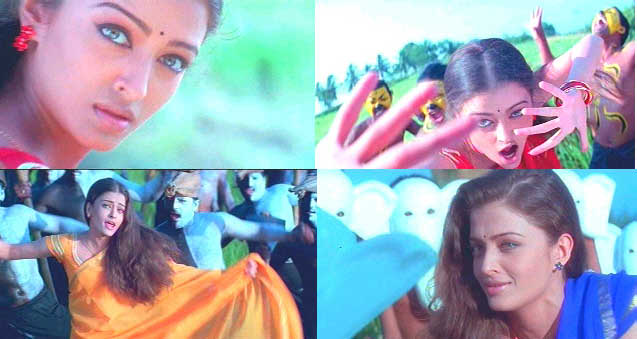 Both actresses entirely dominate the proceedings with wonderful performances. Aish's is the flashier of the two – gorgeous from head to foot throughout she goes from the heights of idealized love to abject crushing depression. She also receives most of the musical numbers and her emerging legendary status as a dancer is put to wonderful use. The camera fawns over her face like an object of worship. Often her performances feel a bit chilly and brittle as she slides by on her icy classic porcelain looks, but on occasion as in Taal, Hum Dil De Chuke Sanam and here she emits this warm earthy glow that is irresistible and translucent.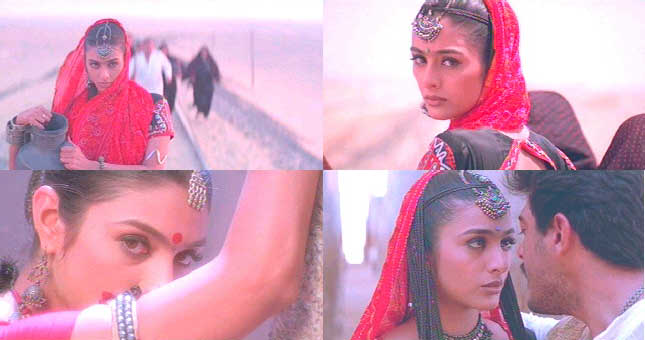 Tabu is generally considered to be the best actress in Bollywood (see Chandni Bar to see why) but she is a bit ungainly and not very graceful in her dance movements – but she has an expressive lovely strong face with big molten brown eyes that pull you into her orbit. Her role here is nearly silent but she says more with her eyes than most actresses can with a fistful of ham. Her rare smiles hit you like an unexpected caress in the dark. Appearing also in small but solid roles are Pooja Batra as an action movie heroine and Dino Morea as the fellow that Mamooty introduces to Aish.

A.R. Rahman gives us seven songs – perhaps not his best work – but average Rahman is still quite an earful and a couple of the songs are absolutely lovely. It begins with two joyful songs that showcase in pure essence the beauty and grace of Aishwarya as she goes through a wardrobe of colorful saris and performs some intricate classical dance movements. The third song suddenly shifts to the deserts of Egypt and Rahman adds a chanting Arabic beat. The choreography and settings for these first three songs is simply magical and exotic – and though the title song (the fifth song) that takes place in Scotland is a sweet ballad the castle location and the cape brought on a few giggles from me – way too goofy for my taste. The final song is wonderfully simple with some complex background vocals – pure and emotional.
My rating for this film: 8.0
---