Indian (Hindi title Hindustani)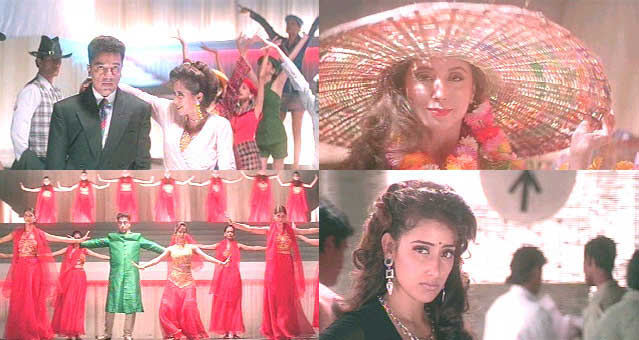 ---
Director: Shankar
Music: A.R. Rahman; Lyrics: Vairamutha
Year: 1996
Running Time: 3 hours 4 minutes
Apparently when this Tamil film was released it was promoted as "The Biggest Indian Film Ever Made" – some might disagree! It is certainly one of the strangest Indian films I have seen with a mad mix of songs, action, comedy, patriotism, revenge, romance, social criticism and much more. There is enough here to make your head spin, more of an exorcist "I can't believe this weird film" type of spin than one of wonder though. Parts of the film are terrific, other parts are quite awful.

Though the director is Shankar, one can assume that Kamal Hassan had an enormous amount of input as it has many of the characteristics of a Kamal Hassan film. Not only does he completely dominate the film with a double role, but the style, the song numbers and the action sequences are all Kamal. At times Hassan strikes me as an undiscovered (by the West) cinematic genius (something he freely admits to!) – his films can be wild and innovative, surreal and frightening and ones such as Hey Ram and Abhay are unlike anything I have seen. At the same time though – even within these great films – there are sections that are journeyman plodding and absurdly exaggerated. "Indian" contains both the sublime and the ridiculous.

In a bureaucratic Dickensian world, it takes months and multiple bribes to get anything done by the Indian government – from permits to a drivers license to a car break inspection approval - and unless many hands are greased with Rupees it won't get done. To get around this stone wall of inertia, a group of middlemen have seen an opportunity to make a fast buck and get things done quickly. Go to them and they will take your papers to the right person that needs to approve something and it is done – of course with a shake of the hand in which money is exchanged. Chandru (Kamal) has set up such a business in order to earn enough money so that he can purchase a job in this labyrinth paper-shuffling world – so that people will have to bribe him instead – the dream of every government official. He is an amiable enough fellow, but he just wants to be an open palmed cog in the vast unmovable machine.

One day an old man enters into one of these government offices and without a word first paralyses a high up official with a form of Indian martial arts called Varma Kalai and then takes out his old knife and kills the man in cold blood. The police realize that this is the third such killing and begin an investigation. As the killings become more public and the motives behind them are revealed, the people begin cheering the killer on and he becomes a folk hero – he is a true Indian fighting for justice. The film hits flashback mode on two occasions to explain why this old man is killing – one into his days as an Indian Independence fighter and the other as a father and husband.

This all eventually connects up to the Chandru character in a most personal way. Along for the film ride are two of Bollywood's best actresses – Urmila Matondkar and Manisha Koirala. They don't get a lot of screen time – but do show up for the dance numbers and create some romantic interest as Kamal goes back and forth between the flirtatious Urmila and his true love Manisha. At one point he gets into a zany fight to help Manisha that goes from on top of an oxen cart to the top of a race car. As the film heads towards it's crazy ending, one begins to realize that the film has been turned upside down on you and the anticipated conclusion is nowhere to be seen.

There are only four musical numbers – but with A.R. Rahman writing the music you know they will be good. The picturization is very lush and has very little to nothing to do with the plot as they zoom off in beautiful flights of fantasy. In the first number, "Akadaannu Naanga", Urmila and a bevy of lovely models make it a visual pleasure to imbibe – but my favorite number is the very bouncy "Telephone Manipol" that begins among some kangaroos in Australia and goes "Is she the girl who laughs like a telephone ring". I don't know what it means, but I like it!

This film felt like it should have been so much better than it was – at over three hours a good bit of editing could have taken place to make the pace much quicker and as interesting as the flashbacks were they made a slight muddle of the narrative.

My rating for this film: 6.0
---