Raja Hindustani (Indian King)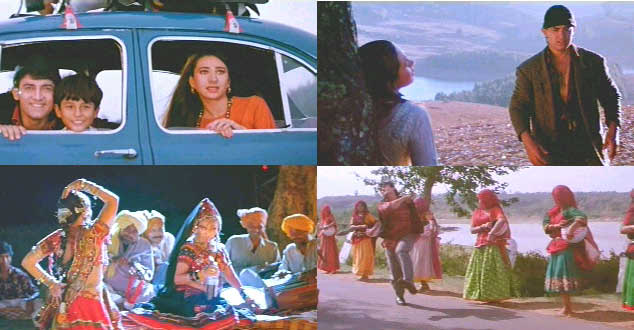 ---
Director: Dharmesh Dharshan
Music: Nadeem Sharavan
Year: 1996
Running Time: 2 hours, 30 minutes (from back of dvd)
The kiss. If you have spent much time watching Bollywood films, it is fairly difficult not to notice that a lip to lip kiss is as rare as a drug free day for Robert Downing Jr. The kiss is not specifically forbidden in film – but certainly frowned upon not only by the censors but also by much of the movie going public. It is simply considered poor taste to show such an intimate act in such a public manner. From time to time a film has such a kiss – such as one in Hey Ram in which the character played by Rani Mukerjee kisses Kamal Haasan who portrays her husband – but the actresses (more so than the actors of course) have often received criticism for doing so. Rani was lambasted by the press and swore afterwards never to do it again. Many other actresses have followed suite by publicly avowing never to kiss in a film. In non-commercial Indian films it is more common – and in Monsoon Wedding for example there is a heated kissing exchange.

This non-kissing taboo is strictly limited to the lip to lip variety – the kissing of the neck, shoulders, stomach, ears, nose and other sundry parts of the body is negotiable and often plentiful in Bollywood films. What is often amusing is how the films tease the audience with either a near lip kiss – but at the last instant the actress will demurely turn her face away – or occasionally the couple will seemingly kiss – but an object will suddenly block the viewer's line of sight leaving the lovers a private moment. At times this can almost feel frustrating – you want to shout out to the screen "kiss her dammit" because the passionate build up to that moment almost calls for it – but at the same time there is something charmingly old fashioned and romantic about this inhibition that appeals to me.

So it comes as a smack in the face when one third of the way through this film – Aamir Khan grabs Karisma Kapoor and kisses her deeply – and often – and there is no shy turning of the head – just basic in your face gnashing of lips for what seems like an eternity for an Indian film. When this explosion of passion is over, both characters look shocked, step back and gasp at what they have just done – kissed on the screen! Of course good Indian girls don't do this sort of thing – and good Indian boys would never take advantage of a situation like this. Karisma starts shaking like an autumn leaf – is near to falling apart – her virtue gone in a moment's weakness – and in her shame runs through a herd of sheep in the pouring rain! That will teach her.

I don't know whether this scandalous kiss was the reason or not, but Raja Hindustani was a huge hit in 1996 and received the Filmfare Awards for film, actor, actress and music. It also made Karisma a major star. With deep roots in the film industry (her grandfather was the legendary Raj Kapoor, her mother a well-known actress), Karisma took to the screen at the early age of fifteen – not playing teenage roles but actually romantic ones – and had some solid success with a few semi- raunchy comedies (paired often with Govinda) – but it was this film that made her a respected actress. As one site states, she moved from being "a heroine of crass to one of class".

She is actually fairly good in this – a bit saucy and arrogant when called for and demure and wide-eyed when needed. Only her Joan Crawford throw your head back laugh feels forced. Her curvaceous figure is always a welcome sight and her thick caterpillar eyebrows that a 16th century explorer would have had trouble finding his way through steal your attention like a poke to the ribs (though I think that in more recent films she has pruned them back a bit). In every film I have seen her in thus far, there is always a camera shot or two that frames her figure in profile as she stretches like a waking cat or has her slip into something that is as tight as a sealed bottle of coke – and we get both here.

The film didn't grab me as emotionally though as I had hoped it would. It had all the elements – young lovers, angry parents, broken hearts, powerful music – that usually sucks me in like a sour lemon fizz but this never really happened this time around. Much of the reason for this is the character that Aamir Khan portrays – he is basically annoying as hell. Aamir has often played the rough and ready scruffian in films such as Ghulam and Rangeela - free spirited, irresponsible, somewhat lower class, a chip on his shoulder, a good heart – and though it can work wonderfully well on occasion, here it never gelled with me. There are times that you just want to crack him on the head and tell him to stop being such a principled ass and try being a bit more understanding. There is also an occasion in which he smacks Karisma and I never forgive his character for that.
Karisma lives with her loving and very wealthy father and her not so loving stepmother (Archana Puran Singh) whom is intent on getting Karisma out of her husband's will. The opportunity comes when Karisma visits a small provincial town and slowly falls for the local taxi driver/orphan who has named himself Raja Hindustani. On first look, Raja slowly drinks her in like a thick milkshake and is soon head over heels himself. Needless to say the father is not thrilled about this romance between his daughter and the lower class unsophisticated Raja – and he does what he can to tear them apart. Karisma wants Raja to fit into her lifestyle of the rich and famous and this leads to various confrontations between the two of them. Though the first half has a few awkward scenes (Aamir looking like an escapee from a French bordello and the silly take on the town fight) it is fairly entertaining, but the second half veers wildly off the track and nearly self-destructs. The behaviour of Aamir slowly grows to obsessed idiocy – and whatever sympathy he may have garnered earlier in the film flies out the door.

The sparkling music though more than makes up for these defects – it is entrancing and enchanting. In total there are ten musical interludes though one song is repeated three times in slightly different versions and two songs are played twice. Each one of them is very solid and a few are outstanding. The first song in the film – Aaye Ho Meri Zindagi Mein – plays as Aamir drives through the countryside with Karisma – passing the swaying hips of village maidens walking along the road balancing clay pots on their heads and the song infectiously mixes drums and sitars. Pucho Zara Pucho is very playful and flirtatious and the big crowd number is terrific with a bounty of lovely background dancers.
These are all great but the knockdown number is Pardesi Pardesi that completely floored me with the music, the choreography and the drama of it. In it Aamir, Karisma and her father stop off for refreshments along the roadside and a group of itinerant/gypsy like performers are singing. The two women – incredibly striking in their costumes and makeup – are chanting a painful lament that sounds like the culmination of every bad love affair in their lives – suddenly Aamir joins in with his own plea for Karisma's heart – and the two women dance intricately around him in their bare feet. It is marvellous and the emotional highpoint of the film.

There are some enjoyable smaller parts played by Johnny Lever (somewhat amusing for a change), Farida Jalal and Mohnish Behl as the uncle and aunt and the two opposite sex transvetsites.
My rating for this film: 6.0
---