Minsara Kanavu/Sapnay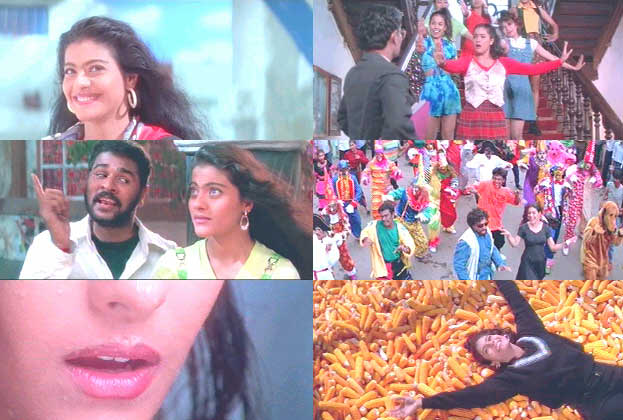 ---
Director: Rajiv Menon
Music: AR Rahman; Lyrics: Vairamuthu/ Lyrics for Sapnay; Javed Akhtar
Year: 1997
Running Time: 2 Hours 33 minutes
This movie was first made in the Tamil film industry as Minsara Kanavu and then later dubbed into Hindi and released (with I understand the song segments and lyrics redone and the ending somewhat changed) under the name of Sapnay. It is generally a sweet genial little film in which the wonderful songs, the joyful choreography and the strong performances more than make-up for a somewhat flat if accessible narrative. The palette that Menon uses is sparkling bright and colorful and this suffuses into the mood of the film and the musical sequences. The film is an odd mix of the conventional and the unconventional as the viewer thinks he knows exactly where the plot is heading during much of the running time but in a surprising twist it takes you out of your comfort zone and makes you feel almost disoriented.

Kajol as usual drips with magical charm as a young woman who has spent much of her life attending a convent school after her mother died when she was a child. The son (Avind Swamy) of her father's business rival has just returned from studying in the United States and with one glance at Kajol he is agog with wonderment and finds his heart beating like a tom-tom drum. Tongue-tied like an amateur Houdini, Avind is unable to tell her how he feels and it seems he may lose her to another. But not just to anyone – after graduating Kajol announces to the horror of her father that she wants to become a nun and devote her life to God. Nothing against God or anything but does anyone want see Kajol as the singing nun – no short skirts – no flirtatious smiles – I don't think so. And neither does Avind.

So when he comes across a barber (Prabu Deva) who seems to have a golden tongue with the ladies he recruits him to assist in his own love endeavors. Prabu is the constant joker/comic relief – never takes a thing in life seriously and seems content to hang with his friends – a group of aspiring musicians (headed by Nassar). At first he has no desire to take on God in a competition, but after coming across Kajol (who he compares to strawberries in a song and makes fun of her slightly long nose) he realizes why Avind needs her and decides to help him out of his love quandary. He knows it will be difficult though when she sings of her dismissal of marriage "first garlands and then handcuffs".

He sets up various scenarios to make Avind look heroic and generous in the eyes of Kajol – but nothing seems to be working. Up till this point the film seems to be puttering along just as one expects and we are simply waiting for Kajol to finally realize that she is in love with Avind (who is in fact a fine fellow) and jump to the happy ending. But then in a marvellous romantic dance sequence right out of an Astaire/Rogers film – a big old watching moon in the background – the water playing gently on the land's edge – we realize that Prabu has fallen under Kajol's spell and she has spawned similar feelings for him.

Wait a second – this is like Donald O'Connor shafting Gene Kelly and chasing after Debbie Reynolds. The comic relief is supposed to understand exactly what their role is – they do not grow wings and become the hero of the film. It is extremely disorienting – both are good guys but isn't Avind suppose to end up with the girl and Prabu end up dancing at their wedding? What really seems odd to this viewer is that Prabu has a fairly dark complexion and at least in Bollywood films these guys do not end up with the girl – but perhaps Tamil films are different. The final parts of the film feel a bit rushed and overly melodramatic as one continues to wonder whom Kajol will really end up with in the end – one of the two men or God.

Both Kajol and Prabu make the film a delight in different ways. Kajol is simply Kajol – all of her charismatic charms on fine display – her ability to change expressions as quickly as lanes on the Autobahn – her sparkling eyes dancing like gleeful fairies in the forest – her generous mouth a worthy subject for a Warhol painting. Prabu was a real discovery for me in this film – funny, glib and natural – but most impressive is his dancing ability – he is easily the best male dancer I have seen in Indian films – extremely light on his feet and very athletic as well. He has a few dances that really show his range from comedic to the slow, sure, romantically charged dance by the water. Perhaps it should not be too much of a surprise that he has this opportunity, as he is also the choreographer in the film! He comes from a family of dancers and has primarily been in Tamil films – though he has shown up in a few "item numbers" in Hindi films like Shakti: The Power.

Who would think that a song that goes "Ooh la la la" could be so enormously catchy but this is A.R. Rahman we are talking about and he takes this little ditty and makes it as contagious as the flu bug, a joyful explosion of pure pop. Guaranteed you will be singing it for days afterward. All the music is very good – primarily bouncy numbers – but also a gorgeous religious hymn. The choreography from Prabu is terrific – fast, impish and clearly influenced by Hollywood musicals. He makes his co-star look good as well - Kajol has never seemed so fluid and graceful in her moves. There is nothing very deep here in terms of plot or characters and it doesn't ever really grip you emotionally – but its sunny simplicity has a lot going for it.

My rating for this film: 7.5
---