Mast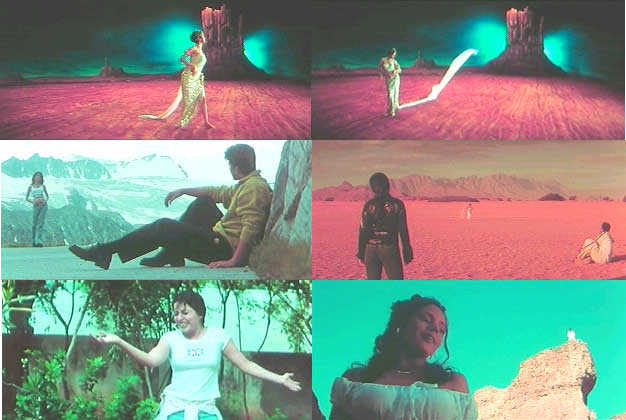 ---
Director: Ram Gopal Varma
Music: Sandeep Chowta; Lyrics: Nitin Raikwar
Year: 1999
Running Time: 2 hours 23 minutes
Since his first film, director Ram Gopal Varma has created an image for himself as one of the mavericks of Bollywood – willing to take chances, to be innovative and to introduce a sense of hard-edged realism that many Bollywood films shy away from. Many of his films have eschewed or minimized musical numbers because he felt they were simply a distraction to the narrative and mood of the story he was unfolding. His first film in 1989, Siva, was a huge Telugu hit that forced the entire Telugu film industry to change its style and take on less cartoonish aspects. He has ventured into many genres – horror (Kaun and Raat), comedy (Kshana Kshanam and Anaga Anaga Oka Roju), romance (Rangeela), but he is most identified with his crime films. He has come under heavy criticism for his violent, but glamorized portrayal of the underworld in his gangster films – Gaayan, Satya and Company – but the last two have been among his most popular films and he has refused to back down. Though these rough gangsters and their violent world seem to have a fascination for him, he has on occasion gone into the complete opposite direction with films that were as sweet and gentle as a spring rain.

He has said that he grew up loving and living films – his parents wanted him to become an engineer and were very disappointed when he went into the film business. As a student in college he would see eight to ten films a week and just suck in their style – often seeing the same film a number of times just to see a particular scene that impressed him. His cinematic style clearly shows a love for American films and Mast appears to be an open heart Valentine to the musicals and screwball comedies of the 1940s and 50s. There isn't a mean bone in this film – it's just a big gushy frothy tribute to the movies, to the fans and to the films he loved to watch. The film doesn't deliver a big emotional punch – and that perhaps is among the reasons it did so poorly at the box office – but its good nature, sumptuous musical set pieces that nearly swallow the film and portrayal of the film world and their fans completely charmed me. Though the film is filled with various characters, the director is really the star here and the actors are simply pieces he moves around to lovely effect.

Aftab Shivdasani (in his debut after Varma saw him in a coke ad) plays a film fan – in particular one totally obsessed with an actress portrayed by Urmila Matondkar. One can't really blame him. Urmila has become an icon in Indian film over the past seven years. Very much like the Hong Kong director Wong Jing and his discovery Chingmy Yau, Varma discovered Urmila in the early 90s and for a few years she appeared in his Telugu films playing fairly ordinary characters, but with his first full fledged Bollywood (Hindi) film Rangeela in 1995 he transformed Urmila into one of India's biggest sex symbols and her posters began adorning the walls of millions of adolescent boys all over India. Aftab is one of these – though perhaps a bit older than most - and his room is plastered with pictures of her. He daydreams of her constantly – leading to some wonderful music numbers! – and he has hopes of meeting her someday. His family and the girl who loves him (the sparkling Antara Mali) thinks he is crazy but that he will grow out of this phase at some point. Having seen a few of Varma's edgier films, I was completely expecting this film to suddenly change into an obsessed psycho film fan story – but thankfully it never does but instead just gets more and more whimsical like a Preston Sturges 1940s comedy.

Finally his father (Dilip Tahil) tires of his son's fantasies and poor grades in college and tears down his posters of Urmila. This sends Aftab running away from home – all the way to Mumbai – simply because he needs to catch a glimpse of his love. He finds a sympathetic taxi driver who admits that he came to Mumbai years before to see Sridevi but had his heart broken when he saw her with Boney Kapoor but has stayed on since. Apparently, Varma was a huge Sridevi fan in his younger days and had the opportunity to direct her in Kshana Kshanam. The driver drops Aftab off in front of her home and bids him good luck. Unable to get in, he begins working at a restaurant next door with a bunch of happy go lucky characters with bad luck stories. Soon he learns that Urmila is actually a lonely soul who is being exploited by her evil uncle and aunt – and very much in need of a true-life hero. Well, guess who is available?

It took a while before the golly gee whiz innocence of Aftab grew on me, but by the end he is nearly perfect for the role he plays – a simple man/boy in love with a fantasy – that much to his own surprise leads him into some unexpected situations. Urmila is more of an imaginary ideal here than anything – Varma glamorizes her and almost fetishisizes her opulent figure in many of the musical numbers – but then he pulls back the curtains to show what an ordinary and simple person she really is. The other actress that very much impressed me – though in a smallish role – was Antara Mali – who simply takes over every scene she is in with her smile and enthusiasm – and she has become a favorite of Varma's with her being cast in much larger roles in Company and Road.

The music almost overwhelms the film – especially in the first section when Aftab is constantly daydreaming about her. Much of the music also seems very much a homage to the musicals of Hollywood and the movements, the color schemes and the actor's expressions in particular reminded me of some of films like Singing in the Rain and An American in Paris – and I couldn't help but wonder what a young Gene Kelly could have done with Aftab's role. Aftab even does a few trademark Kelly moves – the swing around the light pole and the step on to a falling chair move. The early fantasy numbers seemed influenced by the fantasy numbers in An American in Paris. There are eight songs in total and all of them are treats (oddly some have subs and some don't) and go from the very lavish to the very simple. A few standouts are Mere Hero in which Urmila sings "Not Govinda, not Shahrukh" to the tune of "Hey, Big Spender" and Aftab fancies himself a film hero and is rooted on by cheerleaders. Rama Krishna is pure Hollywood and delightful and allows Urmila to really show her splendid dancing ability. Another delightful musical number is Pucho Na Yaar when Aftab comes back from delivering pizza to Urmila's house and ever so slightly exaggerates the encounter to his awestruck co-workers.

Its simply delicious and in some ways unexpected. The ending actually surprises me – because I thought it still had a ways to go – but apparently Varma decided to surprise everyone by simply saying "it's over" but it's a lovely little ride while it lasts.
My rating for this film: 8.0
---