Raaz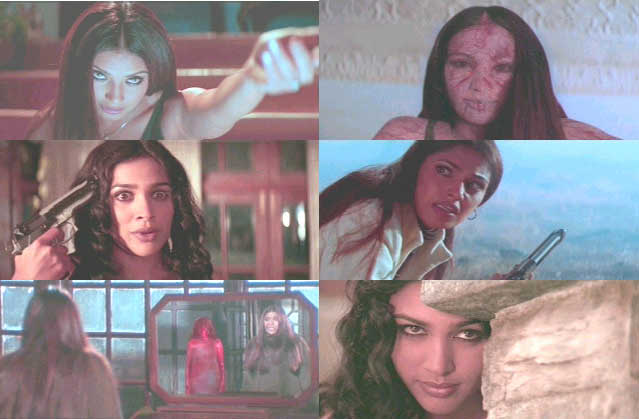 ---
Director: Vikram Bhatt
Music: Nadeem-Shravan; Lyrics: Sameer
Year: 2002
Running Time: 2 hours 28 minutes
Bipasha!! It sounds like a battle cry of men ready to die for a cause and perhaps it is. The young actress from Calcutta Bipasha Basu arrived on the Bollywood cinematic shores with a resounding crash in 2001 in the film Ajnabee and since has been the talk of the town and the subject of endless articles in India's myriad movie magazines. Though Ajnabee received enough critical barbs to skewer El Cid, Bipasha was pronounced the next big thing – much to the annoyance of her co-star Kareena Kapoor who fancies herself the next big thing. Even more annoying to the Kapoor clan is that Bipasha has no "filmi" background – but was in fact a Supermodel who was trying her hand at an acting gig – and soon those endless magazine pages were filled with their rivalry and a tennis rally of catty remarks.

Next came Raaz and Bipasha was clearly a star. With not a major star in sight, the film has become one of the biggest hits of 2002 and in a period in which few films were making any money – Bipasha became not only a battle cry to her male fans but also a religious chant by producers looking for a moneymaker. After watching Raaz, Paul McCartney pronounced her one of the most beautiful women he had seen and compared her looks to Sophia Loren and Bipasha was aglow in positive publicity. From what little I have seen of the Bollywood media though I have no doubt that they will soon be writing stories along the lines of "bye bye Bipasha". Hopefully though her Ferrari sleek like looks and wonderfully chiseled face will be around for some time.

Apparently Raaz is based to a large degree on the Harrison Ford film "What Lies Beneath" but not having seen that film I can't really say – but my guess is that Harrison and Michelle Pfeiffer didn't spend much of the film singing and dancing around the haunted house. They certainly do here and what's a haunted house film without some song and dance numbers! Actually it seems a rather odd combination – horror is based on keeping the audience constantly on edge and musical interludes can certainly diminish that mood. Ooh – look at Bipasha in that skin tight outfit as she prances around awash in glossy lipstick – but it generally works here as most of the songs are utilized in the first half of the film in which the story is still being developed and once it goes into true supernatural mode the songs are left behind.
You know something is wrong when Dino Morea who plays Bipasha's husband (and was actually her boyfriend at the time of filming – but alas no more) has no time for her and avoids her like a bad rash. Check his sperm count. Confused by his lack of interest in her, Bipasha starts popping pills with the enthusiasm of a rock star and almost dies in a car accident – and then declares her desire for a divorce. Dino swears that he loves her and that they will go anywhere she wants in order to heal their marriage – with dreamy faraway eyes she murmurs "Ooty" like a character in an Edgar Allen Poe story – but a certain dread hangs in the air that you could strangle yourself on. Ooty is where they spent their happiest days after the wedding and that's where she wants to go to recapture that feeling.
But their house in Ooty quickly brings on feelings other than ones of affection – she begins hearing horrible anguished screams in the night that no else can – things begin moving in the house – gusts of wind, blood dripping from the chandelier - all making her believe that something is very amiss. Her husband thinks she has gone crazy. She turns to her friend (Shruti Ulfat) and a local professor of the supernatural (Ashutosh Rana) to unravel this mystery. The professor who can sense an evil presence like most of us can a pair of unwashed socks – leaves a lemon wrapped up in her attic and tells her that if it changes color it means a supernatural presence is there. It turns bright red but instead of getting on the next Greyhound bus like I would have, Bipasha decides to stay and challenge this force. She soon comes face to face with it and learns a truth that is even more horrible to her than a ghost in the house.

As the ghost another stunning beauty inhabits this film - Malini Sharma – who has a few absolutely sizzling scenes that had my television palpitating like the heart of a fourteen year old school boy coming across his first Playboy. Unfortunately, I have read that she isn't really interested in an acting career and may call it quits. The film is quite enjoyable for the most part – perhaps a bit stretched and the ending may aggravate more than a few feminists out there – but don't really expect any scares - its more moody and dramatic. Bipasha is in fact bewitching and bedazzling and though her acting still needs some work she is surprisingly natural and understated in most of her scenes. The music – five songs – sounded fairly standard to me – and the picturization of the songs left a lot to be desired I thought.
My rating for this film: 7.5
---