Mujhse Dosti Karoge
---
Director: Kunal Kohli
Music: Rahul Sharma; Lyrics: Anand Bakshi
Year: 2002
Running Time: 2 hours 35 minutes
This is the latest film from producer Yash Chopra and that generally means big stars, high production values, great music, overwrought romance and melodrama and enough clichés to trip you up and send you to the hospital – in other words great fun! This film pretty much delivers on this - it's no classic but it is entertaining sugar candy that I could have munched on all night. There is no need to bring along your analytical mind - leave that at work - just enjoy the story for what it is and be glad your love life is much less complicated than for these three.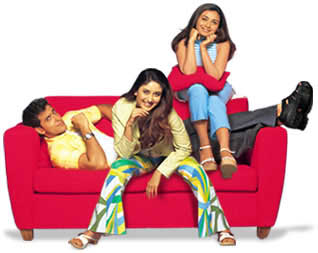 First time director Kunal Kohli is clearly aiming to be the next Karan Johar (director of KKHH and K3G - who is thanked in the credits) and all aspects of his film reflect this - with a few outright homage's, a large section of the movie filmed in London and utilizing three of Karan's favorite actors. He hasn't quite perfected the "cry factor" yet that Karan has made a science of but he definitely goes for those "come to a full stop" corny but highly effective sob scenes - but without quite hitting the mark.

The film brings three of Bollywood's biggest current stars to the screen, but after a string of flops all are in need of a solid hit and this film should hopefully supply it. Hrithik Roshan gives perhaps his best performance yet - which may not mean much to his many detractors - but anyone who can say some of his purple prose lines with a straight impassioned face has my admiration. In nearly all of his films he is simply saddled like an overworked mule with overstuffed dialogue that could crush any actor and he has plenty of it here. Still he gives it his all – the eyes narrowing and tearing up in sincerity like a religious martyr, but he is at his best in some of the lighter scenes and of course when he begins moving those feet of his. He is given a few flashy dance numbers that allow him to display his quick steps and flair. In one scene he also clearly displays his 6 fingered hand which I had read about but never noticed.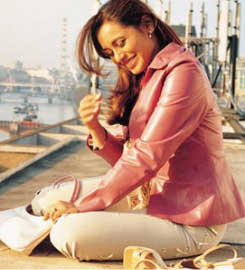 The babe factor is high - Kareena Kapoor and Rani Mukerjee make your head feel like a spinning yoyo in this one. Kareena basically re-does her "aren't I fab" character in K3G but that is just fine with me - her roly-poly tummy, saucy looks and eye-arching attitude are a pleasure to witness. The heart of the film though belongs to Rani who is simply radiantly gorgeous (I thought my friend was having a heart attack when her first close-up hit the screen like a runaway meteor) and gives an emotionally hot and yet subdued performance like a fine piece of royal crystal. She is so warm and toasty that you just want to butter her. Not co-incidental I am sure, her characters name is Pooja - which was Kareena's in K3G - while Kareena's name is Tina, which was Rani's in KKHH.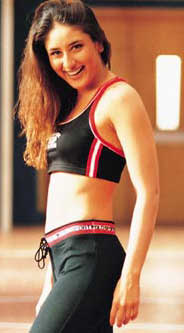 The story is a simple one – played out many times before in Bollywood – two women, one man and one of them has to end up with a broken heart. The three were childhood friends when Hrithik (as a child) moved to London with his parents. He had a crush on Tina (Kareena) and continued to carry on an e-mail correspondence over the years – and as he grew into adulthood he falls in love with her from afar. The only problem is that it was really Pooja (Rani) who he was corresponding with for all those years because Tina was totally uninterested and Pooja too slowly falls in love with him. He returns to India to meet Tina – who is persuaded by Pooja to pretend to have written the e-mails. When Tina meets Hrithik she too begins to develop feelings for him and Pooja bites her beautiful lip and keeps her feelings to herself. This all takes part in about the first twenty minutes and the complications just escalate in that Bollywood way.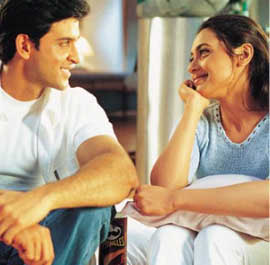 And there is lots of music - almost too much if that is possible as it breaks up the narrative at times but I enjoyed them all. Perhaps no classics in there as far as I could tell at first listen but they are quite good and helped by some enjoyable choreography and sets. The piece-de-resistance though is a ten minute or more medley of classic hits that perfectly weave together and at the same time push the melodrama forward – moments of it are exquisite and all of it is enormous fun – its like a game of name that movie. It takes place during an engagement party and is danced and sung to by a roomful of people - some of the songs that I recognized - came from KKHH, DDLJ, K3G, KNPH. This is one of those times that I almost wish I had been watching the film on dvd so that I could have gone back and re-played this number many times over. I wanted to yell out - hey projectionist, could you reverse that and play it again. My pleasure was even increased more by the two black female teenagers sitting behind me who knew each song in the medley and sang along enthusiastically. In an odd coincidence this was Sharma's first film score and Bakshi's last as he was to die soon afterwards. In his 45 year career Bakshi wrote some 4,000 song lyrics - some of his most famous being for the films Dilwale Dulhania Le Jayenge, Dil to Pagal Hai, Hare Rama Hare Krishna, Sholay, Lamhe, Pardes and Mohabbatein.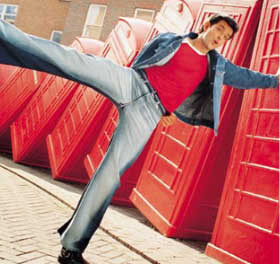 So for those who want a film that has absolutely no cutting edge - that wallows cheerfully in its clichés – is good clean corny fun - this is certainly worth a go. I always read complaints about how clichéd Bollywood films can be - but that's part of what I love about them - I welcome each cliché like an old friend - ah the sacrificial friend who has to hide her love, the obedient children who have to marry someone because their parents promised, the countdown to the wedding - all here and more for your viewing pleasure.
My rating for this film: 7.5
---