Mission Kashmir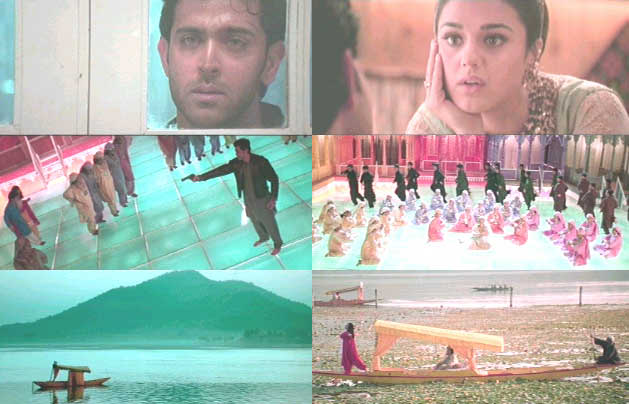 ---
Reviewed by Brad Crain
Director: Vidhu Vinod Chopra
Music: Shankar, Ehsaan, Loy
Cast: Sanjay Dutt, Hrithik Roshan, Jackie Shroff, Preity Zinta, Sonali Kulkarni
Year : 2000
Running Time: 2 hrs 40 minutes

---
As I first began to become aware of the films being made in Bollywood, I noticed that the film "Mission Kashmir" was for sale at the Best Buy in Little Rock, AR. I figured that this must be a pretty good film to find itself manufactured, packaged, and being sold all the way over here in Central Arkansas. When I signed up with Netflix, I immediately put this film in my queue so I could check it out. This being my third Bollywood experience, behind the very good films "Dil Se" and "Asoka," I was fired up about the chance to see some new actors and discover a Hindi action film. Although not completely satisfying, I did find this film to be an enjoyable experience.

The plot finds Inspector Khan (Sanjay Dutt) living the good life. He's got a beautiful wife (Sonali Kulkarni), a good son, lives in a beautiful house, and gets paid to periodically kick the posteriors of some bad Indians. Unfortunately, his success in his professional life has had some bad side effects. One particularly bad guy has put out the word that any doctor that treats Inspector Khan, or his family, will be killed, and as one scene proves, this guy's a man of his word. Next thing you know, Khan's son falls and hits his head. Tragically, the boy dies because all of the doctors refuse to help him until it is already too late.

Seeking revenge, his face covered by a black ski mask, Khan tracks down the men responsible and viciously kills them all, including the innocent father, mother, and daughter of a family being held captive by the bad guys. The only survivor is the young son of the slaughtered family, Altaaf, who has terrifying dreams of the black-masked killer of his family. Inspector Khan, who feels extreme guilt over what he has done, allows his wife to talk him into bringing the boy to their house rather than allowing him to spend his childhood in an orphanage.

Life is just starting to get good again, when Altaaf figures out that the killer of his family was actually his new father, Khan. After first pausing to try to kill Khan, unsuccessfully, Altaaf takes off not be heard of again for 10 years. When Altaaf finally shows back up, he's turned into heartthrob Hrithik Roshan, is under the control of a psycho terrorist (played by Jackie Schroff) who has a plan to bomb the heck out of Kashmir, and has a new laundry list of goals in life:
1. Use childhood sweetheart for terror purposes even though I still love her -- check!
2. Establish well-groomed bearded stubble look -- check!
3. Use kung fu training to good action effect -- check!
4. DESTROY INSPECTOR KHAN AT ALL COSTS -- ??????
I'll let you discover the results of goal number 4.
This movie has a lot of good things going for it. First, and foremost, I'm a fan of action films, and I was looking for some good action scenes. This film did not disappoint in the action sequences. From the "Matrix"-like introduction to Altaaf's adult persona, to the final attempts to thwart the master terrorist's plot, the action was presented in a highly stylized manner. And that's just the way I like it, baby. Wirework kung fu, Slow-motion carnage, and a hero with a big missile launcher aimed at bad guys make for a pleasant viewing experience in my book. Secondly, the film featured some good performances. This is the first time I've seen Sanjay Dutt in a film. His performance as Inspector Khan was commanding, and I found myself really pulling for his character. Of course, it is kind of hard not to be sympathetic for the guy with all the stuff that he has to go through.

This was also the first time I had seen Hrithik Roshan in a film. I was quite interested in seeing this guy as I have read that he is challenging Shahrukh Khan as the biggest star in Indian cinema. He was actually pretty good, especially in the action scenes. Granted, I have only seen both of these actors a couple of times, it seems to me that Shahrukh Khan commands the screen more strongly than Roshan. Whereas Roshan has the matinee idol looks and is quite good, Shahrukh seems to have more character and is great (at least in the few films I have seen). But then again, Roshan hasn't been at this as long either. I'll continue to form my opinion on these rival stars as my knowledge and experience with Bollywood cinema grows.

The other major performance is from Preity Zinta, who plays the girl that Altaaf loved as a child and still loves as a man. I had seen her before in "Dil Se." I really like the way she gives off a naturalistic, best friend, girl-next-door kind of vibe, albeit a beautiful girl next door. It's easy to see why Altaaf has always loved her. Finally, as with the other Bollywood films I've seen, this movie is just beautiful to look at. I think the greatest cinematography of landscapes in this world is being done in India.

I do have a couple of complaints with this film. First, the movie was just too long. The story could have been made into a very exciting, ninety-minute film. As it is, the movie seemed to drag in places, with the insertion of sequences that did not add anything to the proceedings. There were some times I thought to myself, "OK, I get it. He really loves her. Now let's move on with it." Secondly, this was the first Bollywood film where I felt some of the songs were just not appropriate for what was happening on the screen. Admittedly, "Dil Se" and "Asoka" were quite serious films that managed to work in the song and dance numbers, but these films seemed to insert them in the right places. For example, "Dil Se" worked its peppy dance routines into the blossoming love and impending marriage scenes, and stopped them when the story got really serious over the last 30-45 minutes of the film. In this film, there is one peppy little dance number that leads right up to tragedy. The scene was effective for the surprise element, but when I felt the film should have been building up the action suspense, it threw this little routine in and I didn't really care for it. Those are the only real complaints I had.

Overall, I did enjoy this film. The movie is filled with the best action sequences I've yet to see in a Bollywood film, as well as good performances from a talented cast. Although it overstayed it's welcome in certain areas, I still recommend this film and give it a 7 out of 10.
(Note: This film is being distributed by Sony/Columbia and so can possibly be found in your local video store.)
---