Hote Hote Pyaar Ho Gaya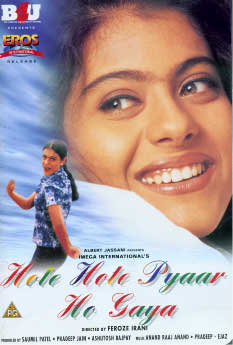 ---
Director: Feroze Irani
Music: Anand Raaj Anand, Pradeep and Ejaz
Year: 1999
Running Time: 125 minutes
Well at least for an Indian film it was relatively short. That may be one of the few good things I can say about this film. After having started my Bollywood watching experience with a run of fabulous films, it is also perhaps a good thing to run into a painful car wreck such as this before I get too carried away. I guess Bollywood makes bad films too – probably a lot of them from what I have read. Even on paper though this one must have sounded like a bad idea, but someone must have thought that taking one of Bollywood's most radiant and charming actresses and having her play an insufferable brat was a money making concept. This film has about as much charm as an infected snakebite and not even the likes of Kajol could make it better.

It begins if not promisingly – at least not painfully – with two college students meeting under quasi-cute circumstances and falling in love and deciding to marry in the time it takes most of us to read the Sunday paper. Pinky (Kajol) and Bunty (Atul Agnihotri) are in love – it sounds like a John Mellencamp song but unfortunately it doesn't have any of the rhythm. But back on the home ranch the parents are co-incidentally fixing both of them up with other people. Bunty's parents have found a sweet traditional village girl (Ayesha Jhulka) who is at least in the same age zip code as Bunty, but Pinky's father has decided that she should be married to a policeman played by Jackie Shroff who looks old enough to be put in preserves. OK – perhaps not that bad – but he would not be my choice to partner up with Kajol.
Shroff has been a big star in India for many years which only shows how different film industries can be. In any other film industry he would play the heavy with his menacing hulking presence, slow movement and dark bags the size of second base under his eyes. But in Bollywood he has been playing the heroes for most of his career. His acting comes across as smooth as crusty bread as you wait patiently for him to get his words out. No doubt I will see him in other films and think he is great, but at least here he acts like a car with water in the gas tank – and he is clearly not Kajol worthy. In the film Kajol looks as comfortable with Shroff as she would be with a bouquet of poison ivy.

Getting back to the riveting story – the two young twerps decide to go along with their parent's choices – but also decide that they will be so annoying to their spouses that a divorce will soon come about. What a good idea. Have sex with people you don't love and then divorce them. Unfortunately the only one they annoy is the audience as both of their spouses put up with their bad manners and spoiled outbursts like saints. When Jackie is not shooting bad guys – he is a total mommy's boy and a paragon of patience – even to the point it seems of not making Kajol fulfill her wifely duties in the bedroom. With nary a hint of style the film clunks along to a conclusion that is so laughably bad that one has to wonder if the filmmakers were on medication.

Within this mess there are six songs and though far from memorable, the first three are decent and driven primarily by the infectious energy of Kajol. None of the sets or designs look as if much thought went into them and some of Kajol's outfits appear to have been bought at a second hand store of out of fashion styles. Kajol is a wonderful actress to watch, but this is one to stay away from.

My rating for this film: 3.0
---