Dil to Pagal Hai (The Heart is Crazy)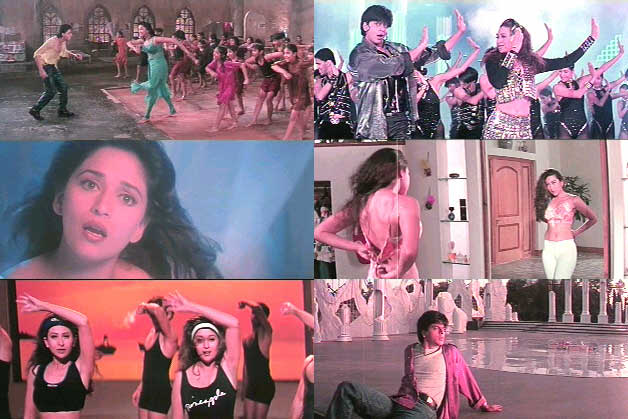 ---
Director: Yash Chopra
Music: Uttam Singh; Lyrics: Anand Bakshi
Year: 1999
Running Time: 2 hrs 59 minutes
In many ways this film is as placid and non-threatening as a gurgling patient fully medicated on a strong dose of Quaaludes. Like many of the recent Yash Raj films (Kuch Kuch Hota Hai, Dilwale Dulhania Le Jayenge, Kabhi Khushi Kabhie Gham) this film has glowing production values and a sentimental underbelly that is as soft and mushy as an orphan tot's sad tale. Unlike some of those films though, this plot generates absolutely no tension and very little of an emotional stomach punch as the ending is literally quite predictable from the opening credit sequence and the viewer just waits for the pieces to gently fall into place.

Generally, Hindi romantic films have a villain that creates a myriad of seemingly irresolvable problems for the lovers - often a disapproving father or a spiteful rejected suitor – but there is none of that in this squishy "be happy" film. Everyone here is quite lovable without a grumpy bone in their body and the only real villain is simply bad timing. The film though is more than saved from its dramatic blandness by an absolutely captivating musical score that weaves in and out of the story continuously and some very ingratiating performances from three of Bollywood's biggest stars. In fact these elements are more than enough to make this a real pleasure to watch and to have earned the film seven Filmfare Awards and ten Zee Cine Awards. It is akin to gorging yourself on chocolate ice cream and finding out it is artificial and has no calories, but it still was great fun getting it all over your face.
After a credit sequence that seems to suggest that there is someone for everyone out there somewhere – you just have to find them, the film immediately launches into a large snazzy Las Vegas like musical stage number with Karisma Kapoor leading an army of background dancers into six costume changes. Karisma looks great in each and everyone of them and though I have to confess to not having found Karisma all that attractive in pictures I have seen of her – sort of a turtledove face – I found her very appealing in this film as a modern day girl (interpret that as wearing tight clothes and halter tops!) with just enough attitude to be on the right side of sweet and adorable.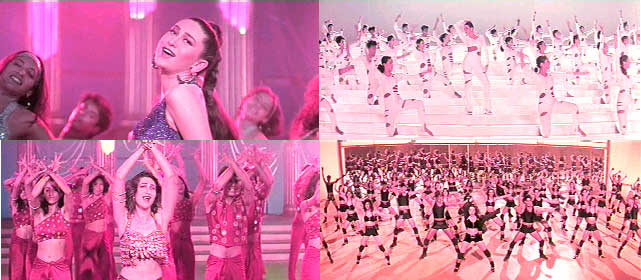 Shahrukh Khan manages a dance troupe and he envisions his next project being centered on a fantasy girl called Maya. He doesn't know who she is, but knows that out there somewhere is a dancer who can project just the right image of beauty and innocence. The camera then immediately zooms to a Madhuri Dixit dancing solo in a field for no particular reason and it doesn't take a sprocket scientist to figure out that she is likely the one destined to play Maya. Of course they don't have a clue as to the other's existence and the film has to go through the motions of bringing them together with some faux crisis – she gets engaged to Akshay Kumar (in a guest appearance) and Karisma has big old moon eyes for Shahrukh – but in truth the plot is mainly an excuse to provide some really wonderful music and some terrific dancing.

There are eleven songs and each one is excellent and continues to grow on you as you listen to them. The choreography tends to be simple but effective in a number of the songs with the opening number ("like a silent thief, that first look of love took my heart away") and the rain drenched Koi Ladki Hai ("I know a girl and when she smiles it rains") being particularly big splashy numbers. Two of the numbers are instrumental and showcase the excellent dancing of Madhuri in one and then Madhuri and Karisma in another. This second one is the deliciously titled Dance of Envy in which Karisma walks into the dance studio, rips off her jacket to display her fine form in halter and shorts and challenges Madhuri in a dance off. The title number is catchy as hell, though I am still trying to figure out how Akshay's and Madhuri's little day outing ended up in Germany!

My rating for this film: 8.0
---