Sajan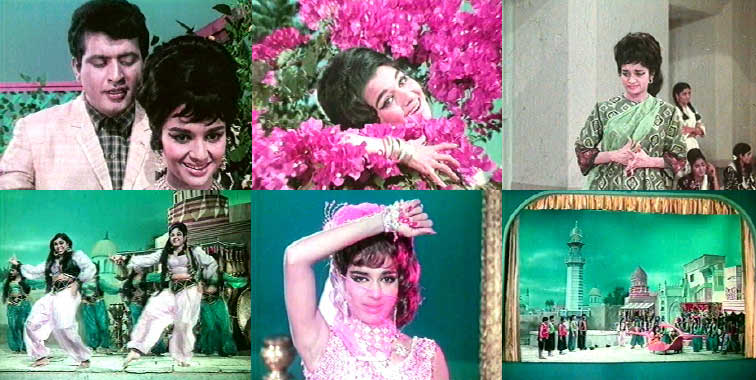 ---
Director: Mohan Segal
Music: Laxmikant – Pyarelal
Year: 1969
Running Time: 2 hrs 41 minutes
This fairly enjoyable treat from the late 1960's is almost like getting two films for the price of one. The first half is a cute screwball comedy with the traditional screwball dame, while the second half turns into a screwball murder mystery that has a boatload of suspects all confessing to the same crime. What primarily takes it from being a somewhat slight if affable effort to handing out some sweet pleasures along the way though is the delightfully dithering performance of Asha Parekh.

One of the biggest female stars of her era, Asha is quite adorable here with a face that registers every changing emotion like a wave crossing over it and with eyes that are as big as the moons of Saturn. Her trademark expression (also viewed with pleasure in Teesri Manzil) is one of stubborn petulance; her eyes – surrounded with armies of dark mascara, the eyelashes sharpened to a fine exclamation point and her thick eyebrows acting like scowling bodyguards – flash disdainfully, her cheeks pulled scornfully in, her fine nose pointed like a snub nose revolver and her lower lip throbbing with exaggerated injury – a look that men simply take as a necessary challenge to overcome. She is at her best when she is in the denial stage – refusing the overtures of some besotted male with a haughty cuteness, but when his persistence and songs eventually wear her resolve down, she unfortunately becomes only another Hindi heroine in love and loses that spark that sets her eyes on fire.

Her character is a mere dancer in a stage production on the verge of being let go until one day she is spotted being let out of a car that she had hitched a ride with. The car it turns out belongs to a wealthy banker, Manoj Kumar, and it is his chauffeur (legendary character actor, Om Prakash) who had picked Asha up on the road. Others see this and immediately jump to the conclusion that she is his mistress. Instead of ruining her reputation though, this turns out to be a lovely gift because the producer who is in dire need of financing sees this as an opportunity to raise funds and so makes Asha his star dancer. Being from a poor family (though one with a house that I sure wish I had!) and seeing opportunity also knocking on her door, Asha reluctantly plays along with this little misunderstanding even after the story is printed in the gossip pages of the newspaper.

Being a very respectable and single banker, Manoj is in a fury after reading the piece and goes to face this wanton theater woman – but he is mistaken as another newspaperman by Asha who then gets carried away with describing her fictional romance – somehow even getting in a song and dance number into the fantasy! Manoj is of course totally charmed because he can see that she is a total innocent in the ways of love and as cute as a button that won't stay buttoned. He decides to continue playing the journalist and to help her pull off this romantic farce until the play opens. This all works out rather sweetly but just when most movies would end a dark secret in her family's past reaches out to grab away her happiness. Soon someone lies murdered on a cold floor and nearly everyone is mysteriously taking responsibility for it.

There are only five songs in the film and though entertaining – helped enormously by Asha's fine dancing – none of them felt all that memorable and they had an old fashioned feel about them. Of course this being from the 60's perhaps that should not feel too surprising – but the songs don't have the energy and zest that incorporated some pop Western influences that many songs from that period were beginning to take on. As a plus though is some very retro (from our perspective) cool furniture designs and very sporty suits worn by Manoj that were great on the eye.
My rating for this film: 6.5

---