Jaanwar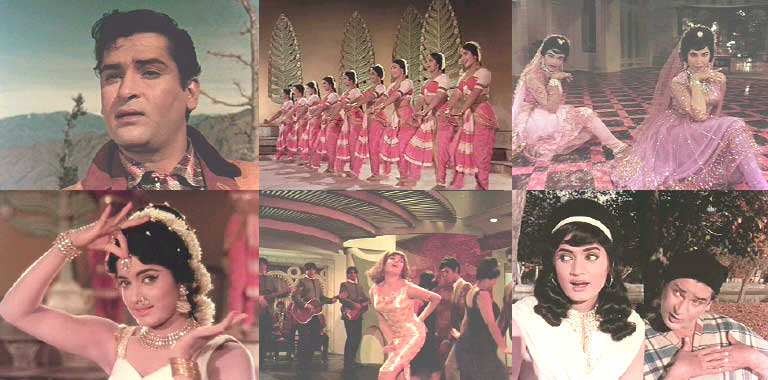 ---
Director: Bhappi Sonie
Music: Shanker-Jaikishen; Lyrics: Shailendra/Jaipuri
Year: 1965
Running Time: 2 hrs and 46 minutes
One may have to suspend some belief to accept the jowly 34 year old Shammi Kapoor as a fast talking college student falling in love for the first time, but he brings such youthful energy and exuberance to his role that this disparity only crosses your mind from time to time. In the 50's Shammi had begun his career as a swashbuckling Errol Flynn type of action hero and with his pencil thin moustache he looked quite suave and sleek, but he never had much success until he started putting on the pounds, shaved off the moustache and took on a much more casual and cocky capricious attitude. From the late 50's through the 60's he was quite the rage and though his films are considered too light and commercial to be critic favorites, many of them were box office successes. Some of this success must also no doubt be attributed to his often-used composers, Shanker- Jaikishen, and his always-utilized playback singer, the legendary Mohammed Rafi.

Here he is one of two sons to a wealthy tyrannical father (played by Shammi's father, Prithviraj Kapoor) who is intent on marrying off his sons to good families in order to create some important business connections. The older son (Rehman) seethes under this patriarchal pressure, but Shammi just scoffs and shrugs it off and goes to Kashmir along with his comedic sidekick (Rajendranath) to participate in a college tennis tournament. Though I found his tennis game highly suspect (a weak serve and a non-existent net game), his game of flirting was much sounder. In a typical "hate at first sight that melts into love" scenario he first crosses swords and then later songs with another tennis playing college student (Rajshree). After relentlessly chasing her in a fashion that would be considered stalking in any situation other than a Bollywood film (where it is typical courtship strategy), he begins to break down her dislike of him. Soon they are madly in love and singing and snuggling on boats, around trees and while rolling in the snow. What could possibly go wrong?

This being an Indian movie – everything of course. Her family is not only poor – she is an orphan – and clearly no match for the son of a wealthy industrialist. When Shammi returns home trouble is brewing. His brother has been dispatched on business to Calcutta and the parents are planning his marriage while he is gone – but into this comes a secretary who claims to be carrying his child. The father kicks her out of the house and worried that she might commit suicide, Shammi takes her to Calcutta to look for his wayward brother who has taken up equally with alcohol and a sultry heart of steel courtesan.

Rajshree comes desperately looking for Shammi after her parents were ordered by Prithviraj to get her married off to someone other than Shammi or else – and sure enough she spots Shammi with his brother's pregnant girlfriend and assumes that she is Shammi's kept woman. Now she wants to commit suicide. It is of course up to Shammi to straighten up everyone's problems and save the day. The film moves gradually from being a light goofy romantic comedy to becoming fairly touching and as the camera pulls back for the final shot it ends on a very satisfying note.

The plentiful music is excellent and has some great choreography to go along with it as it ranges from melodic sweet love songs full of poetic lyrics to a rock and roll dance number that has everyone twisting the night away. There are three numbers that really stick out though. The first is the lovely ballad, Mere Mohattat Jawaan, in which Shammi sings of his newfound love and how "young is my love and always will be" into Rajshree's yearning big brown eyes. Later Shammi in disguise as an Arab procurer induces the courtesan to dance for him, but he gets a double treat as the famous Helen joins in for a fabulous and fast moving choreographed number. In the films from this period it was often the vamps that got the best dance numbers as they were allowed to really let themselves go and they certainly do so here in this lengthy dance duet.

The most delightful song though is Tumse Hai Dil Ko, a romping guitar driven Beatlesque number with four mop tops going at their guitars while a similarly mop topped Shammi and Rajshree dance up a storm on the floor. This is Rajshree's finest scene, as she appears to be having a ball with her dance, light hair and tight gold skirt. This song may not reach the dizzying heights of the one in Gumnaam, but it certainly is a giddy romp that is near addictive in its energy and good spirits. It begins with four lads in Beatle mop tops thumping away on their guitars to a tune suspiciously sounding like the guitar riff from I Wanna Hold Your Hand - then Shammi and his bulk glides into the frame - also adorned in a mop top wig that resembles a badly worn recroom shag rug that is trying its best to stay put and a Little Lord Faunteroy suit and bowtie - and he begins twisting away. The leading lady Rajshree who until then was playing a proper conservative Indian maiden appears suddenly in a tight as a can of worms gold lame dress that she manages to shake, rattle and roll all the parts of her body in and strikes some fanciful poses before going into another spasmodic fit of dancing. Flitting thru the scenery are other dancers - the men dressed in striped barber suit quartet jackets and the women fashioned in flapper outfits from some remake of the Great Gatsby. As the song begins to hit its cresendo, Rajshree begins yelping and shaking her head - and the last minute is a headshaking orgy that everyone on the floor joins in like some sort of alien invasion that has possessed their bodies. Sadly the song ends. And you play it again and again and again. Interestingly, the band is Ted Lyons and his Cubs, the same band in the famous dance number in Gumnaam.
My rating for this film: 7.0
---