Dil Chahta Hai (The Heart Desires)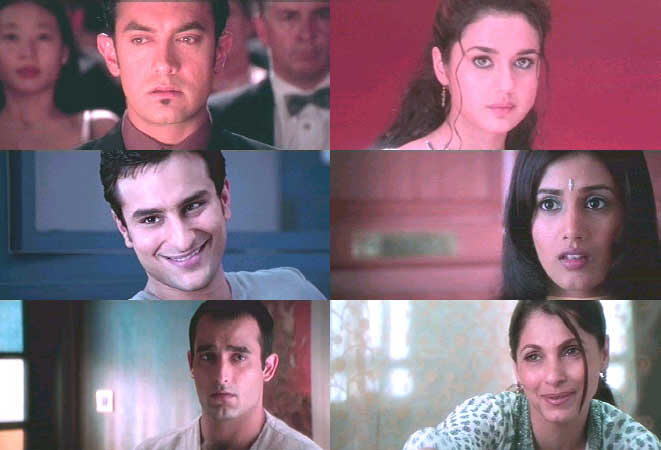 ---
Director: Farhan Akhtar
Music: Shankar Ehsaan Loy; Lyrics: Javed Akhtar
Year: 2001
Running Time: 185 minutes
In the first song that is located in a very modern disco the three main characters sing out "We're today. Why should our style be old". In a sense this first effort from director Farhan Akhtar strongly echoes that sentiment. The film feels very westernized – not just the characters, dialogue and to some degree the plot, but the filmmaking itself has a very western glossy sheen to it. It is very smooth filmmaking – sort of like a mellow cool jazz radio station – that seamlessly pushes the story forward. To a large degree it appears to have shed many of the traditional melodramatic elements of Hindi films and this "surrender" to a non-Indian or perhaps more precisely urbane Yuppie Indian audience might not sit well with some.

In the May/June Bollywood issue of Film Comment one writer refers to Dil Chahta Hai as "a blandly formulaic hymn to the values of the transnational bourgeoisie" and accuses current Bollywood of the sin of going Global – which in these days is often the catchword of those who hate to see inevitable change – whether culturally or economically in non-western countries. There are times that I feel this way myself – one hates seeing local film industries wither in the face of the onslaught of the Hollywood machine or even adapt themselves to this by becoming the enemy – ala films like Hong Kong's Full Time Killer. Though the writer's sentiment is wrapped in tiresome political jargon, one can understand where he is coming from while watching this film – though it often strikes me as odd to see outsiders decrying another culture's choice to change as if we know best (something I have been guilty of certainly) – because there is clearly an intention by the director to bring Indian films into the world market by decreasing the "exoticism" that many from outside of India feel while watching these films. To some of us non-Indians of course that "exoticism" is a strong appeal of the films, but to many others it is no doubt a huge negative and for a film industry as huge and with the history of India's it is rather amazing that it has made so little penetration in the world film consciousness. New directors like Farhan seem to want to change that.

It also has to be noted that the film was very popular in India and won seven Filmfare awards suggesting that film taste in India may be changing as a much larger well off middle class professional segment has emerged who are very conversant with westernized life styles and feel films like this have a lot more to do with their lives than a traditional old fashioned Hindi film. There are still elements of this in the film – an attempt at an arranged marriage and a self-sacrificing woman feeling indebted to the family that raised her – but there are twists on these oft-told themes that feel fairly fresh. It also has to be noted that this is a pretty good film – it pulls you in immediately and keeps your attention the whole time with some very well drawn out characters, natural humor and three love stories that are all distinct and touching in their own way.

It is the story of a strong friendship between three men that becomes more complicated and difficult as their lives move forward. It begins in a hospital as Akshaye Khanna arrives when he hears another friend of his is very sick. He calls up Saif Ali Khan to join him in his vigil and when Saif arrives he asks if Akshaye has called the third friend, Aamir Khan, to come – but Akshaye says no – Aamir would never come – and the film then goes into a flashback that tells the story of these three friends from their college days to the present and what went wrong. It is one of those rare films when you can really understand these three being friends – so many films try to throw characters together as friends and you think to yourself that in real life these people would never be friends – but here you really can and that helps the film enormously. Akshaye is sensitive and a hopeful painter, Saif a hopeless romantic that falls deeply in love . . . constantly and Aamir is the prankster unable to get serious about love or about life. All three are given a relaxed natural appeal and are well played by the actors.

The balance and chemistry though is to change as women enter their lives – for Akshaye it is an older divorced woman (played by the legendary actress of the 1970's – Dimple Kapadia) that no one approves of, for Saif it is a woman that his parents have introduced him to – she (Sonali Kulkarni) thinks arranged marriages are a joke and he agrees but has actually truly found his love but is embarrassed to tell her and Aamir has all his resolve broken down by the "transnational bourgeoisie" appeal and irresistible charm of Preity Zinta. When he realizes that he has finally fallen in love much to his own surprise it is a sweet moment – but she is of course engaged to be married. The three threads play out well and not necessarily happily and come together for a very satisfying if mildly blandly conclusion.

The music is excellent without a weak song in the bunch and again the director is aiming for something different as much of it has a "world music" influence. The one issue I had with the film was the "picturization" of the musical numbers. In only two of the six numbers is there any real form of dancing taking place – the disco song (Koi Kahe, Keh to Rahe) and the sweet ditty (Who Lodki Hai Kahon) that lovingly satirizes old Indian musicals – while the other four songs are basically music playing over dramatic scenes – again a fairly westernized form of presenting music in a dramatic film.
My rating for this film: 7.5
---