Gumnaam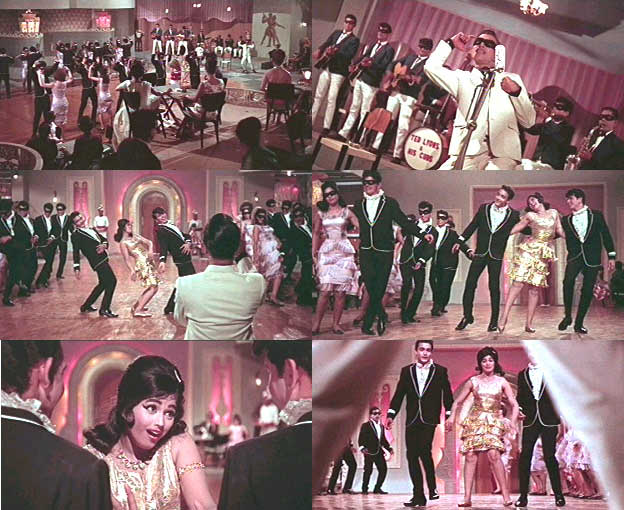 ---
Reviewed by Jack Sobjack
Director: Raja Nawathe
Music: Shankar-Jaikishan
Year: 1965
Running Time: 143 Minutes
I first came to learn about this film from an unexpected source. During the beginning of the Terry Zwigoff film "Ghost World", an irresistible Thora Birch, dressed in her graduation gown, dances along with an old Indian film playing on her little colored tv. It looked so surreal to me. All these male figures wearing Zorro-type masks dance to 60's surf-rock with this sexy ball of energy in a shiny gold dress. Since I've only been watching Bolly films off and on for about a year and not having seen many prior to the mid-90's I was looking forward to this one. I was not disappointed.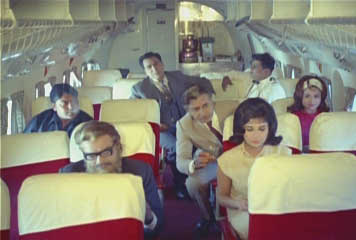 On a flight to an exotic getaway, the six passengers aboard have to make emergency landing due to engine problems on a seemingly deserted island. When the passengers and one of the pilots exit to stretch their legs the plane takes off leaving them stranded. So after a bit of searching (actually it's more like wandering!) they come upon an old, eerie, deserted-looking hotel. (Un?) Fortunately there happens to be a butler who was expecting them. But their refuge does not come without a price because each night someone is murdered. The survivors frantically try to figure out who's doing the killing. Is it the butler, the pilot, one of the passengers or maybe some evil, unseen force?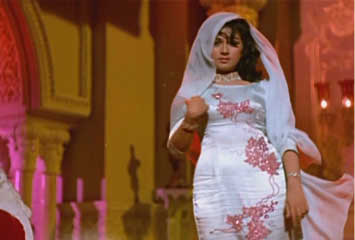 There are a lot of great actors and performances in this film. Madan Duri plays the stone-faced, suspicious doctor. Pran (also great in "Don") is a hard drinking lawyer that enjoys the women. Questionable good guy Manoj Kumar is the pilot. Mehmood plays the butler and comic relief. Dhumal is the annoying fat guy with the worst taste in clothes I've ever seen! Seriously, this guy's wardrobe looks like he borrowed it from an eight-year-old girl. It's just awful. Nanda and Helen are both enchanting. Apparently they were both big stars at the time and appeared in numerous films.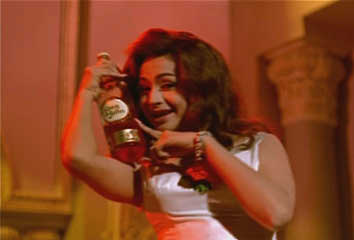 Most of the songs are very enjoyable. The only one I thought so-so was Hum kaak hain to. My favorites are Jaan Pehchan (Indian surf-rock – how cool is that!) and Peeke hum tum which has Nanda and Helen both swaying drunk, hiccuping and smiling coyly. It doesn't get any cuter than that. Also the reoccurring theme Gumnaam hai koi is hauntingly beautiful.
My rating for this film: 8.5 (I had to deduct half a point for the distraction Dhumal's clothing had on me.)
To read about the woman in the famous head shaking dance ,Lakshmi Chhaya, here is a link to Bollybob.

---